Hong Kong and Shenzhen fintech industry groups hold joint event as they seek to boost ties and innovation across the GBA | South China Morning Post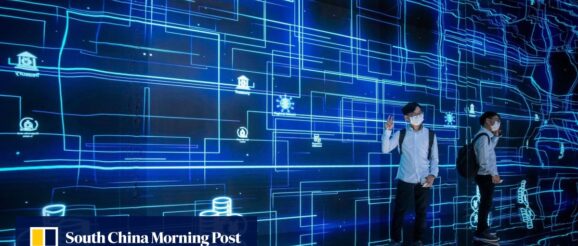 The FTAHK will also organise at least two trips to Shenzhen every year with themes including artificial intelligence and Web3, according to Tan.
Thursday's event was aimed at helping more Hong Kong and overseas companies explore operations in the GBA, according to Christopher Hui Ching-yu, Hong Kong's Secretary for Financial Services and the Treasury, who spoke via video. It drew more than 150 participants, FTAHK said.
The GBA is "an interesting gateway for China to access the global market", while Hong Kong plays a pivotal role bridging the divergent ecosystems in the region, said Caroline York, marketing director at martech firm Gusto Collective and a co-chair of the FTAHK's Web3 and blockchain committee.
Hong Kong and neighbouring Shenzhen are expected to cooperate more closely to boost science and technology innovation in future.
China's State Council last week announced a slew of measures aimed at creating leading research clusters in the two cities through the Hetao Shenzhen-Hong Kong Science and Technology Innovation Cooperation Zone, an area covering the boundary of the two cities separated by a river.
One of the first Hong Kong projects in the Hetao zone is a new branch opened by the Hong Kong Science Park on Thursday in the Futian district of Shenzhen.
The Shenzhen park covers 31,000 square meters, and currently has 16 companies on board. It is aiming to attract over 150 tech firms to set up offices, according to the Hong Kong Science Park.
Greater integration across the GBA involves several challenges, including regulatory differences between Hong Kong and mainland jurisdictions. One of the biggest pain points for closer fintech cooperation between the cities is cross-border data flows, Tan said on Thursday.
In recent years, China has introduced new laws that tighten controls over the outbound transfer of data on national security grounds, raising concerns that Hong Kong's role as a gateway for international businesses to enter the mainland market could be eroded.
In June the Cyberspace Administration of China (CAC), the country's internet and data watchdog, and Hong Kong's Innovation, Technology and Industry Bureau agreed to draft rules for the safe flow of data within the region, under a national data security management framework.
While the CAC did not disclose details, it said the deal was expected to enhance data flows between the mainland and Hong Kong and to bring the full use of data into play.