How to Remain Competitive and Relevant in a World of UCaaS Disruptive Innovation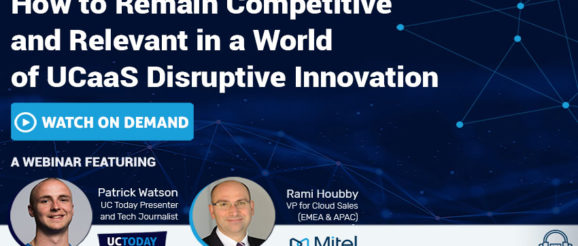 UC Today are revolutionising the webinar. Gone are the days of boring slide decks and bland presentations as we bring you interactive video conversations augmented with stunning visuals.
Cloud based solutions are transforming the communications landscape globally. The benefits of cloud native systems such as UCaaS, unified communications as-a-service, are becoming more appealing to organisations globally with providers and partners now needing to meet the demand from end customers. Mitel are one of the leaders in cloud communications globally and one of their experts join us in today's webinar to discuss how partners can stay relevant in the new world of cloud communications.
Key Takeaways
• Understand, through statistics, how and why cloud solutions are becoming so popular in different regions 
• See the full value and potential of the cloud communications market globally
• Recognise some of the benefits that resellers and service providers can enjoy by shifting to cloud focused business models
• Appreciate the ramifications that moving to cloud based strategies has on different business aspects such as earning potential and overall business value
Cloud communications are here to stay so leveraging their potential is key for any business involved in the sector. This webinar provides you with some background on the sector and explores the benefits of cloud based business models from a reseller or service provider perspective.
Watch at your desk or from your mobile phone and get all the latest information on emerging areas of technology and thought leadership topics. UC Today are changing the traditional webinar to inform and educate in the most interesting way possible.
Rate, review, share on YouTube and join the conversation on LinkedIn, Twitter and email.
Presenter Patrick Watson with Rami Houbby, Vice President for Cloud Sales (EMEA & APAC), at Mitel.