How Yango Delivery Is Infusing Innovation Into The Last Mile Delivery Industry In The UAE | Entrepreneur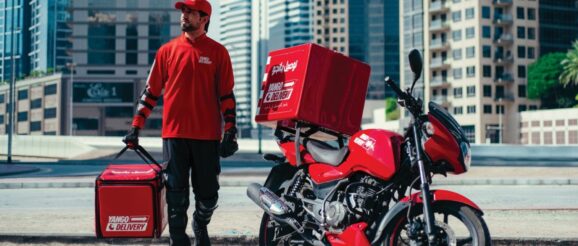 Few business transformations have been as instantly visible and impactful to consumers as the exponential growth of the UAE's last mile delivery sector. Whether it's the ever-growing number of riders on the roads, tasty treats being delivered to our homes and offices, or shopping parcels being dropped at our doorsteps, it's hard to miss this trend, and harder still to deny the incredible conveniences it brings. It's no surprise then that the GCC's last mile delivery market was valued at US$1.1 billion in 2020, and is set to grow to $1.9 billion by 2027 at an 8% compound annual growth rate (CAGR).
While the surging number of colorful delivery riders on the road might suggest that the UAE's last-mile delivery sector is advanced and robust, the reality on the ground reveals a prevailing brute force approach among most providers. Many are overlooking the benefits of leveraging technology to streamline tasks such as scheduling, routing, communication, tracking, and delivery confirmation. Instead, they are primarily relying on scaling resources, and simply hiring more riders, and buying more delivery bikes- a strategy that will prove to be untenable beyond a certain point. Consequently, the ecosystem functions, but incurs substantial management overheads for companies, and frustrations for customers- and not to mention the impact on the environment and sustainability of the sector.
The truth, according to owners of restaurants, cafes, meal-prep, and confectionery businesses, is that thus far, they have had to make do with subpar delivery partners. When there's little in the way of innovation to differentiate between providers, price and timely delivery take precedence. It's an important part of any business, after all- 84% of consumers report that they would not shop with a retailer again after having had a bad delivery experience. Furthermore, last mile delivery has been shown to account for more than 50% of total shipping costs. But this sets a dangerous precedent. In a race to minimize expenses, companies may resort to alarming compromises such as engaging freelancers and unlicensed operators. This is particularly concerning F&B businesses, where regardless of the quality of their products, the value diminishes significantly if customers do not receive them on time or in the intended condition.
Image courtesy Yango Delivery.
Fortunately, the tide is now turning, and technology -along with a host of benefits it brings- is starting to deliver results. By recognizing this gap and the tremendous opportunity it presents, Yango Delivery decided to enter the UAE market in the summer of 2022, and by December 2022, the company had officially launched its solution for businesses. The company's value proposition is built around its unique technology-focused approach to last mile delivery. By utilizing advanced routing algorithms, Yango Delivery ensures on-time deliveries in the most convenient manner- a crucial advantage for F&B companies that must prioritize the freshness of their products. Moreover, the company's platform facilitates advanced features like real-time tracking of riders/drivers, empowering its customers to offer these conveniences to their end clients as well.
Explaining how this sets the company apart from the plethora of providers, Agam Garg, Yango Delivery's General Manager in the UAE, says, "While other providers continue to rely on labor-intensive, manual processes, Yango Delivery prioritizes technology as the cornerstone of our value proposition. We have replaced cumbersome paperwork, phone calls, and endless spreadsheets with slick, streamlined digital dashboards, accessible from any location and any device. With a few simple clicks, our customers can effortlessly schedule deliveries, track delivery drivers in real-time, and enjoy a range of other convenient features." The company certainly has the pedigree to back these claims, having operations in over 20 countries, as well as a client base that today exceeds 40,000. As a result, Yango Delivery has extensive expertise, developed over years of successfully expanding last-mile delivery operations for numerous high-growth startups across the world. "On a daily basis, over half a million deliveries are powered by our technology platform worldwide," beams Garg.
Image courtesy Yango Delivery.
Furthermore, Yango Delivery distinguishes itself by excelling in both forward and reverse logistics areas that have traditionally been fragmented. This fragmentation often creates additional complexities for organizations that must then engage multiple delivery partners, and for customers who must navigate the cumbersome process of arranging separate pick-ups, even when it becomes evident at the time of delivery that the product does not meet their expectations. By functioning as an all-in-one intelligent and efficient delivery provider, Yango Delivery has eliminated these complexities. "The result is that our customers can confidently outsource this critical aspect of their operations to us," Garg says. "By doing so, they can allocate their valuable resources towards core activities such as business development, marketing, customer service, or product design, which are essential for scaling their businesses effectively."
Garg also sheds light on the three convenient delivery modes available on the platform that caters to the diverse needs of its clients. "Firstly, with Yango's platform, a company can access express delivery, which is an on-demand service that assigns a courier as soon as the order for delivery is made. This ensures that the courier arrives at the pick-up point within minutes, and, on average, deliveries are completed in less than an hour, depending on traffic and the district. The second mode is same-day delivery, which guarantees delivery within hours on the same day the order was placed. Finally, the platform has the next-day delivery option that allows packages to be collected at the sorting venue and delivered the following day," he states. By taking the hassle out of the delivery process for clients, and by also taking care of optimal routes to deliver more with fewer vehicles, Yango Delivery focuses on transparency in tracking, which ensures improved communication, easier analysis, and informed management decisions. "Our company ensures on-time delivery with an impressive success rate of 98%, and we provide real-time package tracking and proof of delivery by photo for corporate customers, thus increasing transparency and trust."
Agam Garg, Yango Delivery's General Manager in the UAE. Image courtesy Yango Delivery.
These benefits make Yango Delivery the ideal partner for F&B businesses that are keen to focus on their core businesses, and trust the complexities of last mile delivery to a trusted third-party expert. "For startups without a delivery infrastructure or without plans to build one, as well as for major companies with an internal, external, or hybrid fleet, we can serve as the primary delivery facilitator, or the backup option during periods of high demand," says Garg. For these reasons, Yango Delivery has rapidly gained market share in the UAE's crowded last mile delivery sector, earning the trust of market-leading F&B brands. Among these is Fitbar, one of the country's leading healthy meal planning services, which has partnered with Yango Delivery to ensure fresh and healthy meals are delivered daily and on-time to its customers across the Emirates.
Recognizing that consistent, timely delivery plays an outsized role in customer satisfaction, Fitbar decided to combine its strengths in tailoring tasty, affordable, and healthy meals with Yango Delivery's globally established expertise in last mile logistics. "Our customers tend to have very specific dietary requirements based on their health and fitness goals and our service is finely tuned to empower them to achieve these," says Bothaina Yasser, co-founder and Business Development Manager at Fitbar. "Working with Yango Delivery, we give customers the peace of mind that their meals will be at their doorstep when they expect it, and in the condition and packaging that protects its freshness." On a daily basis, Fitbar now provides customized, healthy meals to nearly 400 clients across the UAE. "Yango Delivery has enabled us to deliver these meals with a 95% success rate, and as our partnership grows, we are on track to achieve a near-100% success rate very soon," says Yasser. "We also have plans to launch our mobile app, and Yango Delivery enables us to add a real-time tracking feature for a premium customer experience."
Bothaina Yasser, co-founder and Business Development Manager at Fitbar. Image courtesy Fitbar.
Highlighting pages from Fitbar's playbook that could enable other F&B entrepreneurs to rapidly turn their dreams into success stories, Garg says, "The F&B market in the UAE is highly competitive, and entrepreneurs already have enough challenges growing their business based on their expertise. If your attention is spread thin by having to focus on other areas that aren't within your core competence, such as last-mile logistics, it could prove overwhelming, and ultimately compromise the success of your business." He also stresses that simply preparing the most delectable dishes isn't a sure shot recipe for success either. "Even the most flavorful food will be of no value to customers who never receive their order. Ensuring such high-quality delivery can be supremely challenging to organizations that opt to have their own in-house fleet, as it involves significant amounts of time and effort for planning, fleet management, customer service, and accommodating last-minute changes and special requests. Choosing instead to work with a trusted third-party logistics provider such as Yango Delivery can save precious resources, and allow efforts to be rightly directed at areas of the business that play to the strengths of internal teams," he says.
As Yango Delivery establishes its stronghold in the UAE by leveraging its expertise and business model, they are also looking forward towards expansion. "Once we have solidified our presence and attained consistent success in the UAE market, we might consider expanding into other GCC markets, following a meticulous and well-planned approach," Garg says. "The potential for expansion is significant, and we intend to capitalize on this by progressively building upon our strengths and achievements." The region thus offers a tapestry of opportunities waiting to be woven, and Yango Delivery aims to capitalize on them. Its tale of technology-focused transformation of the UAE's last mile delivery sector continues to unfold, and it certainly has the potential to shape the future of the industry for the better.
To read more about the future of food and the growing business of foodtech, check the full report, The Growing Business of Foodtech, here.
This article was originally published on Lucidity Insights, a partner of Entrepreneur Middle East in developing special reports on the Middle East and Africa's tech and entrepreneurial ecosystems.