Ibec appoints Paul Duffy as president for 2023-24 – Med-Tech Innovation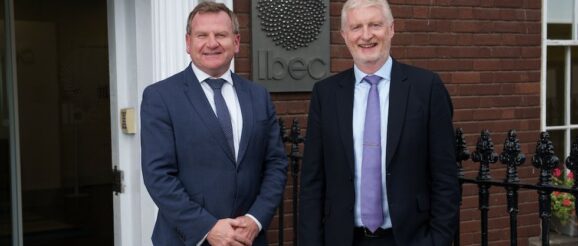 Ibec, the group that represents Irish business, has appointed Paul Duffy, senior vice president, Pfizer Global Supply, as its new president for 2023 to 2024. He succeeds Imelda Hurley, CEO of Coillte.
Marking the announcement, Duffy said: "It is a privilege to assume the role of Ibec president for the forthcoming 12 months. Our current strong economic positioning places us at an intriguing juncture, and I firmly believe that this presents us with a remarkable opportunity to progress many aspects of our society.
Undoubtedly, the most significant catalyst for the growth and advancement of our industries in Ireland remains our people. It is imperative that Ireland continues to excel as country that not only attracts diverse talents but also nurtures their careers, providing an environment that is ideal to live and work. I look forward to engaging with the government on behalf of our members and progressing Ibec's agenda, ensuring Ireland remains a place where businesses and their employees can flourish and thrive."
Ibec CEO Danny McCoy said: "As we celebrate 30 years of Ibec, we are thrilled to announce Paul as the incoming President. With a legacy spanning more than 50 years in Ireland, Pfizer stands as a prominent industry leader. Paul himself is a distinguished figure in the realms of Irish and European business, and his extensive experience and profound insights will undoubtedly fortify our efforts in the upcoming year as we navigate the intricacies of the economy. We extend our best wishes to him for a successful year ahead."
Duffy currently holds the role of senior vice president, Small Molecule Operations for Pfizer Global Supply (PGS) since 2018.
Duffy has worked for Pfizer for more than 30 years and has held multiple roles of increasing responsibility. Prior to his current role, Duffy was vice president, innovative product portfolio management, transformation, strategy & innovation. He also held the role of vice president for the Biopharmaceutical Manufacturing Operations and was leader of the PGS Transformation Team. Prior to that he led the External Supply Operating Unit & Pfizer CentreOne and Business Development Team.
Duffy is a current board member of Ibec and recently held the position of chairperson of the Workplace Relations Commission. Over the years he has been a board member of various organisations, including IDA Ireland, and he was president of the American Chamber of Commerce.