Inaugural RemoteTech Breakthrough Awards Program Recognizes Technology Innovation Empowering Remote Work Worldwide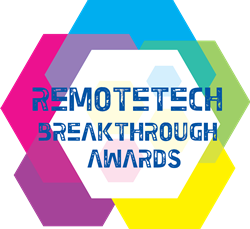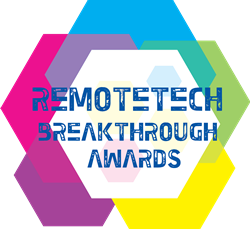 LOS ANGELES (PRWEB)
October 21, 2020
RemoteTech Breakthrough, a leading market intelligence organization that recognizes the top companies, technologies and products in the global remote work technology market, today announced the winners of the organization's inaugural awards program, showcasing technologies and companies that drive innovation and exemplify the best in RemoteTech solutions across the globe.
The mission of the Remote Tech Breakthrough Awards is to honor excellence and recognize the creativity, hard work and success of companies, technologies and products in the larger field of remote technology. This year's inaugural program attracted more than 1,250 nominations from leading RemoteTech companies all over the world.
"Remote technology had skyrocketed to the forefront of nearly every businesses operation as the global COVID pandemic disrupts corporate communications and operations on a daily basis," said Bryan Vaughn, managing director at RemoteTech Breakthrough. "Innovation across all aspects of Remote Technology is empowering companies and employees to thrive during these unprecedented times, creating a new dynamic global workplace. We are excited to recognize the innovators and leaders empowering this fundamental shift to remote work, and we extend a sincere congratulations to the entire 2020 RemoteTech Breakthrough Award winners circle."
All RemoteTech Breakthrough Award nominations were evaluated by an independent panel of experts within the larger technology industry, with the winning products and companies selected based on a variety of criteria, including most innovative and technologically advanced products and services.
The 2020 RemoteTech Breakthrough Award winners include:
Leadership

Sourcing and Recruiting
Messaging & Communication
Video Conferencing
Collaboration and Documentation
Teaching and Training
Help Desk & Customer Support
Benefits & HR
Virtual Office & Co-working
Collaborative Design
About RemoteTech Breakthrough

Part of Tech Breakthrough, a leading market intelligence and recognition platform for global technology innovation and leadership, the RemoteTech Breakthrough Awards program is devoted to honoring excellence in technologies, services, companies and products that empower remote work and distributed teams around the globe. The RemoteTech Breakthrough Awards program provides a forum for public recognition around the achievements of technology companies and solutions in categories including messaging & communication, project management, virtual events, team collaboration, virtual offices, collaborative design and more. For more information visit RemoteTechBreakthrough.com.