Indigenous-Led Innovation Center Closer to Completion With $5M Award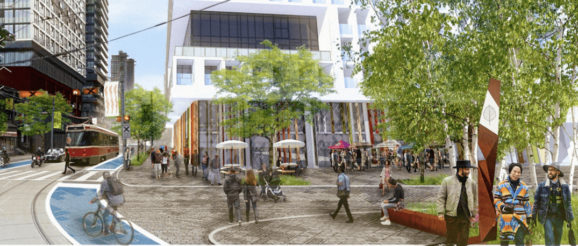 The Indigenous Centre for Innovation and Entrepreneurship is scheduled to open in 2020. (Image Courtesy City of Toronto)
The City of Toronto has been awarded up to $5 million for its Indigenous Centre for Innovation and Entrepreneurship (ICIE), a first of its kind Indigenous business incubator in Southern Ontario. Funding comes from a federal institution, FedDev Ontario. 
The ICIE expects to support close to 420 Indigenous businesses and create 500 jobs for Indigenous Peoples across southern Ontario. The City of Toronto is consulting with Indigenous leaders and entrepreneurs and has formed a Leadership Advisory Circle.
"Toronto has one of Canada's largest urban Indigenous populations and the ICIE will be a culturally- and technologically-rich environment dedicated to supporting start-ups led by Indigenous businesses," said Mayor John Tory. 
Ryan Gorrie, an Anishinaabe architect from Winnipeg, told CBC the design really reflects the way Indigenous people gather, featuring both curved and linear designs as well as a traditional lodge that can be used for events, gatherings, and meetings. 
"We're doing all that we can to help to transform the spaces in the public realm and, you know, really raise the profile of Indigenous presence," Gorrie told CBC. "It allows an Indigenous sense of space to be present, as well as [playing] an important role in reminding us and connecting us back to some of our traditional typologies that we still use today."
Initial plans for the more than 20,000-square-foot, three floor space to be located at 200 Dundas Street East in the City of Toronto, home to some 69,000 Indigenous residents, were revealed at a public meeting in July.
---
The space will offer "business skills training, collaborative workspaces, access to funding, mentorship and peer support networks based on approaches designed by the Indigenous community."
---
"We wanted to create a space where connectivity can happen, where resources are centralized," Gorrie told CBC. "Where you can actually go to a space and connect with others and share your ideas."
The center is scheduled to open in 2020, and is on track, guided by the original vision of Pontiac Group co-founders Jonathon Araujo, Odawa from the Wikwemikong First Nation; and Jacob Taylor, Mississauga from Curve Lake First Nation.
"What we see and envision is this space being a meeting space for Indigenous entrepreneurs — whether you're from a northern community in Ontario or a First Nation community somewhere in a rural area. If you want to bring your business and build net worth and relationships within the City of Toronto, you have a place to come. You can meet here in this space, where people can feel the vibrance of our Indigenous culture, and they can see that this entrepreneur is well supported. That this isn't just an individual by themselves trying to make it big. They have the support system and the acumen to successfully execute on procurement contracts," Araujo told Native Business Magazine
The post Indigenous-Led Innovation Center Closer to Completion With $5M Award appeared first on Native Business Magazine.