Innovation and Generosity on the Front Lines of Coronavirus – D Magazine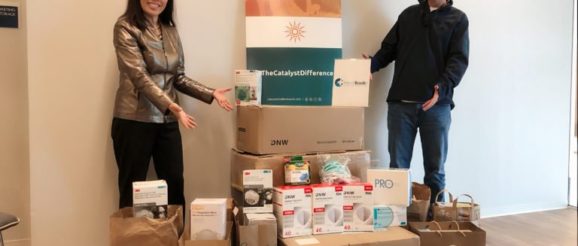 In DFW, leaders in the medical community are keeping providers and other patients safe in a number of ways, including training physicians to set up telemedicine and mass donations of protective equipment.
Primary care physicians play an essential role on the front lines of treating COVID-19, screening their patients to prevent testing centers from being overwhelmed, but they often lack the protective equipment they need to stay safe themselves. They aren't used to treating a virus as dangerous and contagious as COVID-19, and are running short of the personal protective equipment they need.
Dr. Chris Crow leads Catalyst Health Network, a group of 800 physicians who collaborate to improve efficiency and quality while remaining independent. Crow has been advocating for many of the innovations that are now essential in a COVID-19 world, including telemedicine, value-based care, and care coordination. "We kind of built what the world will look like on the other side of this," he says. 
In order to help contain the spread of the virus, Crow has been working with physicians in his network to train them how to use telemedicine for those that weren't already using it. This involves helping them understand how to bill for the service, how it communicates with the electronic health record, sharing data, and best practices. To aid the process, the federal government has currently loosened the HIPAA requirements for telemedicine, allowing any video technology to be used for a consultation.
But payment parity for telemedicine only exists for Medicare and Medicaid patients, meaning physicians may never be paid for virtual visits with the two-thirds of primary care patients who have private insurance. "Physicians are now having to face the reality that there is no guarantee they will ever be paid in this new business model," Crow writes. "Without primary care physicians on the frontlines of the COVID19 crisis, our whole healthcare delivery system could collapse. Instead of needing a bailout in the future, we need to make sure PCPs are getting paid now."
In addition, Crow and the network are working to set up several testing centers to which providers in the network can sent their patients, and guiding physicians to be prepared for more mental health issues as social isolation takes hold.
"Primary care is on the front lines as anxiety and panic arrive, as people lose jobs and paychecks," Crow says. "It is hard on the consciousness and souls. Primary Care will be that front line."
But while Catalyst physicians are prepared in many ways for this crisis, they are limited by the amount of protective equipment available. During the course of one afternoon, Crow discussed the bottleneck and then messaged a few minutes after the interview to say he was on the way to personally pick up a load of protective equipment to distribute to the network.
But other sources of help are arriving as well. As the need for masks and other equipment grew, a group of local companies and individuals came together to fill the need. As locals watched equipment shortages cause havoc around the country, they decided to pool their resources to equip those on the front lines.
Health plan navigation solution MediBookr, global e-commerce platform 5miles, and around 25 individual families came together to donate 3500 masks to Catalyst last week as the need arose. MediBookr CEO Sunny Nadolsky leveraged her social network to send word about the need for more masks, and in just two days they responded with thousands.
The group is also raising money in preparation for the increased testing needs, and plans to send the masks and money to the testing stations. The masks will be essential in keeping patients from flooding the hospital. If patients are able to get tested at a greater number of locations via a primary care physician, they can lighten the load on the inevitable onrush of patients heading to a hospital for testing or treatment. While MediBookr donated 1,650 masks and 5miles donated 1,000, many of the donations came from families personal supply so that the providers could be better prepared. "They need it more," Nadolsky says of the providers. "If they are sick, then we are all in trouble."
Nadolsky said she is still working to gather more supplies, but has been impressed by the generosity of the community. "Everybody answered that call to protect the doctors from being infected," Nadolsky said. "Everybody felt a sense of what they could do and a sense of humanitarian love."