Innovation in healthcare in north-west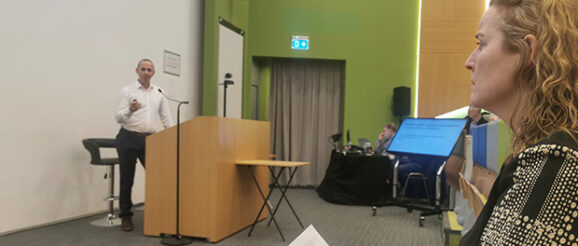 Can we know when the process of dying begins? And can we reverse that process once it has started? Michael McMale reports from Sligo on the 'Innovation in Healthcare transformation' conference and on some fascinating research
From robotics in healthcare to a potential test to predict death, a Sligo-based multidisciplinary research conference covered a broad spectrum of healthcare innovations as it returned for its twenty-third year.
With the theme of 'Innovation in Healthcare Transformation', the Research and Education Foundation's (REF) annual conference took place in the Aurivo Auditorium, Atlantic Technological University (ATU) Sligo and the Lecture Theatre, Sligo University Hospital on Friday, November 25.
The event heard from a range of diverse perspectives across the health sector, from social care researchers to advanced paramedics and consultants. It was also important for REF to get as broad an audience for their event as possible, making admission free for all and providing both online and in-person attendance options.
"Throughout healthcare we're needing each different profession to be on board and part of the care process. And so we want this research conference to be available and accessible for everybody," Dr Anna Cleminson, REF Chairperson, told the Irish Medical Times.
Another important part of the conference was the patient perspective. For the first time, the day-long event included contributions from people who have gone through the healthcare system.
"Healthcare should be patient-centred, and sometimes it can help research have a relevant focus if you bring patients into that mix. Increasingly, when you're designing research, you ask for patient representatives to be involved to make sure that the questions are appropriate, that you're not missing an angle."
Among the patient perspectives provided at the conference was one from Dr Cleminson herself, a Consultant in Palliative Care with North West Hospice who was treated for breast cancer during the Covid pandemic lockdowns.
"I went from being a doctor who was working hard to make sure that we were ready for Covid in our hospice service one day, to the next day being a patient and not being allowed to work because I had to cocoon in order to get surgery."
Richeal Burns, a lecturer in health information technology at ATU Sligo, also shared her experiences as someone with inflammatory bowel disease. Addressing delegates, she outlined the unpredictability of her illness and the difficulties that come with managing symptoms.
"In terms of supports, we need more access to our healthcare professionals. I felt Covid was great because all my appointments were online. It meant I didn't have to travel two hours down the road to Galway. I didn't have to get dressed. I can have my consultation with my gastroenterologist over the phone or (online) through 'Teams'. I want this and a lot of patients would feel the same. There are other patients that would like that face-to-face, but I think it's important to ask your patients what they want and try and facilitate that."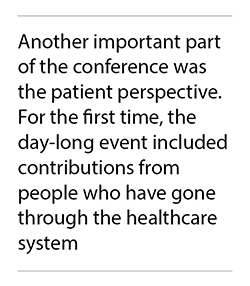 Local and international research academics and clinicians also contributed to the conference, showcasing innovations that have the potential to transform patient care. Professor Prasanna Sooriakumaran, full Professor of Urology at Cleveland Clinic Lerner College of Medicine and the Lead for Urology at Cleveland Clinic London described how he helped establish robotic surgical services and carried out the first robotic procedures at these hospitals.
Recognised as a global leader in the surgical management of metastatic prostate cancer, salvage robotic prostatectomy, retzius-sparing prostatectomy, and nerve sparing during prostate cancer surgery, Prof. Sooriakumaran shared his insight into how technological innovations are transforming his work and aiding patients.
Later, Dr Seamus Coyle, Consultant in Palliative Medicine at the Clatterbridge Cancer Centre, Liverpool, described how his research could lead to the development of a test that could predict when a person is dying. A native of Sligo, Dr Coyle's research is dedicated to understanding the physiology of dying and developing objective markers that recognise the dying process.
"Palliative care professionals are pretty good at recognising when people are dying in the wards, but a lot of the other healthcare teams aren't," Dr Coyle told the Irish Medical Times. "We know what good end-of-life care looks like, but you can't really start good end-of-life care until someone recognises that someone is dying."
Dr Coyle referred to a now retired nurse he worked with who could predict when a patient with a long-term illness was about to die. "She's a nurse with many years' experience and she's seeing something that we can't see. So there must be physiology behind that."
From there he set about on the science 'to look for a needle in a haystack'. Through urine tests in more than 100 patients close to death from lung cancer, his research team found that nearly 190 metabolites change, with the process beginning from up to 30 days before the date of death. Other indicators, such as muscle loss and lower caffeine intake – suggesting the patient is not eating or drinking as much – can also be found through the tests. As a result, Dr Coyle hopes that a test can be soon developed to predict when the process of death has begun, which will enable clinicians to provide a better quality of care to patients in their final days or weeks.
Since discussing his research with colleagues, he has been asked if the process of dying can be identified earlier, is it possible to reverse the process before the 'tipping point', at which stage death is inevitable.
"Nobody's ever described a dying process before. If there is a dying process, there's a tipping point into it, and can you prevent that? It's an obvious question now, but it wasn't so obvious a few years ago."
As a Consultant in Palliative Medicine, Dr Coyle sees the benefits first and foremost in ensuring high quality end of life care.
"Imagine someone who's dying who wants to be at home. I've heard families say in Ireland, 'but if we knew how long they had, if we knew that it was only a week or two, we could pull out all the stops. We could all give up work and then we could look after them at home'. Knowing when they are going to die could really influence the direction of care and treatment decisions."
Among the conference's other speakers were Dr Jieun Oh, SHO at University Hospital Galway, who discussed the oral microbiome as an effective screening tool for colorectal cancer. Dr Mike Lucey, Consultant in Palliative Medicine, HSE Mid-West and Milford Hospice, Limerick, outlined the significance of implementing patient reporting outcome measures as a service improvement initiative in Ireland, while Patricia Heavey, Lecturer and Course Co-ordinator Health Science and Nutrition at Technological University of the Shannon, discussed her research into the experiences, symptoms and behaviours of menopausal women in Ireland, particularly from the perspective of nutrition.
One of the key aims of the conference is to increase collaboration. "This has become increasingly important," Dr Cleminson added.
"We've now got Sligo University Hospital and right beside it we've the Atlantic Technical University (ATU), and they have a whole Department for health research. If we can grow links between our on-the-ground healthcare professionals in Sligo and ATU, we can encourage more health research from our area that's going to benefit the population locally and across Ireland, really invigorate our healthcare professionals and bring good staff to Sligo to work with us."