Innovation the key to HPS Tech's success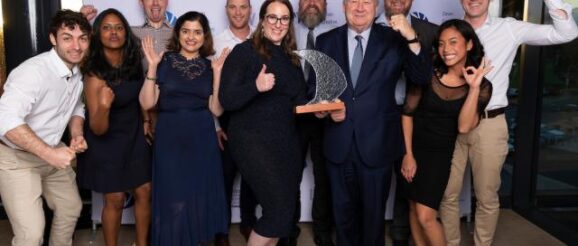 In a world where technology and science is constantly changing and evolving, it can be hard to keep up. However, one Geelong business has shown exceeding innovation and drive in its industry – so much so that it won the 2022 Geelong Business Excellence Awards' Advanced Manufacturing and Industry Award. Sponsored by the Southern Star, this award was won by first year entrant HPS Tech.
Established in 2009, HPS Tech is breaking down barriers in the field of engineering and hygienic processing. With a focus on creating specialised protein ingredients, HPS Tech has completed projects including turning dairy waste into proteins for infant formula and creating cling wrap from potato skins.
With over 30 staff members on the team, HPS Tech is equipped with all the people and knowledge required to compete with large companies in its field, whilst remaining people-centric and providing quality service from a community business.
"The only way we stay competitive is to do what none of the other big players in the industry have," explains Leanne Drzewucki, commercial manager at HPS Tech.
In what Ms Drzewucki describes as "high risk, high reward scenarios," HPS Tech's team is driven by the desire to innovate and exceed expectations in their field.
"Innovation drives our business. We now work globally with companies in the USA and Europe, all from a company developed right here at home in Geelong," Ms Drzewucki said.
As well as an innate motivation to succeed, the HPS Tech team has an extremely solid culture that contributes greatly to the success of the business.
"Our staff culture is really strong and has been built by so many people in the company. We have fantastic staff retention," said Ms Drzewucki.
Ms Drzewucki explained that internally, the business generally views itself in relation to a client or project. However, she said that involvement in the Geelong Business Excellence Awards allowed the team to see HPS Tech in relation to other Geelong businesses and the region as a whole.
"We're now working on improving our community involvement," Ms Drzewucki explained.
"We generally sponsor a few industry events throughout the year, as well as things such as a Christmas food drive, the Biggest Morning Tea, and other initiatives in the Warrnambool and Shepparton region."
The 2022 Geelong Business Excellence Awards were proudly sponsored by LBW Business + Wealth Advisors, celebrating clever, creative and connected businesses in Geelong and the Bellarine, as well as the Surf Coast, Queenscliff and Golden Plains regions.