Innovation: Using Faculty Avatars & AI In An MBA Classroom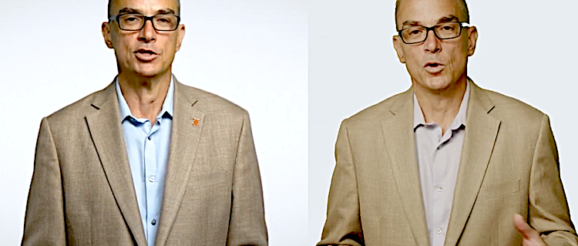 Gies Professor Robert Brunner: Can you guess which image is merely an avatar? It's the one on the left
For several years, Robert Brunner has taught a course on emerging technology and disruption at the University of Illinois. Brunner typically conveys the courses concepts and learning on everything from robotics to cloud computing through a series of lectures and case studies.
But the increasing popularity of artificial intelligence and his own curiosity caused him to try something entirely new for next year: To use ChatGPT and other software tools to deliver an online version of the course that leverages the disruptive technologies at the centre of his course. This coming March, MBA students at Gies College of Business will see a video avatar of Brunner who will lecture from scripts created by ChatGPT with audio he has never spoken. The course will go up on Coursera in January. For Brunner, who is also the associate dean for innovation and chief disruption officer at Gies, it was something of a no-brainer to embrace AI for the class.
Brooke Elliott, now executive associate dean, had been asking him to put the popular course online to make it more accessible to larger numbers of students. "I was already overloaded with courses and told her that the only way I would do this is if you let me use AI," says Brunner.
CHATGPT GENERATED THE SCRIPTS & SYNTHESIA CREATED THE AVATAR
So Brunner asked ChatGPT to generate scripts for his online lectures, then edited the scripts and fed them into other software so that an avatar would be able to deliver them in his voice, with AI-generated images and in-video text. The school leveraged a variety of available software tools, including Synthesia for the video avatar, MidJourney for image generation, for speech synthesis.
The result is shockingly authentic. "Most of the people who watch that video will pick the one that is the avatar over the real person and think the avatar is him," says Tawnya Means, assistant dean for educational innovation and chief learning officer at Gies. "I asked faculty who know him and even they couldn't tell the avatar from the real image."
The introductory video for the course immediately informs students that they will at times encounter an avatar instead of Brunner himself.  "Hello," it says. " I am Professor Robert Brunner, your guide on this journey through the dynamic world of emerging technology and disruption..But am I truly who I appear to be? In reality, I am the culmination of artificial intelligence. a fusion of innovation and disruption in themselves. The words you hear, the script that flows, and even this very image are the handiwork of various AI tools, a testament to the boundless potential of this transformative technology."
THE BARRIER FOR CREATING ONLINE TEACHING VIDEOS IS DROPPING
Roughly 15% of the videos in the first iteration of the course will be delivered by avatar. "This has been fantastic because it shows how the barrier to creating online courses is dropping and can drop even more in the future," believes Brunner. "The technology is there. As faculty, we are probably more at risk at having our name and likeness propagated than actors in Hollywood. It really is getting to the point where faculty are going to have to think about capturing their image and audio and seeing what value it can provide. On some level, it is so easy to do that you may decide why not do it."
Brunner found that he could generate a five-minute avatar of himself in little more than five to ten minutes once he became good at the prompts. "ChatGPT can also generate 20 quiz questions off of a transcript in two minutes and come up with the explanations. That right now is five to ten times the savings of time.When this gets fast enough, students will be able to ask a question and I can generate a video response with very little latency. I would say that is not as far off as you might think."
Not only did the process significantly cut the time it took to convert a course online, it provided other major advantages as well. For one thing, generative AI can teach the course in any number of languages, even though Brunner can only speak English. "It took only a couple of minutes for it to have me speaking Spanish," adds Brunner. "We will do it in French and Mandarin and it was easy peasy."
IT TOOK TEN MINUTES TO GO FROM SCRIPT TO VIDEO
Generative AI also makes it easier to correct an error in a video. "In normal cases," says Means, "we would have had to have a person come back to the studio and re-record the entire session. In this case, we just corrected the script and reprocessed it. It was a huge savings in time."
For Brunner, the process effectively started by playing around with ChatGPT. "The biggest issue is preparing what you are going to say for these videos," he explains. "These are four or five five-minute videos in each online class. Normally you go into a classroom and just do it. What if I build a relationship with ChatGPT so it gets to know me and what the course is about. The draft scripts were created by ChatGPT. It took awhile to do it but eventually it was getting so good at it that it was stitching transcripts together in the lessons. It would add things like, 'we said in a previous lecture….. It was doing so much it was scary. I would then go through it, and it would get better and better."
At first, Brunner used those transcripts to record his video in person. But then he realized that it would be impossible to get all of them done in time.  "So we tried generative AI which cloned my voice and took that and fed it into a video app which cloned me and matched my image to my voice. It took ten minutes from script to video. "
PROCESS SAVES TIME AND MONEY, FREEING FACULTY TO MAKE DEEPER CONNECTIONS WITH STUDENTS
The resulting product (see above photo) makes it nearly impossible for a viewer to tell the real video from the one generated by artificial intelligence, particularly if viewed on a small screen. "If you view this video on the phone, it is going to be very hard to tell," believes Brunner. "If you are viewing it on a 36-inch monitor, you probably could tell because you'll see repeats of facial expressions. But even then the technology has gotten so good it's rarely an issue. We have crossed the barrier. There are just little things you notice."
"It gives us a lot of flexibility to save time but also to make the courses more revlevent, interesting and varied," says Means. "We can also use AI to create assignments, give feedback, and provide grading rubrics. There are just so many different ways in which we can make these fresh, engaging and responsive to students."
For Gies, the next step is getting more faculty on board. "With a course about disruptive technology, it makes sense to do it," she adds. "But what about a course in accounting? We want to try it with more faculty to see what the student response will be. What I am sharing with the faculty is if you can spend less time building the course yet have still high quality content, think of the time you can now spend interacting with students, doing things the machine isn't good at like building personal connection. It allows faculty to be more creative and to focus on what really matters, that connection with students."
'YOU NEED TO GET READY AND BUCKLE UP'
Means emphasizes that AI is not a replacement for faculty. "We wouldn't generate this content without a process of review and verification. These tools produce information that can be wrong or not as valuable so we still need faculty to bring their expertise to bear. We need faculty to set the parameters. It's a whole new world. We are exploring new things here that have never been done before."
After using it for his forthcoming course, Brunner has a message for other business school faculty. "If you are a faculty member, you need to play with this stuff," advises Brunner. "It's here. It's only going to get better. It's not like you will be replaced by AI. But the time will come when you will be replaced by someone who knows how to use AI better than you. So if you need to do video, you should try it and put it on the campus site to welcome students to your class. If you are not doing this in the short-term, there is going to be a lot of societal changes coming with this. There is a next wave of AI to come in three years which will be just as eye-opening as generative AI has been. If you start falling behind, you will fall further and further behind. It's going to be a fun, interesting ride. You need to get ready and buckle up."
DON'T MISS: IT'S HERE: HOW B-SCHOOLS HAVE 'SREADILY & CAUTIOUSLY' INTEGRATED AI INTO THEIR CURRICULA or 10 CONCLUSIONS ABOUT MBA PROGRAMS FROM A MAJOR NEW POLL 
The post Innovation: Using Faculty Avatars & AI In An MBA Classroom appeared first on Poets&Quants.