Innovation's Renaissance by Culture and Creative Industries by Àurea Rodríguez – Startup Portugal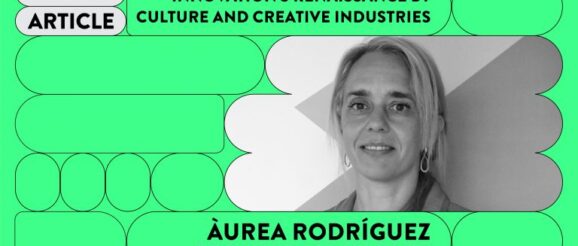 Innovation's Renaissance by Culture and Creative Industries
Written by Àurea Rodríguez, Interim Director at EIT Culture & Creativity South West
Europe has long been a hub for culture and creativity, with a rich tapestry of artistic expressions, historical landmarks, and a diverse array of creative talents. The culture and creative industries in Europe encompass a wide range of sectors, including music, film, fashion, design, art, architecture, and much more. As the world continues to evolve, so too do the opportunities and challenges for startups looking to make their mark in this dynamic sector.
Main challenges for creative startups include funding and investment. Creative startups often struggle to secure adequate funding due to the perception of higher risk in this sector. Investors might be more inclined to support tech-based startups over those in the cultural and creative domains. To overcome this challenge, initiatives such as the European Institute of Innovation and Technology (EIT) Culture & Creativity are supporting specialized accelerators, collaborative innovation products and creating an investment club.
In this sense, another challenge these startups face is the protection of intellectual capital. In an age where digital content effortlessly transcends borders, safeguarding creative assets is a necessity. Copyright and trademark disputes are commonplace as startups strive to defend their artistic integrity. The valorization of intellectual capital is crucial in this context. Startups must not only shield their intellectual capital but also leverage it as a source of value to attract investors and partners, adding value to their endeavours.
Sustainability and digital transformation, including the power of Artificial Intelligence (AI), have become central themes in the cultural and creative industries. Digital transformation, particularly AI, has opened new doors for creativity and also added some concerns. AI's ability to analyze data, predict trends, and generate art is a game-changer for startups in architecture and design, audiovisual production and fashion. AI empowers startups to create more immersive experiences, anticipate audience preferences, or optimize sustainable manufacturing processes as examples. Startups can embrace digital platforms while maintaining a local and unique identity. Artificial Intelligence (AI), Virtual Reality (VR) and Augmented Reality (AR) technologies are revolutionizing the way people experience art, entertainment, and culture. Startups exploring these niches can create immersive experiences that blend the physical and digital worlds.
Beyond digital, sustainability is no longer an afterthought but a primary concern, and startups focusing on eco-friendly fashion, upcycling, and sustainable materials are finding increasing demand in the fashion industry. These startups champion eco-friendly materials and production processes, setting an example for responsible consumption. All these startups bridge the past and the future, preserving traditions while creating innovative works.
This helps bring out the importance of the role of Startup Portugal in its support for Portugal's emergence as a hotspot for innovation and entrepreneurship, and the culture and creative industries are no exception. The country offers a thriving ecosystem for startups, with several bright initiatives contributing to its success. In fact, Lisboa and Porto have become creative hubs, hosting numerous incubators, specialized technology parks as UPTEC, and accelerators dedicated to nurturing cultural and creative startups and attracting international entrepreneurs, startups and corporates. Portugal is known for its vibrant cultural festivals, which provide an ideal platform for creative startups to showcase their products and services, and events like Web Summit that attract global attention, which help them reach global markets, especially with Latin America.
In conclusion, the culture and creative sectors and industries in Europe present a dynamic landscape filled with both challenges and opportunities for startups. While securing funding and protecting intellectual property can be hurdles, emerging niches, such as AI, VR, sustainable fashion, and streaming services, offer new opportunities for growth. Portugal, with its supportive ecosystem and innovative initiatives, stands out as a promising destination for creative startups looking to thrive and make their mark on the international stage. As Europe continues to evolve in the digital age, the culture and creative industries will remain at the forefront of innovation, providing a platform for startups to shine. It's a renaissance of innovation, spearheaded by the cultural and creative sectors with their challenges and opportunities.