Inside Hamilton Litestat: where design innovation is in the DNA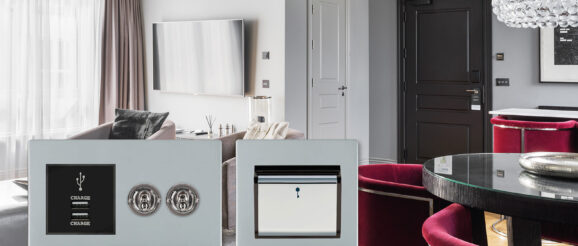 Hotel Designs
Inside Hamilton Litestat: where design innovation is in the DNA
Inside Hamilton Litestat: where design innovation is in the DNA
Hamilton Litestat, Heading Partner at MEET UP London, should need little introduction. But in case it does, we caught up with Gavin Williams, Sales and Marketing Director at the Bristol-based company, to find out what makes this decorative wiring accessories powerhouse special…
Established over six decades as a world-renowned designer and producer of on-trend and technically progressive decorative wiring accessories, Hamilton Litestat is a heritage company with a modern soul.
The company's story begins at the tail end of the swinging '60s, when style and design innovation were enjoying a revolution. Launched in Teddington, London, in 1968, with the first UK sale of the dimmer switch – 'new tech' at the time – Hamilton Litestat went on to collaborate with Italian company Frascio. Together they created a comprehensive range of wiring accessories with an ever-expanding choice of stylish, Italian-inspired plate designs and finishes.
These à la mode designs placed the company at the forefront of the UK hotel design industry, making it a supplier of choice to several big-name hotel chains. From London, Hamilton Litestat moved to Mere in Wiltshire, where a larger factory created the increased capacity required to meet the demands of international customers and the growth of a British brand founded on quality and choice.
While now wealthy enough in experience and expertise to service the needs of the big brands, the wiring accessories company was also able to deliver the same quality solution for designers of smaller, one-off projects. With this, in the late 1980's, Hamilton Litestat became the ideal partner to the rapidly growing boutique hotel sector that it is today.
Image caption: Hotel Indigo Cardiff | Image credit: Hamilton Litestat
With boutique hotel guests desiring a more luxurious, one-of-a-kind experience, the solution in design terms is often translated via the quality and style of accessories within guest rooms and communal areas. Frequently inspired by the architecture or heritage of their location, with the ambition to realise a designer's creative ambitions or with guest experience front-of-mind, boutique hotels present an opportunity for a completely bespoke decorative wiring accessories solution. And this is where Hamilton Litestat shines! We caught up with Gavin Williams, Sales and Marketing Director at Hamilton Litestat to find out more.
Hotel Designs: What does Hamilton offer the hotel interior designer?
Gavin Williams: Aside from 23 different collection designs in a choice of 23 different finishes, we are, to this day, small enough to care about the complexities of unique projects, while big enough to deliver on quality, quantity and time. Put simply, the company puts the finishing touches first. Taking inspiration from iconic and of-the-moment international design and lifestyle trends, its range delivers on both functionality and beautiful form. So whether your intention is for the accessories to stand out or seamlessly blend in with their surroundings, there's a Hamilton Litestat solution with careful attention to design detail for every scheme.
And far from being your standard supplier, our brand can frequently be found working in close partnership with interior designers, architects and electrical contractors to deliver a custom solution, perfectly befitting of the individual project.
Image caption: Linea CFX | Image credit: Hamilton Litestat
HD: Talk to us about Linea CFX range – and how this has evolved…
GW: With the clever two-part face plate and frame design of Linea CFX range, single colour finishes are the least of your limitations. A long, established designer range within the company's line-up of decorative wiring accessories, Linea CFX now consists of six collections – each frame with a unique edge design: rounded, straight-edged, stepped, classic bead, traditional rope edge and a new, 45 degree bevel-edge, creating a veritable palette of contemporary and traditional designs. Each of these frame designs is available in up to eleven different finishes. And because face plates and frames within the Linea CFX range can be independently selected, these frame finishes can be combined with face plates in any of the same 11 finishes plus Satin Steel.
This ability to mix and match, enables designers the potential to flex some creative muscle and create a unique design feature of an otherwise functional accessory. For example, mixing polished with matt metallic for a gilt-edge touch, combining matt with satin metallics for a sophisticated finish, or mixing and matching contrasting metallics, allows the product to stand out from other off-the-shelf alternatives.
Image caption: Sheer Collection | Image credit: Hamilton Litestat
HD: Can you give us examples of how designers can us colour co-ordination with Hamilton Litestat?
GW: Our extensive range of standard finishes enables the perfect matching of wiring accessories to the interior scheme. And even in cases where colour-matching reaches new heights, we really believe that we step up to the mark. In the renovation of Lime Tree Hotel in London's Belgravia, the hotelier had handpicked reading lamps to be positioned either side of the guests' bed and wanted decorative wiring accessories to colour match. We worked closely with the client to deliver an Etrium Bronze finish not typically available in the range, but an almost identical colour match to both lamps.
For those taking personalisation in a colourful direction, Paintables service allows accessories from the Hartland CFX, Sheer CFX or Hartland G2 ranges to be perfectly colour matched to any RAL, British Standards or NCS colour reference. The high quality powder coating process, together with a gloss, matt or metallic finish, ensures plates remain durable through daily use.
Image caption: Paintables | Image credit: Hamilton Litestat
As well as affording the ability to personalise the aesthetic qualities of accessories within the standard range, Hamilton provides the opportunity to tailor functionality to the needs of the hotel business and its guests. In Sand Hotel, Reykjavik, Euro Module plates installed alongside standard plates, all from the Sheer CFX collection in Bright Chrome, provide a co-ordinated aesthetic with custom functionality. These include personal bedside lighting control and USB charging ability on each side of the bed, telephone and data sockets, key card entry switches, electrical sockets and light switches and total more than 2,500 accessories throughout the hotel.
Image caption: Hotel Sand Reykjavik | Image credit: Hamilton Litestat
Sometimes, as with the renovation of Thornbury Castle Hotel, the style, age and heritage status of the building are a motivating factor in the production of custom-made plates. In this instance, Antique Brass was the natural choice of finish to harmonise with the ornate brass bedside lamps and dark wood panelling. The bespoke functionality requirements of the accessories was achieved with bedside plates that included individual toggle-switch control of the room chandelier, table lamps and bedside lamps and a single power socket with 2.1A USB port for charging smart devices. To enhance the guest experience, the function of each switch was clearly etched on each plate.
Image caption: Perception CFX | Image credit: Hamilton Litestat
When you've invested in a stunning wallpaper or mural, wiring accessories that disappear into their surroundings are an attractive proposition. Cleverly designed to allow the customer's own wallpaper to be inserted into the plate, Hamilton Litestat's Perception CFX range is the ultimate 'chameleon' of the wiring accessories world. In the renovation of The Waterside Inn, Berkshire, where each guest room had its own unique decorative theme, the challenge was in finding accessories to suit each. And Perception CFX was the ideal solution.
HD: And finally, how integral are industry partnerships for a brand like Hamilton Litestat?
GW: Our partnership with the British Institute of Interior Design (BIID) is a testament to its will to understand and cater to both the commercial and residential sectors, maintaining an innate awareness of current trends across both markets. Always keen to keep its finger on the pulse of emerging design trends, Hamilton is a regular exhibitor at major UK design shows including London Design Week, Clerkenwell Design Week, Interior Design & Architecture Summit (IDAS), Decorex International and the Independent Hotel Show.
As a Headline Partner for Hotel Designs MEET UP London, Hamilton Litestat recognises the importance of these industry events an invaluable opportunity to explore new products, services and industry trends as well as to meet and liaise with fellow professionals, this serves to inform and inspire technical and design decisions of the future. Its enviable pedigree in both commercial and domestic schemes and work as invested professional partners in some truly renowned interiors, means that ingenuity and creativity evolves to ensure Hamilton Litestat stays at the forefront of the hotel design sector.
Hamilton Litestat is one of our Recommended Suppliers and regularly features in our Supplier News section of the website. If you are interested in becoming one of our Recommended Suppliers, please email Katy Phillips.
Main image credit: Hamilton Litestat
Inside Hamilton Litestat: where design innovation is in the DNA
Pauline Brettell.