Inteliment gets MACCIA's Product Innovation Award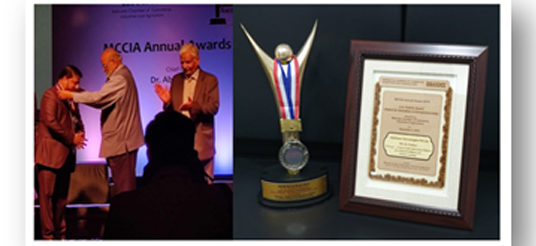 Pune-Based Inteliment gets MACCIA's Product Innovation Award for Rubiscape – a 'Make in India' Data Science and Artificial Intelligence platform
Pune-based Inteliment Technologies, a leading Business Analytics company, is proud to be the recipient of the prestigious MCCIA's GS Parkhe Award for Product Innovation for Rubiscape – a truly Made in India technology for Data Science and Artificial Intelligence.
"We are honoured and humbled to be the recipient of this prestigious award from MCCIA. We are extremely proud of our 'Made in India' product innovation and aspire to make meaningful contributions to Digital India initiatives by building effective partnerships with Industry-Govt & Academia," says Prashant Pansare, Founder of Rubiscape and CEO Inteliment Group.
Mr Abhay Firodia, MD of Force Motors lauded all the winners and said, "One simply cannot depend upon education anymore, but enterprise and ethics should be added if one wants prosperity. Pune should not just invent, but innovate, for once you innovate, you are also thinking of how to create business around you and also help and support the society, which will help increase the value of businesses."
According to IDC Research, Big-data and Advance Analytics are expected to grow from $190 Bn in 2019 with 13%+ CAGR and by 2022 will be $275 Bn. Automation and the proliferation of the latest technologies such as AI, ML, Blockchain, and IoT are causing a massive shift in the job market. There is an urgent need to build and enhance the skills of the digital workforce.
"Bigdata, AI, and Digital Technologies are changing fast. Make in India products that can help skills & competency development, employment creation and innovation incubation are need of hour. Rubiscape is a platform for bridging the gap between academia and real R&D." adds Mr. Pansare.
About Inteliment and Rubiscape
Founded in 2004, Inteliment Group has established Inteli-Labs in 2015 in Pune to work in Technology R&D, IP and Knowledge co-creation. Inteli-Labs has successfully launched its first product innovation – Rubiscape: All-in-One Data Innovation Platform with a host of pre-built AI & ML Functions, Algorithms and Models to build, host and run Advance Analytical Apps.
Rubiscape is a key enabler for institutions and enterprises to jump-start their data innovation initiatives by establishing 'Data Science Labs or Centre of Excellence' – to acquire knowledge, develop skills, incubate product ideas, organise hackathons, promote start-ups to meaningfully contribute to the Digital India initiatives.
About MCCIA
MCCIA has been playing a significant role in accelerating the industrial and economic development of Pune region for more than seven decades now. It is one of the most active chambers of Commerce in India and has been instrumental in promoting number of institutions in Pune. MCCIA has continuously driven to make Pune a global business destination and has been catalyst for economic development of the region.
For details – [email protected] | www.inteliment.com | 020 67287200
The post Inteliment gets MACCIA's Product Innovation Award appeared first on Inteliment Technologies.