Is this how certain marine microbes could contribute to climate change? – Innovation Toronto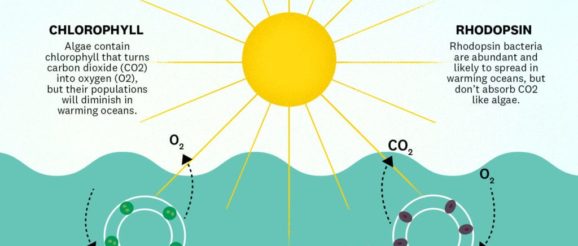 A USC-led study into certain marine microbes may have revealed a dramatic shift in how the ocean and its microorganisms will contribute to climate change
A USC-led research team has found that marine microbes with a special metabolism could play an important role in how Earth regulates climate.
The study finds marine bacteria containing rhodopsins, a sunshine-grabbing pigment, are more abundant than once thought. Unlike algae, they don't pull carbon dioxide out of the air. And they will likely become more abundant in warming oceans, signaling a shuffling of microbial communities at the base of the food chain where the nitty-gritty work of energy conversion occurs.
"Oceans are important for climate change because they play a key role in the carbon cycle. Understanding how that works, and the marine organisms involved, helps us refine our climate models to predict climate in the future," said Laura Gómez-Consarnau, assistant professor (research) of biology at the USC Dornsife College of Letters, Arts and Sciences.
The study appears today in Science Advances. Gómez-Consarnau is the lead author among an international team of scientists from California, China, the United Kingdom and Spain.
How rhodopsins could impact global warming
The findings break from the traditional interpretation of marine ecology found in textbooks, which states that nearly all sunlight in the ocean is captured by chlorophyll in algae. Instead, rhodopsin-equipped bacteria function like hybrid cars, powered by organic matter when available — as most bacteria are — and by sunlight when nutrients are scarce.
Rhodopsins were discovered 20 years ago, and scientists at USC and elsewhere have been studying their prevalence and metabolism since. These microbes have light-sensitive protein systems in their cell membranes that trap sunlight, an adaptation analogous to how rods and cones in the human eye gather light.
In this study, researchers trolled a 3,000-mile-long swath of the eastern Atlantic Ocean and Mediterranean Sea in 2014. They sampled microorganisms in the water column down to 200 meters in an attempt to find how widespread rhodopsins are and in what conditions they are favored.
They found that rhodopsin photosystems were much more abundant than previously realized and concentrated in nutrient-poor waters. In such oligotrophic zones, they outperform algae at capturing light. While algae use sunlight and CO2 to produce organic material and oxygen, rhodopsin pigments use light to make adenosine triphosphate, the basic energy currency that drives many cellular processes.
"Rhodopsins appear to be more abundant in a nutrient-poor ocean, and in the future, the ocean will be more nutrient-poor as temperatures change," Gómez-Consarnau explained. "With fewer nutrients near the surface, algae will have limited photosynthesis and the rhodopsin process will be more abundant. We may have a shift in the future, which means the ocean won't be able to absorb as much carbon as it does today. More CO2 gas may remain in the atmosphere, and the planet may warm faster."
How marine bacteria gain and produce energy
So far, computer simulations of what global warming could be like in the future do not yet account for this microbial shift.
Previous studies have shown rhodopsins comprise about 80% of the marine bacteria, based on genetic analyses. But this is the first study to actually measure their concentration in the ocean and where they like to congregate.
The study underscores how scientists are learning new pathways by which organisms gain energy to live. For example, they've long known that plants and algae use chlorophyll to convert sunshine and nutrients into sugar. About half of all photosynthesis on Earth is performed by algae at the ocean surface. And they've discovered bottom-dwelling life supported by chemical energy from minerals and chemical compounds released from deep ocean volcanic vents. In this study, they've learned that bacteria — long considered mainly decomposers in an ecosystem — can actually function as a main producer of energy at the ocean surface.
"We estimate that, given the concentrations found in seawater, rhodopsins could capture more light energy than chlorophyll in the ocean," Gómez-Consarnau said. "These findings change the fundamental assumption that the marine biosphere is only powered by sunlight captured by chlorophylls during algal photosynthesis."
It also means that, years in the future, microbial communities will likely shift, resulting in less carbon fixation in the ocean. To fully evaluate how the findings affect the ocean's capacity to absorb greenhouse gases, Gómez-Consarnau said CO2 fluxes in marine systems will need to be reevaluated and future climate models will have to include this bacterial metabolism.
The Latest on:
Rhodopsins
August 9, 2019 – Marine Bacteria Known as Rhodopsins More Abundant in Ocean than Previously Thought  Interesting EngineeringMarine bacteria containing sunshine grabbing pigments known as rhodopsins, are more abundant in the ocean than previously thought, and could absorb as …
August 7, 2019 – Microbial rhodopsins are major contributors to the solar energy captured in the sea  Science AdvancesAll known phototrophic metabolisms on Earth rely on one of three categories of energy-converting pigments: chlorophyll-a (rarely -d), bacteriochlorophyll-a …
August 7, 2019 – A marine microbe could play increasingly important role in regulating climate: A light-snatching bacteria may get its place in the sun and alter how oceans absorb carbon dioxide  Science DailyMarine microbes with a special metabolism are ubiquitous and could play an important role in how Earth regulates climate.
July 11, 2019 – What happens when you explode a chemical bond? Attosecond laser technique yields movies of chemical bond dissociation  Science DailyLight-induced breakage of chemical bonds can lead to damage in the body and environment, but techniques for studying this photochemical reaction have been …
August 1, 2019 – IVERIC bio Reports Second Quarter 2019 Financial and Operating Results  BioSpaceIVERIC bio Reports Second Quarter 2019 Financial and Operating Results – read this article along with other careers information, tips and advice on BioSpace.
June 24, 2019 – Shedding light on rhodopsin dynamics in the retina  Medical XpressFigure 1: The three diffusion patterns of rhodopsin. Left: tracks of rhodopsin diffusion in the disc membrane (each molecule is a different color). Center: dynamic …
July 15, 2019 – Tracking the Separation of Atoms with Lasers  Science TimesUltraviolet light fragments the links between atoms within the DNA of skin cells, undoubtedly inflicting cancer on the human body. UV light also breaks down …
April 10, 2019 – Structure and mechanisms of sodium-pumping KR2 rhodopsin  Science AdvancesRhodopsins are the most universal biological light-energy transducers and abundant phototrophic mechanisms that evolved on Earth and have a remarkable …
August 7, 2019 – ProQR Announces Financial Results for the Second Quarter of 2019  NasdaqLEIDEN, Netherlands and CAMBRIDGE, Mass., Aug. 07, 2019– ProQR Therapeutics N.V., a company dedicated to changing lives through the creation of.
May 7, 2019 – Biophysicists resolve true structure of highly promising optogenetic protein KR2 rhodopsin  EurekAlertA team of biophysicists has discovered and studied the structure of the KR2 rhodopsin under physiological conditions. This pioneering work breaks ground for a …
on August 8, 2019 at 2:04 pm
v=ap&w=980&h=551 800w" > The bacteria contains pigments called rhodopsins. Unlike algae, they don't pull carbon dioxide out of the air. Rhodopsins flourish in nutrient-poor oceans. A … […]
v=ap&w=980&h=551 800w" > The bacteria contains pigments called rhodopsins. Unlike algae, they don't pull carbon dioxide out of the air. Rhodopsins flourish in nutrient-poor oceans. A … […]
on August 7, 2019 at 12:00 pm
The study finds bacteria containing rhodopsins, a sunshine-grabbing pigment, are more abundant than once thought. Unlike algae, they don't pull carbon dioxide (CO 2) out of the air. And they will … […]
The study finds bacteria containing rhodopsins, a sunshine-grabbing pigment, are more abundant than once thought. Unlike algae, they don't pull carbon dioxide (CO 2) out of the air. And they will … […]
on August 7, 2019 at 11:04 am
The study finds marine bacteria containing rhodopsins, a sunshine-grabbing pigment, are more abundant than once thought. Unlike algae, they don't pull carbon dioxide out of the air. And they will … […]
The study finds marine bacteria containing rhodopsins, a sunshine-grabbing pigment, are more abundant than once thought. Unlike algae, they don't pull carbon dioxide out of the air. And they will … […]
on August 1, 2019 at 12:07 pm
Optogenetics is a recently developed approach that harnesses genetically encoded light-gated ion channels called rhodopsins to achieve unprecedented precision in stimulating target neurons (11). The … […]
Optogenetics is a recently developed approach that harnesses genetically encoded light-gated ion channels called rhodopsins to achieve unprecedented precision in stimulating target neurons (11). The … […]
on October 23, 2018 at 1:29 am
The most abundant and ubiquitous microbes in the surface ocean use light as an energy source, capturing it via complex chlorophyll-based photosystems or simple retinal-based rhodopsins. Studies in … […]
The most abundant and ubiquitous microbes in the surface ocean use light as an energy source, capturing it via complex chlorophyll-based photosystems or simple retinal-based rhodopsins. Studies in … […]
on October 18, 2018 at 8:00 am
A multidisciplinary team of 14 researchers from the Howard Hughes Medical Institute's Janelia Research Campus and other institutions found a new way to engineer these proteins, called rhodopsins. By … […]
A multidisciplinary team of 14 researchers from the Howard Hughes Medical Institute's Janelia Research Campus and other institutions found a new way to engineer these proteins, called rhodopsins. By … […]
on May 28, 2018 at 5:00 pm
Oligomeric assembly is a common feature of membrane proteins and often relevant to their physiological functions. Determining the stoichiometry and the oligomeric state of membrane proteins in a lipid … […]
Oligomeric assembly is a common feature of membrane proteins and often relevant to their physiological functions. Determining the stoichiometry and the oligomeric state of membrane proteins in a lipid … […]
on May 16, 2018 at 5:27 pm
To send this article to your Kindle, first ensure [email protected] is added to your Approved Personal Document E-mail List under your Personal Document Settings on the Manage Your Content and … […]
To send this article to your Kindle, first ensure [email protected] is added to your Approved Personal Document E-mail List under your Personal Document Settings on the Manage Your Content and … […]
on November 7, 2017 at 6:03 am
To make a neuron sensitive to light, it is outfitted with special photosensitive proteins called rhodopsins. These are similar to those involved in our vision. Depending on the particular rhodopsin … […]
To make a neuron sensitive to light, it is outfitted with special photosensitive proteins called rhodopsins. These are similar to those involved in our vision. Depending on the particular rhodopsin … […]
on May 13, 2017 at 4:00 am
Six biological pigments called rhodopsins play well-established roles in light-sensing in the fruit fly eye. Three of them also have light-independent roles in temperature sensation. New research … […]
Six biological pigments called rhodopsins play well-established roles in light-sensing in the fruit fly eye. Three of them also have light-independent roles in temperature sensation. New research … […]
via  Bing News