IT Innovation in the intermediate phase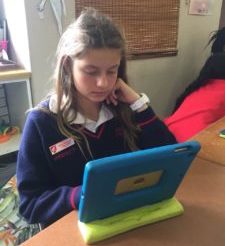 Term 4 is officially in full swing, in the IT department!
After a much needed break, the intermediate phase has been enjoying challenging IT lessons, where CREATIVITY and INNOVATION have been the primary focus. Learning to harness our digital skill sets, without compromising our creativity.
In a world where we all need to be technologically efficient, it has become important to be comfortable with the fact that there are different jobs and roles that we as members of society will need to play one day. Our Grade 6 & 7's have been using this as motivation during their Swift Playgrounds lessons. We have been working hard at not only becoming efficient and capable with basic coding and commands, but to also add a creative element in our work and thinking. The goal we have set, for IT this term has been: "To thrive, and not just survive". It has been a great start to the term and we look forward to building on this as we near the much anticipated break and new adventures of the end of the year.
The grade 4s and 5s have been equally busy with Tynkr, utilising existing skills to become little command boffins. Group work has been a major focus with these lessons, in the hopes of teaching our learners to be able to extend technological helping hand. We are looking forward to a challenging term, where we wrap up with Tynkr for the year and focus on some new, and exciting, tasks with our iPads. These are exciting times for our grade 4 and 5's as we get stuck in with our iPads, getting to know what we are capable of with our devices. CREATIVITY, is once more, a major theme throughout our lessons this term, learning to harness both sides of the spectrum when working in IT.
The post IT Innovation in the intermediate phase appeared first on Sun Valley Blogs.