Local innovation focus for international municipal exchange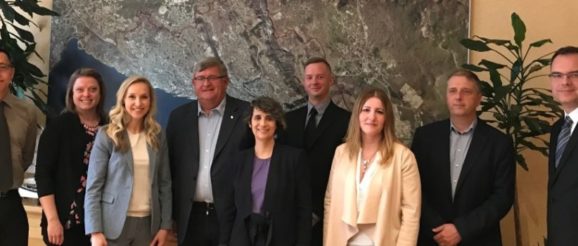 International Urban Cooperation program pairs Guelph with Croatian city
Guelph, Ont., October 11, 2018 – Knowledge sharing of innovative solutions to common urban issues was the focus of international visits between the City of Guelph and City of Rijeka, Croatia in September and October.
A team from Guelph travelled to Rijeka in early October as part of the International Urban Cooperations (IUC) City-to-City Cooperation program. The Rijeka team visited Guelph in September.
"This international exchange of ideas helps Guelph learn from other municipal leaders so we can apply new innovative technologies and sustainable solutions to complex environmental and energy issues," explains Scott Stewart, Guelph's deputy chief administrative officer of Infrastructure, Development and Enterprise Services. "It also let's us profile Guelph's innovative practices and achievements on an international scale."
Guelph was one of six Canadian cities selected to participate in the IUC program. Guelph's submission focused on updating the City's Corporate Energy Management Plan to meet ISO 50001 energy management standards. ISO 50001 guides municipalities and organizations in using energy more efficiently through the development of an energy management system.
During their visit, the Rijeka delegates heard from City of Guelph staff and community stakeholders─including the University of Guelph and Innovation Guelph─about how Guelph applies innovative technological solutions in fields such as energy, waste, water conservation, tourism, economic development and transportation. Rijeka delegates were briefed on:
Guelph's Corporate Energy Management Plan
Guelph's Smart Cities application
Guelph's Economic Development efforts
Guelph Tourism initiatives
Rijeka delegates were also given a tour of some of Guelph's facilities including City Hall, the wastewater treatment plant, the Waste Resources Innovation Centre, Victoria Road Recreation Centre and the F.M. Woods (water) pumping station.
The knowledge sharing between the two cities continued when Guelph staff visited Rijeka last week. During the visit, Guelph delegates reviewed Rijeka's Sustainable Energy Action Plan, Development Strategy and Smart Cities Action Plan. Guelph delegates also learned from Rijeka's partners including the University of Rijeka, Regional agencies, industrial partners and utility companies.
As part of the program, cities have access to IUC funding to undertake joint activities or small pilot projects.
"Guelph will be leveraging the knowledge gained from the Rijeka team and applying it to building a systematic approach to corporate energy management and achieving our energy goals," says Bryan Ho-Yan, program manager of Corporate Energy with the City of Guelph. "One action we plan to implement over the next year is to enhance our existing Corporate Energy Management Plan to comply with the ISO 50001 standard to effectively implement energy conservation initiatives and renewable energy projects."
The 18-month City-to-City program includes email correspondence, conference calls and site visits between the two participating municipalities.
Rijeka and Guelph delegation joined by special guests (left to right): Bryan Ho-Yan (Guelph delegate), Christine Chapman (Guelph delegate), Emily Nicholson (Deputy Head of Mission and Consul Embassy of Canada to the Republic of Croatia), Vojko Obersnel (Mayor of the City of Rijeka), Lisa Civicchia (IUC Country Coordinator, Canada), David Boyle (Guelph delegate), Tina Ragužin (Rijeka delegate), Damir Medved (Rijeka delegate) and Željko Jurić (Rijeka delegate)
About the City of Guelph
Guelph is a growing, diverse and vibrant community of about 132,000 people, located about 100 kilometres west of Toronto, Ontario, Canada. Guelph's community partners and business leaders are making a difference locally and globally in agri-food, technology, environmental enterprise and advanced manufacturing industries. The city's healthy local economy, thriving arts and culture scene, charming neighbourhoods, parks and green spaces make Guelph among the most livable cities in Canada.
Resources
About the International Urban Corporation
Media contact
Bryan Ho-Yan, Program Manager, Corporate Energy
Facilities Management
City of Guelph
519-822-1260 extension 2672
[email protected]