Los Angeles, CA Sanitation Districts Celebrate 100 Years of Innovation and Service – Waste Advantage Magazine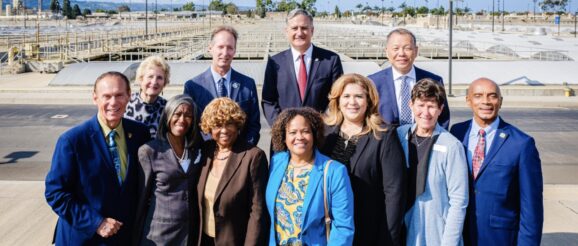 The Los Angeles County Sanitation Districts celebrated its 100th anniversary today with a special event at its largest and oldest treatment plant, located in Carson, California. The event was attended by Sanitation Districts board members, retirees, and community leaders, and featured remarks from Carson Mayor Lula Davis-Holmes, Sanitation Districts Board Chair Cathy Warner, Los Angeles County Board of Supervisors Chair Janice Hahn, State Senator Steven Bradford, Assemblymember Blanca Pacheco, and Sanitation Districts Chief Engineer and General Manager Robert Ferrante.
"Today, we mark 100 years of successful operations and want to acknowledge all the people that have contributed to the Districts' success," said Ferrante, "especially the staff that day in and day out, on weekends, holidays, and during emergencies have kept our systems running, often in tough conditions, to protect public health and the environment."
The Sanitation Districts were founded in 1923 to collect and treat wastewater (sewage) on a regional level. As Los Angeles County has grown, the agency has become one of the largest wastewater and solid waste management agencies in the world. Today, the agency serves 5.5 million people in 78 cities and unincorporated portions of Los Angeles County.
"The Sanitation Districts work is essential to our quality of life and economy. Without them, our beaches and rivers would be polluted, and we would not be recycling 100 million gallons of water per day," stated Chair Warner.
Mayor Davis-Holmes added "The City appreciates the Sanitation Districts' efforts to be a good neighbor. We are pleased that they have always been eager to address any concerns the neighbors or city have."
The Sanitation Districts have a long history of innovation, including:
Over its history, the Sanitation Districts' mission has expanded to include converting waste into resources, like recycled water, green energy and recycled materials. The agency is helping Los Angeles County be more sustainable and announced in 2022 that it was carbon negative, meaning the agency offset more greenhouse gases than it produced.
As part of the event, the Joint Water Pollution Control Plant was renamed the A.K. Warren Water Resource Facility after the agency's first Chief Engineer and to reflect the facility's mission to convert waste into resources.
Supervisor Hahn remarked, "I am proud to celebrate this momentous occasion with an agency that has helped lead the way in not only providing services to residents, but also managing our natural resources responsibly."