Mini Cooper SE: the greatest innovation since 1964? – Road Rug Cars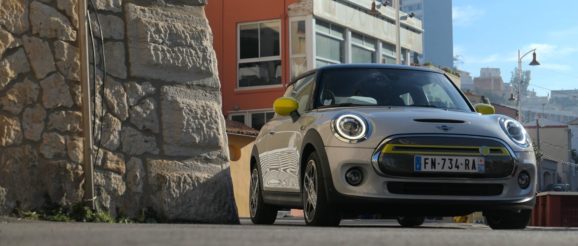 Mini goes electric with the Mini Cooper SE… Please don't leave the page, many things to discover below.
When Alec Issigonis, Chris Kingham and Jack Daniels introduced their Mini Morris Minor (or Mini Austin Seven) in 1959, everyone remembered its incredible design. Indeed, with an average fuel consumption of around 5 L/100 km, a weight of 610 kg, 3.05 m in length, and small 10-inch wheels that ensure 80 percent of its length is devoted to its occupants and their luggage, it is the perfect city car to tackle the challenges of the late 20th century.
Would this Mini Cooper be the perfect city car?
Yes, but also the ultimate tiny sports car! Thanks to the great rigidity of its steel monocoque body and a 4-cylinder 1275cc engine, the Mini Cooper S is born (not the new Mini F56, not even the R50, it's the Cooper S MKI). 56 years later, the Mini Cooper S won the Monte Carlo Rally. Three times. Well, well, well.
After that, it disappeared from the catalogue (oh my god), came back (thanks god!), got bigger, got heavier (too bad), lost its engine, sometimes gained 2 doors (scandalous?), gained a few centimetres in height… In short, it became gentrified. Let's face it, the Mini Cooper S has been a little less dreamy.
However, it has managed to keep an excellent chassis. It's no longer a monocoque, it's true, but it's still very efficient as we already noticed with David Toledano during the 2500 km of the last Tour Auto. The front end is a bit disappointing and the turbocharged engine a bit tiring but it still benefits from a relatively small size, 3.85 m long, 1.73 m wide and 1.41 m high, and a cute and endearing design that still make it one of the best city car on the market. Despite its current weight of 1200 kg!
Anyway, in 2020, Mini is back with a brand new name: the Mini Cooper SE. Good news or bad news?
Mini Cooper SE means Sporty and Electric!
No time for suspense, however (and probably just like you), it's hard to believe that an electric car can be sporty. And even less fun. Until now, electric cars looked more like ugly cars for people without a license (maybe) but mostly without self-esteem…
Ok ok, Peugeot has just presented its E-208 which is not bad at all and which seems to be a good basis for a GT-E but nothing concrete. For me it's a first real test of an electric car. I had tested the E-208, but it was only an hour on a country road with little traffic. So I get into the new Cooper SE and press the start button.
Usually in an electric or hybrid car, nothing happens except the screens light up. Often the car makes a few sounds like annoying beeps, but here this is a real music that starts, puting me in the right mood. The car says to me: "TADAM". Which probably means: "you've just opened a mysterious box, now you have to rummage through it".
I start to discover the Mini Cooper SE in the center of Marseille. My first remark is "it's fucking quiet" "and pleasant to drive like that, windows open, roof open, under the late winter Provencal sun". It's my Mediterranean side that stands out. My second comment is "wow! it brakes damn hard as soon as I let go of the accelerator! ». That's my good family man side.
I cross the first few streets on a net of gas and I quickly realise that this trickle of gas is more than enough to pass in front of all the other regular cars on the boulevard. I feel like I'm driving in another dimension. A dimension without sound but above all faster and more agile than all the normal cars around me.
Mini Cooper SE: fun at every turn!
On a more appropriate road, in sport mode, I try to start pedal to the metal… A strident sound rises in the whole cabin, my head goes slightly back and the front wheels slip (and I can hear them very clearly)! The car leaves in one shot with a violence that's rare in this kind of segment. I can hear this high-pitched sound gradually climbing into the car, just like the sound of the wind on the body. The speedometer goes up by skipping 3 digits at a time, seeming not to want to stop. In fact, the sound of the electric motor is very close to a big remote-controlled car or a bumper car. As a result, a big smile lights up my face; I think the electric Mini has connected with the child that was hiding inside me.
Like a lot of cars you're going to tell me. It's true (especially in a straight line), but I continued on small roads… Left, right, full speed in curves and I immediately feel an excellent weight distribution! Even the front suspension, usually a bit slippery, seems to me to be much less fleeying. Probably because it is relieved of a few kilos on the front.
With my foot on the gas pedal, I feel a sporty steering that's just the right amount of firmness and incisive feeling. As I head into the back country of Provence, towards the Circuit du Castellet, I find myself laughing alone as I frantically climb back on a Porsche Cayman. Unlike the Porsche Cayman, I hardly ever brake when turning. Indeed, I slightly release the accelerator, the engine brake of the energy recovery regulates the speed of the car, and allows me to make the mass transfer in order to press harder (and earlier) on the accelerator. Still unlike the Porsche, the Mini Cooper SE has its torque right away, all the time, or almost all the time, which clearly gives it an advantage on those twisty little roads.
After a few hundred kilometres, here is the verdict. This little Mini Cooper SE is glued to the road, literally. Thanks to an excellent chassis (already noticed on the regular Cooper S but which seems perhaps stiffened by the battery pack and its protective shell). Compared to the thermic version, we feel on board this electric Mini as a settling effect that we obviously owe to the batteries. Indeed, they add 145 kg to the car (WOOOOW)! Consequences: + 1.5 cm of ground clearance needed for the batteries under the floor and the rear seats without changing the cabin, and – 3 cm for the centre of gravity to preserve driving pleasure! That's the BMW touch and it works very well with this Mini Cooper SE.
No engine in this Cooper SE, but how bad is it?
No combustion engine, obviously. Honestly, I didn't really miss it. For me, it's the weak point of the Cooper S F56 / F55 (please don't throw tomatoes at me). Here are the reasons why : first, a turbo that goes off all the time, second, a constant hissing and decompression noises every time you lift your foot off the accelerator, three, it's not very lively and tiring after a few hundred kilometers. In my memories, the automatic transmission wasn't amazing either. It seemed slow, not really natural and not very intuitive in sport mode. Good riddance, no gas engine and no transmission either in the SE version. Simply put, the greatest quality of the Mini Cooper S's combustion engine is probably being a 2.0L 4-cylinder at a time when small 3-cylinders abound.
Well, let's be totally honest, I still missed this engine twice during this test. The first time was when I opened the hood. The 2.0L isn't particularly beautiful because of its plastic covers everywhere, but it has the merit of being a nice little mechanical part that you can admire by sliding your eyes between two covers. When I opened the hood of the Cooper SE, I wasn't sure what to expect. A portable electric generator? A big dynamo? The Electricity Fairy? In fact, no surprise there, the electric motor is really ugly with a big grey plastic block that hides absolutely everything. Never mind, we'll get over it, I think it's just me and a few petrolheads who are interested, so let's let the automotive magic happen.
The second time I missed the good old engine was when I first laid eyes on the remaining mileage. After driving at a fairly high pace, I was serene, serene like a driver of a combustion car… Except that the car had lost a third of its capacity, just like that, in the snap of a finger and a few dozen quick kilometers. In fact, I believe that this apprehension of running out of fuel is an immoderate panic fear. On a daily basis, I'm relaxed all the time, except when I'm on the fuel reserves. There I frantically run to any petrol station as if it were the end of the world right now. Are you the same? I think everyone's a little like that. When you're in an electric car, that feeling is, in my opinion, multiplied tenfold. With a shorter range overall, between 235 and 270 km for the Cooper SE, but above all much more subject to your driving style, the number of remaining kilometres sounds like a red alert in our brains. The number shown on the display (which is clearly in plain view before my eyes) becomes almost obsessive. You can't take your eyes off it, it's like a flashing light on the digital dashboard, you sweat for every kilometre of range you lose. Whereas with a classic car, it's very easy to ignore it and focus only on the very whimsical range bar indicator. It's more convenient for calming our deepest anxiety. All this to say that electric car range is a false subject. In 2014, an Ipsos/Steria study for Avere-France and Mobivia Groupe stated that the average distance travelled daily by a car in France was 31 km. So, 270, 235 or even 180 km (if you're the sporty type) will be more than enough for the vast majority of your daily trips. Of course you won't be crossing the country with the kids in the back, luggage on the roof on a hot July day, but who really does that on board a city car?
I've been looking for flaws in this Mini Cooper SE…
And that was the hardest part of the review.
Something I didn't expect is the linearity of the engine as soon as you reach a certain speed. The power stabilizes and continues to increase quietly towards the top speed. While low in the rpm it rises very, very quickly with its 184 hp and the 270 Nm available right away. Let's just say that the fun part of the engine is at moderate speeds and rpm. After that, it's a bit pushy.
On the outside, I'm not a big fan of the bulging front grille. With the integration of the bumper into the grille, it looks like it has a bulge in the front end. Since the grille is gray, it's all the more noticeable. Worse yet, the hood air intake is… totally dummy! Okay, it's been the distinctive sign of the Cooper S since 2002 but I'm still offended by the technical elements that only have an aesthetic function, it's like wearing glasses without corrections, just for style. Sounds cool, but it's not cool.
The specific wheel rims with yellow edging are special, but I like them. Grey colour chosen for the model presentation is also pretty cool, very modern, I like it. Matter of taste. Anyway, it's called "Moonwalk Grey" and everyone will agree that it's super cool, right? A nice tribute to the Austin Mini's "Moonraker Blue" color from the 80's (I know them well, mine is that color).
Everything else doesn't really change, except for hood strip options with Union Jack patterns that are very very discreet and therefore very cool. Except E logo on the side, on the back and on the front. Special mention about the badge on the front, it takes the shape of the vintage automotive club badges, as Mini had already make on special editions. Oops, I get lost, I had to find some flaws. 

Inside, nothing has changed or almost, except the screens. Too many screens, too many screens, especially when you have a sunroof. Indeed, the screens get dusty very quickly and it becomes an ordeal for people who are a bit manic like me.
Oh yeah, I forgot, a common point with all modern Mini's, there's too much plastic. Too much black plastic, not always of great quality. The leather or fabric finishes of the seats are not bad at all. By the way, I wonder, why didn't you add an "E" to the yellow Cooper S on the back?
Finally, let's talk about practicality, let's talk about the refill. The Mini Cooper SE can be recharged from a household socket (charging cable supplied as standard, just like a big smartphone, thank you), via a wallbox (it's faster but also more expensive to install) and on free-access charging stations (optional 3-phase charging cable, it's even more expensive per kW/h but still faster). Connected via the last option (maximum load of 50 kW), the Mini SE's battery can recover 80% of its capacity in only 35 minutes! Faster than your iPhone for that matter! For the other options, it will take several hours, but that's okay because you'll probably charge your car at home when you get home from work. Just like your smartphone again.
Mini's not exactly at its first trial run
With a 0 to 100 km/h in 7.3 seconds (0.2 seconds less than a Mini Cooper R56 from 2006 to 2014) and a top speed of 150 km/h, the Mini Cooper SE does a very good job on paper. And that's no coincidence. 

The Mini Cooper SE has benefited from the brand's experience through the Mini E operation launched in the United States in 2008 and extended to a number of countries with a fleet of 500 rental cars. Following this, BMW launched the already famous BMW i3 and i3S, from which the Cooper SE gets all the electrical components, of course. Whatever, the two cars have a very different design and behaviour, thanks to a 100% Mini chassis.
The most picky among you will then think "ok, electric cars are cool, but what do we do with the batteries when they're dead? That's a good question. BMW and Mini thought it through, they recover some of these batteries to install them in an electric farm that runs on used batteries. Designed and installed in Leipzig, this farm stores the renewable energy produced by the site's wind turbines and feeds into the public grid in case of high demand.
#FunToDrive score
Mini Cooper SE : 86/100
I'm surprised at the score myself. However, it was a very cool and nice try. Lively, straightforward and fun, I spent a great time driving a healthy and playful car that was as practical in town as it was fun on the winding roads.
Why was I seduced? Probably because Mini returns to the essence of its 1959 concept: urban innovation. What could be better today than an electric car for urban use? Probably nothing, except a bicycle, or a city car from the 50s maybe. The real stroke of genius lies in the fact that this car is a Mini from the outside, but also from the inside. It hasn't lost a single Mini character trait compared to its traditional Mini Cooper S sister. On the contrary, it has even gained in character in my opinion. It has the same kind of go-kart feeling as the classic Mini, but its ease of use and the incomparable pleasant engine make it terribly endearing.
Without breaking any speed or time records, I was able to enjoy the simple pleasure of driving a fun car that's just waiting to be pushed. It gives the exhilarating feeling that you can do anything with it. In fact, I get a bit of the feeling of my 1986 Austin Mini 1000 back in this Mini Cooper SE. This feeling which I had lost a bit in all the turbo noises and the Works exhaust lines of the latest Mini. If in the years to come you offer the same car, even smaller and with 200 or 300 kg less weight, I would be definitely conquered.
In short, like all petrolheads, I regret the end of the petrol engines that we used to love so much. However, I'm glad to see that electric motors (no matter how unglamorous they are) can easily replace the sad little engines we've known lately. If all the small turbo petrol engines and all the horrible little diesels disappear in the cities, I won't really be sad. I believe that the automobile today is undergoing the revolution that the watchmaking industry experienced in the 60-70s with quartz movements. Cheaper, more efficient and more reliable, electric motors will probably replace the engines of everyday cars, and high-flying mechanical engineering will remain reserved for exceptional automobiles, as is already the case with luxury watchmaking.
Ps : thanks to JB Dessort from Le Billet Auto and Ugo Missana who supported me during the two days of testing.