MoneyNeverSleeps: Sean Lee, Crypto Council for Innovation and Digital Asset Policy Creation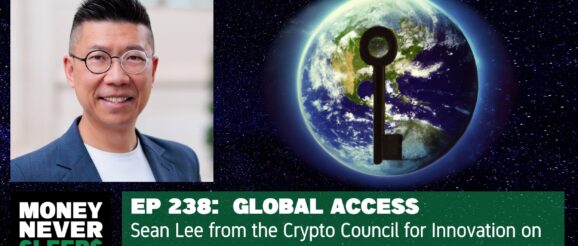 Sean Lee is the senior advisor at the Crypto Council for Innovation, which is a global alliance of crypto industry leaders advocating for responsible and healthy regulations in the digital asset industry.
Sean has conducted business in over 20+ countries and two continents across his career and networked with extraordinary professionals across many industries. As a technology enthusiast, his career started in Internet 1.0 during the mid '90s, spanning across eCommerce, cloud computing, and digitalization with IBM, EMC, Pivotal, and Dell before moving into blockchain and crypto in the last few years. Through it all, he has witnessed how technology combined with innovative business models can transform industries and, ultimately, global economies as well.
In this episode, Sean and I dive into:
– How the current events in crypto point to an even greater opportunity for education, advocacy, and policy to accelerate the adoption of digital assets and blockchain technology.
– How the Crypto Council for Innovation approaches policy frameworks to align the digital asset industry with regulators and vice-versa
– How far the crypto industry and regulators have come with centralized finance (CeFi) already
– An example of policy building through the lens of decentralized finance (DeFi) with a focus on placing the regulatory lens on appropriate layers of the DeFi stack.
– How we approach the paraphrasing of the various definitions of web3 into terms that are accessible to non-crypto natives
– A big change that Sean and I would both like to see in how most web3 founders think about fundraising.
LINKS:
Follow Sean Lee on LinkedIn and X/(Twitter)
Watch Sean Lee's weekly 'This Week in Crypto: Sean's Take on Asia' videos on YouTube
Episode title inspired by Global Access by Young Thug (feat, Nate Ruess)
Leave a review and subscribe on Apple Podcasts | Spotify
Check out our MoneyNeverSleeps website and email us at [email protected]
Follow us on X(Twitter): Pete Townsend | MoneyNeverSleeps
Follow us on LinkedIn: Pete Townsend | MoneyNeverSleeps