Monitor ERP celebrates a decade of growth and innovation in Penang | Buletin Mutiara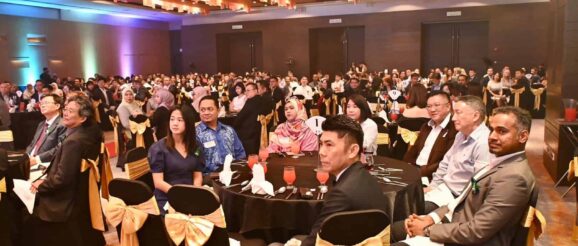 MANUFACTURERS can measure their products' climate footprint now with the launch of Monitor ERP's new functionality – 'Sustainability by Monitor'.
'Sustainability by Monitor' is an environmental tool that helps companies accurately measure their environmental impact and implement sustainability measures.
According to the Monitor ERP website, the new 'Sustainability by Monitor' functionality helps companies measure their carbon footprint, evaluate the data, and adopt strategic measures to cut emissions and consumption of resources.
"In 2026, all small and mid-sized enterprises in the European Union (EU) will be required to file sustainability reports under the new ESRS (European Sustainability Reporting Standards) standard," the website added.
Commending the newly launched innovation, Chief Minister Chow Kon Yeow said the 'Sustainability by Monitor' would not only ensure readiness and competitiveness but also align with the growing demand for ESG (Environmental, Social and Corporate Governance) reporting and contribute to more sustainable and responsible production.
"This groundbreaking feature allows manufacturers to perform sustainability calculations and measure the climate impact of their manufacturing activities down to the component level," he said in his speech during the Monitor ERP System User Seminar and 10th Anniversary celebration at G Hotel this evening.
Chow also extended Monitor ERP for choosing Penang as its ASEAN operations hub.
"Some of you may recall our last gathering in 2019 when we celebrated the launch of the Monitor G5 and the opening of Monitor ERP's new office in Straits Quay. Back then, Monitor ERP had a humble staff of 30 people.
"To witness your growth, with nearly 100 employees today, is truly inspiring," he said.
Chow also highlighted the state government's commitment to transforming Penang into an internationally smart state and the preferred location for investors, tourists, and people who seek sustainable living.
"One of our key strategies in achieving this goal is to cultivate a diverse and robust state economy, with manufacturing and services sectors playing a pivotal role.
"We aim to harness the power of our innovative and sophisticated manufacturing and services sectors to match the global standards," he said.
The Chief Minister also made a firm commitment to promote ESG growth within the state.
"This commitment is embodied in the establishment of the Penang Green Council (PGC). Our goal is to transform Penang into a vibrant hub for green manufacturing and foster collaboration between small and medium-sized enterprises (SMEs) and multinational corporations (MNCs).
"We work diligently to facilitate the green transition of local SMEs by creating collaborative platforms through public-private partnerships, underpinned by well-conceived policies, and knowledge-sharing initiatives.
"Sustainability is at the forefront of the global agenda, and Penang is no exception," Chow said.
He also commended Sweden for its vast experience and expertise in innovation and productivity.
Swedish Ambassador to Malaysia Dr Joachim Bergstrom said Sweden was in the midst of reopening its honourary consulate office in Penang, which is scheduled to happen in the next few weeks.
"The roles of the honourary consulate include rendering assistance to Swedish citizens and deepening bilateral ties in this region.
"Penang feels like a second home to us," he said in his speech.
Monitor ERP Southeast Asia chief executive officer Daniel Haggmark thanked Chow for his commitment to Penang and for his support.
Haggmark also expressed his gratitude to the supporters of Monitor ERP.
"Thank you for celebrating our success together," he said.
Also present were Monitor ERP Group owner Jorgen Persson and Monitor ERP Group chief executive officer Morgan Persson.
Story by Christopher Tan
Pix by Siti Nuratikah Rahmat