MSMEs need innovation vs headwinds — Tech stakeholder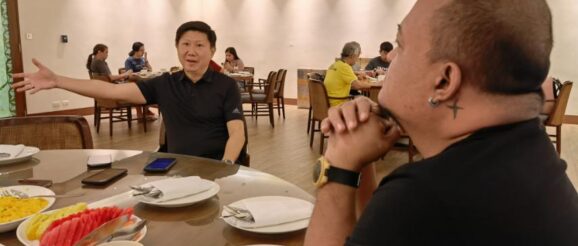 BORACAY — The best way for micro, small and medium enterprises or MSMEs to cope with the global economic headwinds is to innovate, according to a technology business honcho.
In an interview, Jimmy Go, president and CEO at VST ECS Philippines Inc., said that MSMEs should invest in enterprise resource planning or ERP and a good accounting system.
"A lot of MSMEs do not have ERPs and their ways are not automated, done with spreadsheets. That's indeed the first step apart from anything else. Then the rest is dependent on the business, like restaurant owners should set up their businesses online. And there's no such thing as one size fits all because the requirements of the company are different like it varies in hotels, restaurants, retail, among others," he said.
Go explained that Philippine business owners, before the pandemic hit the country, lagged with their counterparts in the region.
"Some are really scared of online transactions due to online fraud. Everybody is too cautious, especially transacting online when money is involved. But because of the pandemic, they pivoted. That's the good thing about the pandemic. It has introduced new processes and new ways of doing things. If the pandemic did not happen, it will take additional five years for businesses to realize and actualize automation. That's the best lesson that we have learned from the pandemic," he said.
In a recent report, the Philippines fell on the Global Innovation Index for this year, from 51st to 59th among 139 countries.
Despite this, the Intellectual Property of the Philippines office, said it will work double time in creating an environment that stimulates creative and innovative activities by promoting IP protection and creating a robust enforcement regime.
Also, the World Intellectual Property Organization recognized the Philippines as one of the middle-income economies with the fastest innovation catch-up to date along with China, India, Iran, and Vietnam, amid the slide in the GII, which ranks the countries and economies through innovative measures, environments, and outputs.
"We regret to see the decline of the Philippines in the 2022 GII. Our slide of eight rungs is most alarming. This calls for the urgent task of accelerating work at the National Innovation Council to sustain innovation over time," IPOPHL director-general Rowel Barba reacted to the recent GII report.
Managing risks

But Go said that pivoting connotes vulnerabilities to risks, such as cyberattacks, and fraud, among others.
"There's no real guarantee that your enterprise will be safe from these online risks. Number one, the bigger you are, cyber attackers will make themselves agile and formidable because attacking huge technology companies connotes achievement for them. That's their trophy if they can attack Microsoft and Amazon. It's impossible to stop them. That's the reason why they should acquire
cybersecurity such as firewalls, et cetera. There's no one cyber solution that could solve all the problems. Most enterprises are vulnerable to those risks. It's not an easy thing to solve," he said.
"There would always be cyberattacks. But if you don't pivot, you will be stagnant. You'll be left behind," Go emphasized.
Small companies are not the target of hackers, but their internal people, an inconvenient truth that Go revealed.
"Whether you are into a digital process, there's still a person inside companies that will rotten the whole organization. Most cyberattacks are done internally. So, in the process of transformation, the most important thing to do is to guard the process that would fit your company's digital transformation. That's very important," according to Go.
Moreover, Go lauds the government for imposing regulations to protect pivoted enterprises from vulnerabilities.