Music publishers talk innovation: 'When there's a will, there's always a way' – Music Ally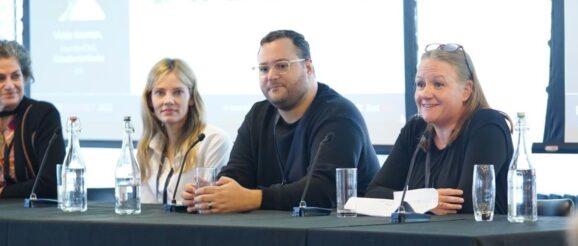 We hear a lot about the new revenue streams that labels are hunting down in social, gaming, fitness and other areas. But what about music publishers? A panel at the NY:LON Connect conference in London explored some of the new opportunities that they are unlocking.
Chaired by CrossBorderWorks CEO Vickie Nauman, the panel included Natalie Madaj, SVP, global digital at Warner Chappell Music; Samantha Sawyer, chief content officer at 7digital; and Emilio Morales, publishing director at Rimas Publishing.
Madaj started with the growth in publishing revenues already, from new types of licences with new types of partners to recent rates settlements in the US governing streaming royalties for the publishing sector.
She hailed the amicable (eventually) settlement of the Phonorecords IV rates last year, brokered between publishers and streaming services. "There have been major jumps in what we've been seeing on the publishing side just in the last few years," she noted.
Sawyer called attention to the bigger picture, in comments that were mirrored elsewhere during NY:LON Connect.
"It's not just about how much goes to publishers and how you divvy up the pie," she said. The process we should focus on is where are those extra revenue streams going to come from so that all boats rise?"
She outlined fitness/health, social and gaming as the key categories of startups looking to license music from publishers and labels alike.
"The one thing that they all have in common, unlike previous phases of growth, is that they don't require full catalogue," she said. "The Apples and Spotifys need the 100 million songs, but the new services that are coming through can operate on much smaller subsets of catalogue," said Sawyer.
They still need both sets of licences though: publishing and recordings. Sawyer said that labels in particular must take care to ensure that these subsets of catalogues are cleared (or that the startup is able to clear them), since companies like 7digital have built systems to filter out uncleared works for their clients.
"The danger is if you as a record company are wanting to release content onto a particular platform, but on the publishing level it isn't fully cleared, it will be filtered out. And that could come as a surprise if you are building campaigns around particular content being on a platform at a particular moment in time," she said.
Madaj talked about Warner Chappell's double-pronged approach to licensing. Bigger companies wanting to use its music – she cited Pinterest as one recent example – can hire experienced consultants and attorneys to make sure they get licensing right.
"That's an easier conversation to have because we're talking to to people we [already] talk to on a regular basis. They know what they're doing. They know what rights they need."
For smaller startups, the company has its innovation licence, providing a blanket licence for the majority of its catalogue, fewer reporting requirements, and a flat-fee structure with a revenue cap to ensure that they move to a direct licence as they grow.
Morales' company works with musicians including Bad Bunny, so his rapid ascent plus the burgeoning interest in Latin American music has seen the number of inbound opportunities for Rimas rocket.
"It's been growing and that also creates kind of an important situation for our company… to cope with that kind of influx of requests," he said.
"We have to be more efficient in responding… we've received requests from the little guys that want to do a video for a high school, we have collaborated with many non-profits, and we also have the kind of scenario where you are requested something really unique by a fitness app company, or by a video game."
In the latter case, he also noted that these partnerships can now be about much more than simply licensing a song for a game's soundtrack, and said that this growth in opportunities and ambition challenges publishers to "keep on growing, keep on also hiring new people, brining talent together… It's a corporate responsibility that we all have."
Sawyer and Madaj discussed the potential for an evolution in licensing models used by publishers. Sawyer suggested that "some kind of pre-cleared packages, maybe for a small, medium or large sized company, with a mix of repertoire and clearly-structured pricing" could be a boon.
"That's something that we certainly look at doing," said Madaj, before offering a caveat. "In terms of separating out the catalogue like that, it's a little bit difficult to do that for a number of reasons. We never want to say 'these songs are worth less than the others'. That's never a good look, and not how we want to treat our writers!"
She also said it's important for startups to understand that signing a deal with a single publisher is just the start of the story.
"We can maybe give you 5% of a bunch of songs. You're still going to have to go and clear that with the other publishers!" she said. "We try to make it as simple as possible on our end… but unfortunately there's still going to be a million other parties out there that you're going to have to go and talk to most of the time."
More collaboration between labels and publishers to simplify licensing was another of Sawyer's requests on behalf of 7digital's clients, and Morales agreed that this collaboration would be a positive trend.
"It's always one of our biggest to-dos, every single year, to keep on leveraging and growing our relationship with all the labels and the parties interested in all the songs," he said.
"The funny thing about Latin music is sometimes you have 10 to 15 writers in a song… I now have to have even more label friends than I used to before!" he laughed.
"I'm glad about that! That's one of the reasons Latin music has grown so much: that collaboration, not only on the artist side or the creative side, but the companies have had to go along too, to follow the dreams of those artists."
Sometimes, startups can have unrealistic expectations of what's required of them in terms of licensing and music usage. Nauman offered an anecdote from a demo she was given by one web3 startup looking to work with music.
"I said I want to stop you, you are going to have all sorts of issues," she said, referring to the need for licences. "He said 'y'know, we've looked at that, but we think we're in a post-copyright world now…'"
"I said well, that's great, good luck… I suggested he use photos of his cats rather than the music, because that would be more appropriate for the model."
Madaj talked about another bugbear for publishers like Warner Chappell: feeling like they're only the second priority behind labels when startups are seeking licensing deals.
She encouraged startups to "come to both copyright owners at the same time, so that you have reasonable expectations about what percentage of revenue is going to be required by both the label owner and the publishing owner".
She continued: "We as publishers don't want to be caught on the back foot where all the label deals have been done and there's only X amount to cover the publishing… There are some opportunities where we are unable to license, and then what do you do next?"
She also responded to Nauman's tale of the web3 founder. "We are not in a post-copyright world. Not even close! Approach all copyright owners at the same time. I would not leave publishing second as you could be in for a rude awakening."
Morales agreed. "We're definitely not in a post-copyright world, and I don't know if we will ever get to that. I doubt it!" he said.
"We like to look for ways to always make it possible for someone to actually license the work. It has to do with the willingness of the entity [that wants to use the music] and also we have to know if it is something we can practically monetise and account for. As long as it's ethical and goes with the values of the artist, it's pretty much doable."
"When there's a will, there's always a way," he summarised. "I think there is a lot of opportunity for all of us here… We're in a great, great moment for music."
The NY:LON Connect global music summit is run by Music Biz and Music Ally. This year's event is held in association with Orfium and Viberate, and hosted by Reed Smith. The Role of a Publisher track is sponsored by Rimas Publishing. You can find all our coverage of the conference sessions here.
Sign Up

For Music Ally's Free Weekly Newsletter

The Knowledge – at-a-glance analysis of the modern music industry
Get A Free Music Ally Account
Access unlimited News articles on the site, PLUS a trial of Music Ally's subscriber-only services, including our industry-leading daily Bulletin email.