Navigate the Storm Using Innovation and the Talents of Your Team – Price Associates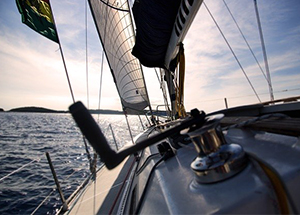 By Tanja Yardley
I have a predisposition to confess to. The phrase "we are in this boat together" sparks an almost illogical irritability. While we are in this pandemic storm together, we are most certainly not in the same boat. As leaders, we understand intuitively that a few of our employee are flailing around in a rowboat with several holes, hardly holding themselves above the water line and bailing constantly. Others are zooming around in a motorboat, taking pleasure in the ocean breeze and monitoring on all the other boats. Some are lucky adequate to be travelling in a well-appointed yacht, taking pleasure in umbrella beverages with liked ones and hoping that this quality time doesn't end too rapidly. Times like these expose the spaces, the rocks, and the choppy seas, in addition to the ability and resiliency of the sailors.
Leading is tough at the very best of times, but now, more than ever, emotional intelligence and creativity will direct effective decision-making. As forward-thinking companies regroup and rechart their course post-pandemic, development develops opportunities to pivot in action to the headwind and gain momentum. According to Evans Baiya, co-author of The Innovator's Benefit, development is a chance to create brand-new value. It's a team effort that accepts a broad and diverse range of skillsets. It's an opportunity to draw your team together in a meaningful way, strengthening the complete series of vessels in the face of the stormy sea. Innovation can be the lifeboat that brings your business securely to coast.
Whether you are innovating in a time of crisis or a time of calm, the exact same principles apply:
1. Comprehend the abilities, strengths and situational context of your employee.
Each of the six phases of effective development laid out in The Innovator's Advantage structure requires a special skillset.
The Recognize phase needs the sky watchers perched in the crow's nest of the ship– employee with excellent futuristic and innovative thinking abilities, adept at taking a look at issues and recognizing patterns while producing and collecting concepts.
The Specify stage is perfect for the navigator– an employee who stands out at collecting information about the scope and scale of the problem to be resolved or chance to be captured, while certifying and ranking possible options versus the requirements that will define success. The Define phase clarifies the problem to be fixed and the option to be tested, and culminates in a map of the journey for the group that will get the job done.
The Establish stage demands experienced sailors– resistant self-starters, knowledgeable at handling the projects, processes and people who will deliver the big-picture results; undaunted by the obstacles that present along the method.
The Verify stage often falls to the ship's engineer. It's everything about explore your proposed service(s), screening, tweaking systems, gathering feedback, failing forward and adjusting course where required.
The Deploy phase is where the captain's ability and strength at browsing the waters of application and change management will actually shine. Strong interaction, team-building and emotional intelligence ensure that the oars are lined up in the water for optimum thrust.
The Scale phase typically draws in the swashbuckling-explorer type. Charming, positive, positive team members who engage others with their stories of storms prevailed over and treasures discovered. These people bring insights and chances to scale innovation beyond its original intent, finding brand-new markets and alternatives to diversify.
Innovation projects engage the complete variety of diverse skills and strengths of your employee around a meaningful common objective. Handling this amongst a dispersed group, a number of whom will be working from home, may require a higher level of imagination and interaction, however it's worth it. Guaranteeing that each person is positioned in alignment with their skillset and unique vantage point will bring back self-confidence and drive cadence. It's a crucial action in helping individuals shift out of situational crisis thinking and into a more future-focused state of mind. As Peter Drucker as soon as said, "The very best method to anticipate the future is to develop it."
2. Decide TOGETHER what issue to fix
Solving problems together produces momentum and a meaningful sense of purpose. Experienced leaders can take advantage of this insight to bring groups together and promote deep, generative discussions about issues that need to be fixed with and for your clients. In a crisis situation, problems are plentiful and are compounded by the reality that your customers' needs are altering minute-by-minute. What appeared essential pre-pandemic may be entirely off the table once the storm settles. This is where diversity can help you produce a more robust and nuanced approach.
Start by asking the ideal questions.
Ensure you are asking the ideal individuals.
When you are clear on the issue you wish to solve and the constituency of the Innovation Group, the structure of the development procedure lends itself well to cooperation at each phase. Customers can have an advisory function in recognizing the scope of opportunity and the key features of the service in the Identify-Define stages. They can be invaluable in beta-testing and tweaking the style during the Develop-Verify experimentation stages. If the service lands well in the Deploy stage, they may take an active role in the Scale stage, bringing it to new clients or re-imagining how it can fix new problems.
The old saying uses here: a smooth sea never ever made a knowledgeable sailor. The beauty of a well-executed innovation project remains in its capability to unify, boost and reinforce your group while at the same time distinguishing and deepening relationships with essential customers.
Tanja Yardley is creator and Chief Development Officer of Wellspring, where she works throughout multiple markets with leaders, innovators and learning organizations to create innovation-focused, cross-functional leadership teams that prosper as an outcome of variety and cross-pollination. She spent over a decade as a VP and National Healthcare Development Lead for Canada's largest private health care company.