Neil Siegel Receives National Medal of Technology and Innovation – USC Viterbi | School of Engineering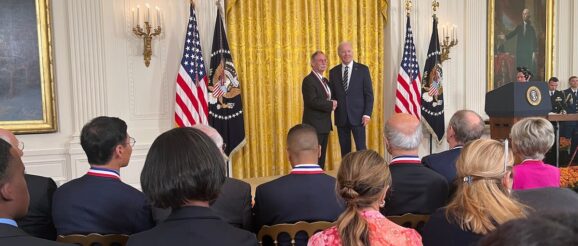 USC Viterbi alumnus Neil Siegel, the IBM Professor of Engineering Management in the Epstein Department of Industrial and Systems Engineering and the Thomas Lord Department of Computer Science, has been awarded the National Medal of Technology and Innovation. The honor, bestowed upon Professor Siegel by the President of the United States, Joe Biden, at a White House ceremony on Tuesday, October 24, 2023, is the nation's highest recognition of  technological achievement of America's leading innovators.
The National Medal of Technology and Innovation is "awarded to individuals or teams for their outstanding contributions to America's economic, environmental and social well-being and  recognizes those who have made lasting contributions to America's competitiveness, standard of living, and quality of life through technological innovation, and recognizes those who have made substantial contributions to strengthening the nation's technological workforce."
Siegel, who holds nearly 50 patents, was recognized for contributing technologies that "bolstered our national security, economy, and connectivity." His award was presented for his pioneering work in command-and-control, situational awareness, and the wireless internet. Siegel has had a distinguished career as a systems engineer, leading the creation of a large number of successful military and civil government systems. These systems have won many awards as model programs and important national capabilities.
In addition to his contributions to national security Siegel's work has led to significant advances in consumer electronics, healthcare, and entertainment. Moreover, technologies Professor Siegel invented are found in smart phones everywhere.
Upon being notified of this award, Siegel stated, "The work for which I am being honored was performed by a large team, of which I had the honor of forming and leading. But I always remember that much of the work was done by my colleagues, the other members of our team."
USC Viterbi School of Engineering Dean Yannis C. Yortsos said, "We are delighted and proud of the award of the National Medal for Technology and Innovation to Professor Neil Siegel. He joins a highly distinguished list of technology innovators over the more than 40 years the award was established. A pioneer in Systems Engineering and proud USC alumnus, Neil has made fundamental contributions to a wide range of technological systems with important applications and profound impact on security, aerospace, and defense. We are thrilled with his national recognition and honor."
Professor Siegel is the fourth Trojan to receive the National Medal of Technology and Innovation and the fourth USC Viterbi faculty member to receive a National Medal in the last 15 years. He joins Allen E. Puckett (1985), George Lucas (2004), and Mark Humayun (2014), who have been recipients of the National Medal of Technology and Innovation and Simon Ramo, (1979), Andrew J. Viterbi (2007) and Solomon Golomb (2011), who received the National Medal of Science, also bestowed by the President of the United States.
Professor Siegel joined the USC faculty in 2016 after a long career as an executive in the aerospace industry, including nearly 18 years as a vice president of Northrop Grumman / TRW, retiring as sector vice president & chief technology officer at the end of 2015. His previous positions at the company included vice-president and division general manager of the company's Tactical Systems Division, vice-president and director of their UK subsidiary, and sector vice-president & chief engineer.
He has received many other awards and honors, including election to the U.S. National Academy of Engineering, selection as a Fellow of the National Academy of Inventors, selection as a Fellow of the Institute of Electrical and Electronics Engineers (IEEE), winner of the IEEE Simon Ramo Medal for Systems Engineering and Systems Science, selection as a Fellow of the International Congress on Systems Engineering (INCOSE), selection as a Fellow of the Asia-Pacific Artificial Intelligence Association, the iCMG award for system architecture, the Northern Virginia Technology Council CTO-of-the-year award, the Albert Nelson Marquis Lifetime Achievement Award, membership in the U.S. Army's Order of Saint Barbara, and many others.
He has served on the Defense Science Board, the Army Science Board, and other U.S. government scientific advisory panels and is also the author of recent textbooks on Engineering Project Management, the Economics of Engineering Management, and the Principles of Systems Engineering.
In addition to being a member of the USC engineering faculty, he is also a USC alumnus: all three of his degrees are from USC, along with his PhD in Systems Engineering, he earned his BA in '74 and MS in '76, both in math, at USC Dornsife.
Beyond following the legacy of his Trojan family, he follows in the footsteps of his Trojan biological family –in terms of innovation and achievement. Siegel's mother, Judith Love Cohen,  who has received her engineering degree from USC,  is credited with working on the Abort-Guidance System in the Lunar Excursion Module for the Apollo space program, which brought the Apollo 13 team home safely.
Published on October 24th, 2023
Last updated on October 25th, 2023