New Products & Innovation: The Key to Creativation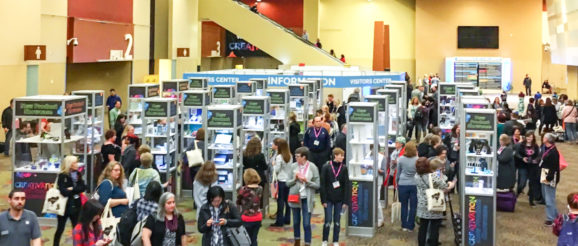 New products are one of the central reasons that attending a trade show is important. It's not just the chance to see the products themselves, but to learn about them, and interact with them and the industry innovators that created them that is so important. At Creativation 2019, a combination of old and new events brings new products and industry innovations to AFCI members and show attendees.
[This is a sponsored post for AFCI, but views are entirely the author's own.]
Creativation New Product Showcase 2017
New Product Showcase
For most Creativation show attendees, their first stop is the New Product Showcase in the convention center's lobby area. (The showcase design has been changed to a single level of display since I took this photo in 2017, giving attendees a much better view of the products.) All products displayed in the New Product Showcase must have been released since the previous year's show. It's a great way for attendees to get a sneak peak of some of the most exciting new products before they even hit the show floor!
(Exhibitors who are interested in taking part in the New Product Showcase at Creativation 2019 can click here for more information.)
New Product Networking Event
One of the hottest events at Creativation is always the New Product Networking event on the evening before the show floor opens. The event takes place right in the New Product Showcase area in the Phoenix Convention Center lobby. It's a must-do event for many Creativation show attendees. It's the perfect combination of a chance to catch up with old industry contacts (and make new ones!) with the chance to explore some of the industry's most innovative new products. Wander among the displays and check out the new products while chatting with other show attendees. (Don't forget to bring something to write down all the booths you want to visit after seeing the new products!) In 2019 the New Product Networking event takes place on Friday, January 18th from 4:30pm to 6:00pm.
New Product Awards
The showcase and networking event are established traditions at Creativation, but something new is coming to join them in 2019 – New Product Awards! A panel of industry judges will judge products that are displayed in the New Product Showcase by the following criteria:
What makes the product unique
How it will improve the crafter's overall experience
What makes it interesting to those outside of the crafting community
These awards are a brand new announcement from AFCI and more details will likely be forthcoming shortly. Watch for more information on the New Product Showcase page.
New Exhibitor Section
Another wonderful place at the Creativation show to find fresh new products (and new companies) is the New Exhibitor section of the show floor itself. This section, which for 2019 is housed right in the middle of the show floor between the Stamp Village and the Yarn Pavillion, can always be counted on to for exciting innovation and discoveries. Whether it is an up-and-coming new stamp company, a new craft organizer, or a tempting new craft to try…the New Exhibitor section is one of my must-do's each show. Today's new exhibitor may be tomorrow's big thing!
Tim Holtz idea-ology make & take at Creativation 2017
Demos / Make & Takes
It's one thing to see innovative new products, but just as important is learning about them. The Creativation show floor offers a plethora of options for seeing new products in action. In some booths you'll find designers showing off their personal product line and sharing tips on how to use it. In others, you can sit down and get hands on with the latest paint or ink and take home a ready-to-display sample along with hands on experience with the latest product. Don't forget to learn while you place orders and make new manufacturer contacts!
(Looking for all the details on Creativation 2019? To view the full preview guide, click here!)