Newbook Event at OHCE Looks at Trends, Innovation – Woodall's Campground Magazine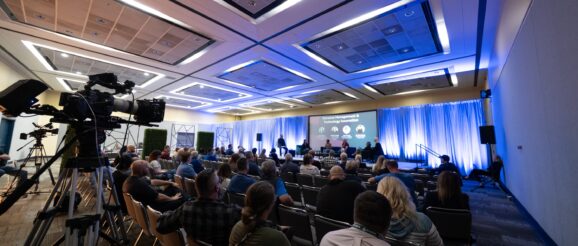 Newbook, a reservation and park management system provider, hosted an invitation-only Outdoor Hospitality Innovators Summit on Monday (Nov. 6) that featured a look at trends and "vital ingredients" to improving businesses in the outdoor hospitality industry.
The event was hosted during OHI's Outdoor Hospitality Conference & Expo (OHCE) in Kansas City, Mo. National ARVC rebranded to OHI this morning (Nov. 7), you can read more about the change by clicking here. 
Shaun Cornelius, Newbook's CEO, kicked things off by tackling some of the objectives of the event. He noted that "most industries don't go through change and disruption in a positive way like the outdoor hospitality industry."
Blake Burris, a senior account executing at Newbook, MC'd the event, and Blake Collins, the company's chief growth officer, presented the first seminar and noted that the entire event was going to focus on four major trends in the industry:
Collins highlighted some interesting statistics when it came to the traveler of the future. He started things off with a look at traveler profiles noting the differences between generations.
Those include:
"COVID changed the meaning of travel," Collins noted. "It is all about connection. Campers want experiences, they want to connect with nature, they want to feel as part of a community, they want multi-generational travel and they want to feel as though they are a part of the culture where they are staying."
From a technology perspective, Collins noted that travelers want mobile integrations and trip alerts, self-service check-in and -out, contactless payments and a website that offers an updated booking experience.
Collins dove a little deeper into traveler demographics with a look at the top three travelers of the future, including the Glamper/Lux Traveler, the Young/Active Traveler and the Sustainable Traveler.
The Glamper/Lux Traveler: 50% of these travelers are between the ages of 28-42 years old. They make $100,000-plus on an annual basis, 78% have children at home (44% are campers), 70% prefer 3-5 night stays, 35% are impacted by inflation and gas prices, and 100% of these travelers are willing to travel more than 100 miles.
"46% of these travelers are looking at cabins and 58% of all glampers are Millennials," noted Collins. "Research has shown that these types of campers will spend 45% at local businesses while camping when compared to other campers."
Young Active Traveler: 61% make less than $50,000 annually and 46% receive financial support from their parents to travel. 70% rate sightseeing as their No. 1 activity and feel that traveling is good for their mental health. They are also the No. 1 segment to rent vehicles and equipment, like boats.
"In 2022, 53% of this group completed three-plus trips and 83% of these travelers will reduce non-essential spending to travel," Collins explained. "84% would rather spend money on travel than other luxury items."
The Sustainable Traveler: 31% of the revenue in this segment comes from Millennials and 60% of these travelers are looking to book directly with a park. They are the most likely to volunteer and 44% of the revenue from this group comes from packages they can book for travel experiences.
"73% believe that sustainable travel is important and 51% will choose an eco-property over another location," highlighted Collins. "51% will pay more for a sustainable service."
Once Collins was done breaking down traveler profiles, Erin Stevenson, the chief operations officer for Newbook, took the stage to highlight the guests' journey through booking, staying and leaving a park.
She highlighted numerous ways that parks can make booking easier, market their parks better and make more revenue through things like utilizing online travel agencies (OTAs), utilizing packages to attract travelers, charging pet and site lock fees, offering rentals and more.
She highlighted that guests have short attention spans, so it is important to capture their attention with good images and content. She also encouraged park owners to utilize campers' own social media posts.
"Get them to tag you in it so you can reshare it," Stevenson said. "Others feel that the content is more trustworthy and authentic when it comes from someone that has used your service, and this can create a sense of community and offer real-time updates as well."
After a lunch break, NewBook continued its event with an afternoon of panels that focused on hiring, acquisitions, revenue management, tech innovations and more.
Jon Gould, director of business development & strategy at Roots Management Group; Scott Knepp, director of operations at IVEE; Mike Harrison, COO at CRR Hospitality; and Carl Kruell, an investment specialist, took part in the first panel.
The second panel featured Delana Meyer, CMO at Blue Water; Kathleen Walsh, president and CEO of Advanced Outdoor Solutions; Amir Harpaz, developer and operator of Harp Developments; and Claudia Infante, chief data officer at Margaritaville.
NewBook says it hopes to be able to host more events like this in the future. To learn more about NewBook, click here.