Northfield farmer uses Innovation Grant to test precision ag services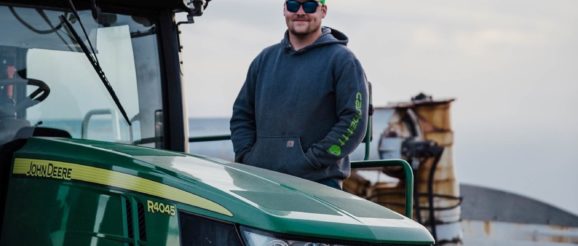 Written by Jonathan Eisenthal
Sam Peterson's farm in Northfield includes a
variety of soil types, with sand, loam and clay all represented on his acres.
This soil diversity makes Peterson's farm the perfect place to test variable rate technology (VRT)—a suite of precision agriculture tools that help farmers better manage seed and fertilizer inputs by only utilizing what is needed for each particular part of a field.
Peterson's proposal to test each VRT program was accepted through the Minnesota Corn Innovation Grant Program, which funds farmer-led research. With support from the Innovation Grant Program, Peterson set out to determine which VRT program works best on different soils, and how each VRT program can adapt to precipitation and ambient air temperature.
Ultimately, the goal of the Innovation Grant funding is to show that the most efficient VRT technology will result in farm profits as well as increased nitrogen use efficiency and thus reduced loss to the environment. Peterson compared three services—NitrateNow, Encirca and Field Forecasting Tool—to see which resulted in the highest yield while producing the most profit through improved efficiency.
Peterson quickly learned each VRT option uses its own process. NitrateNow takes a 12-inch soil sample to get nitrate levels, Encirca combines soil sample data with weather history, drainage and more, and the Field Forecasting tool uses a plant tissue sample.
Peterson is now bringing in his third harvest of crops raised with fertilizer rate recommendations supplied by the three services. Now it's going to take some time to crunch the numbers and data gathered over the last three years on which has been the most effective.
During what was a wet spring, the nitrogen
rate advised by each VRT varied, with Encirca coming up considerably higher
than the other two in 2019. While the added nitrogen may prove helpful during
what was less-than-ideal planting conditions, Peterson looks forward to getting
the full economic impact.
"Fertilizer is not cheap, so I am also trying
to look at the economics of it. That's what farmers really want to know.
Bottomline, is this going to pay? So, I am going to talk about it in dollars
and cents, rather than this yield is better than that, because that's not
really a true comparison."
The results of Peterson's project and others in the Innovation Grant Project will be posted in early 2020 at mncorn.org/research. View research results from other Innovation Grant participants and more by visiting the website today.
Interested in taking part in the 2020 Innovation Grant Program? In addition to innovative solutions to prevent nitrogen and phosphorous loss, the program now also seeks innovative ideas in nutrient use efficiency, tillage, economics and management, and production practices that enhance water quality. Proposals are being accepted until Dec. 31. Click here to apply.
The post Northfield farmer uses Innovation Grant to test precision ag services appeared first on Minnesota Corn Growers Association.