NOSH Live Day Two Recap: Authenticity, Innovation and Knowing When to Follow Your Gut | NOSH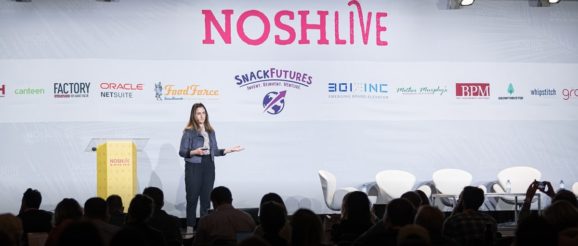 Day two of NOSH Live Winter 2019, held today in Santa Monica, California, offered insight from industry leaders on growing and scaling brands, cutting through the noise of a crowded space and when to follow your gut when making pivotal business decisions.
Scott Lerner, CEO of Farmhouse Culture, kicked off the day with a discussion on how to make tough business calls and push your team through dynamic business challenges. Lerner utilized his military background in business analogies, referring to business challenges as "ambushes." He claimed that "everyone has a plan until they get punched in the mouth" — noting that even the best laid plans can't survive the first contact.
"Once [your product] goes into market, nobody knows what's going to happen," he said. He added that leaders need to learn to "control what they can control" and be decisive in formulating a plan of action. Having an attack plan is crucial, Lerner said, and so is surrounding yourself with the right team and listening to outside feedback;"Don't drink your own KoolAid," he warned. While it's important to get outside points of view, he also added that confidence is key in major business decisions and challenges.
"There's always a way to solve the problem," he said. "You just need to think creatively."
The discussion then turned from decision making to deal making in a panel discussion with Bill Keith, founder and CEO of Perfect Snacks; Peter Burns, president and CEO of ONE Brands; and Janica Lane, managing director of investment bank Piper Jaffray, who worked with both brands on their respective deals.
The two brand leaders discussed knowing when it's time to sell your company or seek majority investment and how to know if a potential partner is right for your brand. Keith noted that he sought majority investment when he realized the company couldn't be taken where it needed to go under its current leadership, while both he and Burns agreed that a strong culture fit was crucial is seeking out a partner.
From the perspective of potential partners, Lane noted that they're looking for sustainable growth with good margins and innovation across every area of the business. When striking a deal, Lane said, it's important for entrepreneurs to be confident.
"Rely on advisors, but do trust your gut," said Lane. "If you know it's right, do it."
A lot of brands start with a product, and then build an online presence around it. For Buzzfeed's Tasty — "the Internet's favorite kitchen" — it was the other way around. Talia Halperin, head of brand management at BuzzFeed took to the NOSH Live stage to discuss how its popular Tasty cooking video platform moved from content to commerce, expanding to cookbooks, cookware, ice cream and even wine.
Halperin noted that Tasty started as an experiment based mostly on the notion that "people love watching food." She said people were watching Tasty videos for recipes, inspiration and joy, and found that people were even using the exact products featured in the videos, leading to the inspiration for brand extensions, brand partnerships and grocery pickup through the Tasty app.
She said Tasty's success is rooted in creating shareable content and focusing on "micro-moments"– think Taco Tuesday, date nights or ladies' nights — and specific identities — busy parents, people in their first apartments — that other brands aren't targeting.
"There's an action that comes from that emotional reaction," she said.
Tyler Mayoras, co-manager of the Food & Agribusiness Fund at Advantage Capital Partners, next discussed investing at the intersection of CPG and agriculture. Though Mayoras' fund focuses on brands in rural areas, he offered insight into sustainability, clean labels and successful brand traits. Mayoras said it's essential for brands to have strong management and to be willing to make changes when things aren't working.
"Every brand has pivoted at some point," he said. "It's not a straight line to success."
As a profit-focused fund, Mayoras added that brands need to have a reasonable approach to getting in doors, and avoid confirmation bias by seeking outside perspectives.
Speaking on getting into doors and what happens once you do was Whole Foods VP of grocery Dan Epley. Epley discussed the hybrid merchandising structure of Whole Foods, made up of a regional team (tasked with finding and incubating relevant brands) and global team (that establishes category strategy and manages resets) along with a purchasing team combining the two.
Epley said Whole Foods' foragers and buyers are looking for brands offering a solution that isn't currently on the market, after which they help them in stores to establish themselves, gain exposure, and grow. Expanding from a small to larger brand is both "exciting and really hard" Epley said, especially as expenses and competition increase, though the Whole Foods team helps brands assess the opportunity for global growth.
The word "wellness" has gotten a lot of buzz in the food industry, but what does it really mean? A panel featuring Elizabeth Stein, founder and CEO of Purely Elizabeth; Neda Daneshzadeh, co-founder and partner at Prelude Growth Partners; and Colleen Wachob co-founder and co-CEO of mindbodygreen, worked to answer that question. They discussed who the wellness consumer is and what exactly they're looking for in CPG products: Authenticity, strong values and a sense of community were among the top drivers noted.
Wachob said that the wellness industry has reached "peak influencer," stating that brands need to focus on credentials — not follower counts — when choosing brand ambassadors.
Wellness products, which can often come at a premium price point, also need to be accessible to consumers, said Stein. These products should also err on the side of subtly rather than make too many claims about functionality, she said.
The panel also noted that with the rise of edible beauty has increased the availability of more retail channels for wellness brands beyond just grocery stores, including beauty and apparel stores like Sephora, Ulta and Urban Outfitters. Daneshzadeh noted that these retailers are investing in edible wellness and is offering these brands alternative channels to grow and gain brand exposure.
To close out NOSH Live, Jessica Lukas, SVP of commercial development at BDS Analytics, discussed the current state of cannabis edibles. She noted that the legality of cannabis may be new, but cannabis use (legal or otherwise) for consumers is not. Because of this, the majority of consumers support some form of legalization, driven by belief in cannabis' medical benefits.
While she said CBD is "exploding" across forms and channels, there is still a lot of confusion surrounding what cannabinoids are. People are unsure of the psychoactive effects of CBD and THC, and she said brands and retailers need to continue to educate consumers about the functionality of these substances.
Though different consumers are seeking out various forms of CBD and THC for specific reasons, she said they all are looking to brands they can trust with effective dosing. She said recent regulatory efforts made by the FDA "will hopefully drive responsibility in the claims being made," moving brands away from "mood and affect branding" to more clean label products.