NU students determine Norfolk could benefit from waste-to-energy innovation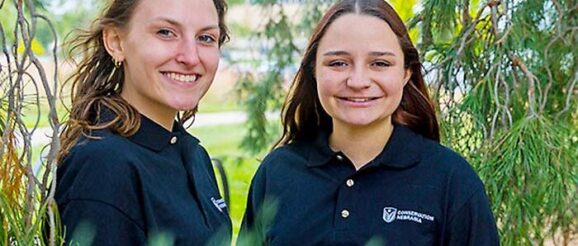 Norfolk, known for its forward thinking on waste management and energy issues, has an important opportunity to achieve significant cost savings and reduced landfill use by integrating its solid waste and energy systems, University of Nebraska students conclude in a new report.
Through a process known as pyrolysis, Norfolk could convert solid waste into syngas to be used to generate electricity. The process also could produce biochar for local concrete production, among other commodities. Such an approach would reduce carbon emissions, decrease landfill usage and generate new revenue for the city.
Waste-to-energy projects in similar-size communities, including Ames, Iowa, and the United Kingdom's Isle of Wight, demonstrate the benefits from such innovation, according to the report.
The study also includes a survey of Nebraska electrical contractors indicating that increased outreach by the Nebraska Public Power District may help stakeholders better understand the utility's incentives for pre-wiring new or existing homes for electric vehicles.
The students' work continues the University of Nebraska-Lincoln's tradition of engagement and research on environmental issues in the community, going back to 2011. These projects have helped students develop skills and understand the complexities that arise during real-world implementation of research findings, said Dave Gosselin, professor of earth science in the School of Natural Resources and director of the university's environmental and sustainability studies program.
"This was my first professional experience in college," said Emma Kurtz, one of the students involved in the project. "I learned a tremendous amount about analytical and scientific skills. I increased my ability to work with others effectively on a team. This team has been really amazing."
Kurtz, a junior from suburban Chicago majoring in general management with a minor in sustainability studies, now has a position with Conservation Nebraska because of her work on the study.
The other members of the team were Abigail Schroeder, a senior from Sioux Falls, South Dakota, double majoring in environmental and sustainability studies and communication studies, and Jonah McDowell, a spring 2023 Nebraska alum now pursuing a master's degree in environmental studies at the University of Pennsylvania.
"It was really interesting to get a sense of how you might address an environmental issue in the real world," Schroeder said. "I learned that everything's a lot more complicated than it seems to be, and it's definitely not as easy. I gained a lot of practice and knowledge in the field and how to go about addressing these issues. They're very complex, and there's no single answer. It's challenging but rewarding."
Norfolk produces about 34,000 tons of solid waste annually. Reducing this volume between 25% and 75% by integrating recycling, material recovery and conversion of waste to biochar and syngas could achieve yearly savings in the range of hundreds of thousands of dollars, using broad estimates that draw on experience elsewhere.
The potential savings would include a reduction in tipping fees the city pays at the regional landfill near Clarkson. Norfolk also would lower transportation expenses as it reduces the number of trips to the landfill, located 38 miles from Norfolk.
By combining pyrolysis with recycling and material recovery, Norfolk could take major steps toward an "integrated waste-energy framework," Gosselin said. Ames, Iowa, for example, separates glass and metal in its solid waste processing and in fiscal year 2012 sold 1,307 tons of metal for $227,000.
Achieving significant savings and new income streams requires a mindset of innovation, Gosselin said.
"To think about this in the realm of entrepreneurship and innovation — that, to me, is where the real opportunities are," he said. "Norfolk has been innovative in the way they've been dealing with many issues. So, this is just contributing and enhancing that opportunity."
The new study is part of Project Energy Nebraska, which began in 2021 as part of a 300-level Environmental and Sustainability Studies course, Environmental Engagement and the Community. Gosselin is the director of Project Energy Nebraska.
The university's findings also include survey results about NPPD's incentive to install electric vehicle chargers in housing units — $400 for pre-wiring in new home construction and 100% of the cost, up to $600, for pre-wiring existing homes. EV chargers require a 240-volt outlet, similar to that needed for a clothes dryer.
For the study, surveys were sent to general contractors in the Norfolk and Kearney areas and electricians across Nebraska except for Lincoln and Omaha. Two-thirds of those responding said they weren't aware of the NPPD incentives. Responses were split on whether their company would take advantage of the incentive after reviewing the information provided, Schroeder said.
Addressing solid waste and energy issues in proactive ways is in the public interest, Gosselin said. Overall, the new report points to the value in "working together, synergistically, in a positive way," he said.
"If we do projects in a collaborative way in which we can seek common ground and work together for an outcome that benefits everybody, we'll all be better off," he said.