NUWC Division Newport shares goal of leveraging partnerships to advance technology during Defense Innovation Days > Naval Sea Systems Command > Article View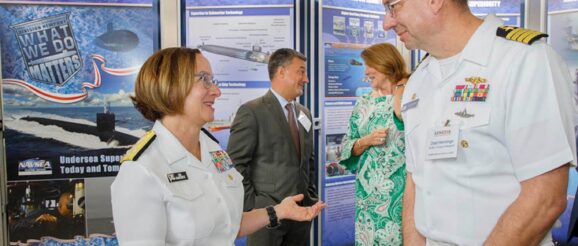 Naval Undersea Warfare Center (NUWC) Division Newport's acting Technical Director Marie Bussiere described to attendees at the ninth annual Defense Innovation Days, sponsored by the Southeastern New England Defense Industry Alliance, how the center is leveraging partnerships to advance technology and support the U.S. Navy fleet.
With increased threats from adversaries, the need for productive partnerships and rapid innovation has never been more important to the security of the United States. That message was conveyed emphatically by national security experts, defense industry leaders, and policymakers at the (SENEDIA) from Aug. 28-30 at the Marriott in Newport, Rhode Island.
Among the distinguished speakers were U.S. Sens. Jack Reed and Sheldon Whitehouse, Congressman Seth Magaziner, Secretary of the Navy Carlos Del Toro, Vice Chief of Naval Operations Admiral Lisa Franchetti, Director of the Department of Defense's (DOD) Operational Test and Evaluation Nickolas Guertin, and Deputy Assistant Secretary of the Navy for Research, Development, Test, and Engineering Dr. Brett Seidle.
"Wartime readiness is a major priority across the warfare centers, and our teams are working hard to define and implement crisis response plans and processes," Bussiere said during her talk on Aug. 30. "We are working closely within the NAVSEA [Naval Sea Systems Command] community to support their wartime mission areas.
"This is a team sport and industry plays a major role," Bussiere said to the audience comprised of many representatives from the defense industry. "Together we can be a force multiplier to support readiness, availability, modernization and sustainment. There is tremendous intellectual capital that we have across the government-industry team, especially in this region. In visiting the industry booths and talking to company representatives, the passion, innovative thinking and capability is obvious."
Bussiere gave a couple of examples of how government and industry have worked together to rapidly advance technologies for the fleet.
"Here in the Newport area, we have several mechanisms to facilitate partnerships, including the Undersea Technology Innovation Consortium and the 401 Tech Bridge, just to name two," Bussiere said.
Franchetti, the Vice Chief of Naval Operations, spoke on Aug. 29 to a packed ballroom and put a special emphasis on the Navy's "critically important" undersea forces. 
"I can't overstate the importance of our submarine fleet, both for today and for tomorrow," she said.
"It's imperative that we maintain the undersea advantage that our submarine forces provide. And we can't do that without those of you who are here today to develop, build, maintain and repair those submarines."
She added, "Your work is critically important, both for our nation, for our allies, and for our nation. We must be able to deter, fight, and win with these submarines. And we are depending on you to deliver in this no-fail mission."
Del Toro, who also spoke on Aug. 29, characterized the relationship with the defense industry as critical to the nation's success.
"One of my top priorities is enhancing the Department of the Navy's partnerships with you — our defense industrial base," Del Toro said. "That's because our nation expects us to be ready with the necessary capabilities and capacity to prevail now and in the future. We cannot do that without a tremendous and continuous push to innovate. Ensuring the readiness and modernization our Sailors and Marines need to succeed in their mission is fundamental to all that we, in this room, do, whether we work for the private sector or the public. What we do here together at this conference — the connections we make, the relationships we build — is truly critical to our nation's success, today and tomorrow."
Fighting threats through innovation
Reed, who chairs the Senate Armed Services Committee, provided the opening remarks during a reception on Aug. 28. He said as China, Russia and other nations pose potential threats to national security, there is a need to transform the Department of Defense and the defense industry at large.
"It can be achieved by reimagining how we fight and by investing in innovation," Reed said. "To reimagine how we fight, we first have to recognize the nature of competition, deterrence and conflict in the 21st century. It has changed dramatically and swiftly. Cyber and information operations can shape the battlespace as fundamentally as air and sea power."
To keep pace with evolving threats, Reed said, the Department of Defense must be willing to innovate "at the speed of relevance," which starts with investing in modernization, specifically acquisition reform.
"We have the world's best innovators in the defense industry and the commercial sector, and we have to find ways to help them work more closely together to produce next-generation defense systems," he said.
Reed highlighted the U.S. Navy's submarine force, calling it the "finest in the world," and said recapitalizing in the undersea fleet is paramount. He said the aging Ohio-class submarine must be replaced by Columbia-class ships, noting that last year a milestone was reached when the Navy completed a contract for the next five Columbia-class submarines.
"Many of you represent the present and the future of our submarine fleet, and I hope we continue to support your endeavors to maintain our undersea dominance," Reed said.
Of utter importance to maintaining that dominance is the workforce, which Reed said has been challenged in recent years by "institutional roadblocks, such as limited career growth opportunities, hiring caps, pay freezes and highly competitive benefits in the private sector."
Reed said Congress and DOD must find ways to develop long-term sustainable initiatives to attract and retain skilled personnel.
Reed closed by saying the way forward is through collaboration.
"When possible, we need to do more to link the innovators at our local research universities like Brown and URI, as well as the engineers and scientists at NUWC [Division Newport] and other government labs, to help find ways to give a competitive advantage to our local small businesses as they seek to compete in the global technological marketplace," he said. "We also need to develop new models of public-private partnerships, shared research activities and facilities, and an exchange in personnel between government and industry."
Lessons learned decades ago can be applied today, Franchetti said, as she compared the U.S. Navy in the 2020s to the force of the 1930s, using the term "decisive decade" to describe both. Back then, at the height of the Great Depression, the fleet was too small, insufficiently funded and lacked balance as there were only two platforms — battleships and submarines. That changed as the country entered World War II.
Today's focus is to develop new tactics and capabilities through an energized war-gaming enterprise at the U.S. Naval War College in Newport and to construct a diverse fleet to include manned and unmanned platforms. The Navy also must have a long-term strategy, increasing the capacity of the fleet at peacetime so the country can be effective when it's time to go to war.
"Our country stands at an inflection point in history," Franchetti said. "Our national security strategy makes it clear that we face tremendous challenges, as well as unprecedented opportunities. It's our response to the decisions that we make in this decisive decade that will not only impact the security and prosperity of the American people, but will really determine the direction of our world."
Seidle, the Deputy Assistant Secretary of the Navy for Research, Development, Test and Engineering (RDT&E), which oversees 57,000 civilian employees, multiple systems commands and 15 warfare centers, including NUWC Division Newport, discussed the "criticality of the times we're in" and the important role the RDT&E enterprise plays for the Navy during his talk on Aug. 29.
"If we are drawn into a conflict at some time over the next decade, it is my firm belief that our success will be predicated by our technical advantage and the operability of systems," he said. "It is our job to provide to our best asset — our Sailors and Marines — the best possible equipment and technology to prevail in any future high-end conflict so they can come home safely."
The strength of the Navy's maritime dominance and submarine community will be critical as well, said Seidle, who previously served as executive director for the NAVSEA Warfare Centers.
Change is coming to the battlefield, Seidle said, whether it's artificial intelligence or unmanned systems, and to be successful there needs to be a cohesive and coherent technical strategy for the Navy. That starts with building "connective tissue" among the organizations and systems commands under the purview of the RDT&E enterprise.
"We're driving the team to behave as one technical enterprise with a strong, understood technical strategy so that we can pivot more efficiently and more effectively when needed," Seidle said.
On Aug. 29, Vice Adm. William Houston, commander of Submarine Forces, the U.S. Atlantic Fleet and the Allied Submarine Command, and Lisa Radocha, a member of the senior executive service and executive director of the Program Executive Office Attack Submarines, led a panel on the blossoming AUKUS program, a trilateral security pact between Australia, the United Kingdom and United States.
Houston said AUKUS is a powerful partnership central to ensuring a free and open Indo-Pacific region and a called it a "force multiplier" that is needed as the Chinese continue to increase their forces.
He noted this year's National Defense Authorization Act provides increased support for high-end impact research at the Office of Naval Research, as well as the NUWC Division Newport, which is supporting the dual-pillar AUKUS program on a number of fronts.
"As the plan for AUKUS Pillar 2 continues to take shape, these organizations and the critical research they are conducting will be central to Pillar 2 activities," Houston said.
A video featuring Division Newport at Defense Innovation Days is posted here: 
NUWC Newport is the oldest warfare center in the country, tracing its heritage to the Naval Torpedo Station established on Goat Island in Newport Harbor in 1869. Commanded by Capt. Chad Hennings, NUWC Newport maintains major detachments in West Palm Beach, Florida, and Andros Island in the Bahamas, as well as test facilities at Seneca Lake and Fisher's Island, New York, Leesburg, Florida, and Dodge Pond, Connecticut.
Join our team! NUWC Division Newport, one of the 20 largest employers in Rhode Island, employs a diverse, highly trained, educated, and skilled workforce. We are continuously looking for engineers, scientists, and other STEM professionals, as well as talented business, finance, logistics and other support experts who wish to be at the forefront of undersea research and development. Please connect with NUWC Division Newport Recruiting at this site- https://www.navsea.navy.mil/Home/Warfare-Centers/NUWC-Newport/Career-Opportunities/ and follow us on LinkedIn @NUWC-Newport and on Facebook @NUWCNewport.