[On-Site Report] At Samsung KX, 'X' Marks the Spot for Culture and Innovation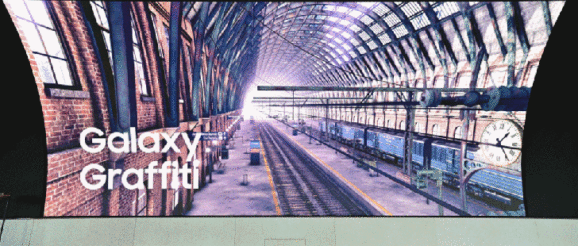 'X' marks the spot: the view from the center of Samsung's new, London-based experience space, Samsung KX.
When visitors take a look around Samsung KX, one of the first thing's they'll notice is the large 'X' on the floor where the two halves of the venue meet. This eye-catching architectural detail marks the spot where, in the 1800s, when England was in the midst of the Industrial Revolution, piles of coal were dropped onto trains and transported to heat and light buildings and homes across the U.K.
Now, with the launch of Samsung KX, located at the historic Coal Drops Yard in London's King's Cross district, Samsung Electronics has created a destination that offers Londoners a different form of energy. It's a place where the past and future come together. A place where the technologies of tomorrow intertwine with history, fashion, art, and much more; where Londoners can utilize Samsung's latest technologies to learn, collaborate and communicate with people of various interests, ages and industries.
Samsung KX is situated above London's historic Coal Drops Yard, located just a short walk from King's Cross station.
Recently, members of the Samsung Newsroom team visited the venue to experience its interactive exhibits for themselves. Follow along as we examine why Samsung chose this particular location to create an entirely new kind of experience space.
At the Crossroads of History
When you think about it, it's not hard to see what makes King's Cross the perfect location for Samsung KX. Like Samsung itself, which celebrates its 50th birthday this year, King's Cross's history is defined by extraordinary transformation.
The arched interior of King's Cross station looks largely the same today as it did in the 1850s.
As mentioned earlier, the area was once an important industrial hub for England, which helped fuel some of the greatest advancements of the Industrial Revolution. The Coal Drops Yard that Samsung KX calls home was established in 1850 to handle the eight million tons of coal that were delivered to the capital each year. King's Cross station opened its doors two years later, and quickly became one of the busiest transport hubs in the country.
Recently, the area surrounding the station has been reborn as a tech hub that's home to some of the biggest players in the industry. Today, with around 50 restaurants and shops, the Coal Drops Yard is a place where art, fashion and technology come together. What was once a storage space for a country's fuel is now home to some of the world's most dynamic innovations.
In recent years, tech companies and startups have flocked to King's Cross, transforming the area around the station into a tech hub.
A Memorable Experience
The first thing we noticed when we entered the building was a sense of fluidity – not just in the rolling architecture of the building itself, but also in the way that the innovations within interacted with one another. The hands-on exhibits invited us to explore how Samsung's smartphones, wearables, appliances and more work together – both in the home, and when users are on the go – to bring the power of connected living to life.
It was an eye-opening experience that was also fun, with exhibits that transformed Samsung's newest smartphones into tools of expression that let us create our own art, compose our own music, and express our creativity in unique and exciting ways. For example, the Galaxy Graffiti exhibit converted the experience space's 10-meter-wide amphitheater screen into an immersive canvas, and allowed us to spray-paint graffiti on variety of classic London backdrops using a modified Galaxy S10 as a virtual spray can.
After making our mark on a London Underground station wall, we headed over to the Collage Me exhibit. There, we each snapped a selfie using the Galaxy S10+, and marked up our photos with colorful lines that transformed our shots into unique collages.
In the same way that King's Cross today is a melting pot of industries and interests, Samsung KX was created to bring people of all ages and occupations together – young and old; London residents and visitors; consumers, artists, designers, students and more – to share their experiences. Experiences that are powered by Samsung technologies, and blend focuses like art, entertainment, education and communication.
When we made our way to the center of the building, we came across an exhibit that perfectly encapsulates the center's communal message. Known as the AR Message Tree, the augmented-reality activity invites visitors from around the world to leave personalized messages beneath the point where the two halves of Samsung KX meet.
After composing our notes with the Galaxy Note10, we watched on the display as they floated up to join the hundreds of other messages that had already been written. Each note that we unfolded revealed a heartwarming message from a complete stranger. The sense of community was strong; it felt like our notes were coming together to create a meaningful and welcoming collage.
Going Forward
Samsung KX is the latest example of Samsung Electronics taking consumers' interactions with technology to the next level.
Each month, the venue will host a wide range of events – in collaboration with more than 27 local organizations, charities, and educational institutions such as University College London and Central Saint Martins – all centered around enriching the community that Samsung KX calls home. These not only include interactive workshops, but also things like wellness classes and gaming events.
What we experienced at Samsung KX was not only fun, it also made it clear how Samsung's technologies enhance a wide range of interests and lifestyles. Going forward, the company plans to establish experience spaces in locations the world over that, like Samsung KX, will serve as hubs for people to come together to experience innovation, connect with others, soak in local culture, and have a great time.
Samsung KX's opening showcase featured a rollicking, multi-level performance by singer-songwriter and King's Cross local, Mabel.