ON THE HIGH-WAY TO INNOVATION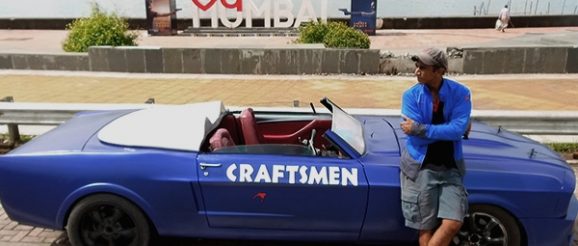 He is accelerating into the future with a stunning invention.
Being a crazy car lover, he completed his course from Melbourne and came back to India. His motive was clear, making India recognizable globally and designing his dream car, Mustang.
"I think every engineer is aiming for evolution. It's just a matter of how much it gets connected with people"
He defines his creative art as a passionately driven force. He is a creator in making the automotive art, to its peak. Suraj Bhalla, the Mustang Man.
Odyssey of a One-Track Mind
My dad's role in my automotive life has been very important. He saw me having a keen interest in cars from an early age. After completing academics, I wanted to just drive my life has fast as possible, to the fullest. So, my dad got me hired in a workshop in Pune, I was just an intern. But that experience got me going, I use to spend 13 to 14 hours in the workshop, working on cars like Mercedes, BMW, Porsche, Jaguar, and many more. Those hours of working and learning gave me the experience I was starving for.
Temple of Melbourne
When I wanted to start my career in automobile engineering. I went to different schools, but the sad part about those schools and colleges back in the days was, the technology that they were teaching you was like from the 1960s. So they were teaching you about the engines of a Fiat, or an ambassador. Later, fortunately, I entered in a course which was in Melbourne. Life had thrown a bone towards me, now it was my chance to grab it and run. It was the right place for me to explore my passion, it was like a temple of knowledge in Automobiles. After the completion of my course which lasted 2 years, I came back to India. I couldn't just run away from the fact where I came from and work in another country. I wanted India to be spotted on the global map of automotive engineering. Just that, a lot of engineers, if you would have noticed, we're always living in those countries, they never wanted to come back to India. But I chose to come back to India.
An Uncommon Creation, Mustang
In my childhood, the Ford Mustang fascinated me. But, I wasn't that lucky enough to get any piece of information about the car. At one point, without a single lead about the car, I could see my dream with no fuel. It was just vanishing away. But, it's true when u love something or desire something from deep inside your heart, the whole universe will serve you to accomplish it. So, I just got a random call from a classic car collector saying, "Sooraj! There is one Mustang in Film City, but you've got to understand that it's not a started car, it's a scrap. So, if you're ready to go check it out". When I went there, it was just a pile of crap, but it wasn't just crap for me. Even if the dust on the car was more recognizable than the car, and the condition was more than just horrendous. This car was my dream because if I had to establish myself in Mumbai, then I had to create this diamond. It took almost a week to clean the dust, hours to make a list of imports which ended in 100-200 parts to get the car on the roads. Celebrities such as Hrithik Roshan, Vivek Oberoi, and Abhishek Bachchan have been my customers over the years. My plans of projects are where I am not building cars this time, it's going to be more of toys. There's a successful toy happening in the US called the 'Tribe', it has got one wheel ahead and two formula one tyres behind.
When you love what you do you do it right always. SURAJ BHALLA is not only a car maker, he is the future of India who chose to create his dream car right here in India proving his patriotic fervor to make India a global champ in automotive engineering.