OverJoyed: How Collaboration in The Playabilitiy Initiative Community is Creating Innovation – The Playability Initiative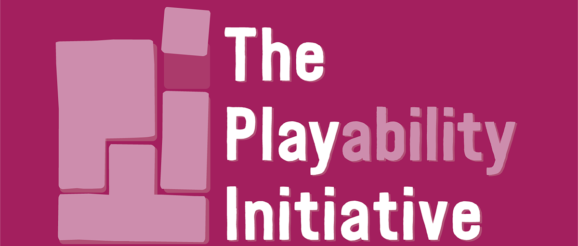 One of our goals in creating a community around the Playability Initiative was to bring people together who care about accessibility. We hoped that people would share their knowledge and begin to solve bigger problems together. We also hoped that abled and disabled game designers would get to know some players with disabilities and that these growing relationships would lead to new collaborations that would gradually change the way games were made. 
We firmly believe that if we "design for the one," we'll create games that are more enjoyable for the many. Can you imagine how different video games would be if every person involved in making them had their own disability or even one friend with a disability who they collaborated with as they were making design decisions?
We are beginning to see some of these relationships forming in our community, and we are so excited to see how these relationships are already leading to innovation.
Back in November, a Playability Initiative community member, Anthony DeVergillo shared a post on the Playability Initiative Facebook group sharing an idea he had for a virtual joystick that would allow him greater access to the games he wanted to play. He asked if anyone would be interested in helping him create it because he imagined it would help many other gamers too. 
Several community members commented on Anthony's post, and eventually, he connected with Jonah Monaghan, another Playability Initiative community member. They discussed Anthony's idea, and they began collaborating to create an accessible, virtual joystick controlled by the mouse or trackpad. They call it OverJoyed, and it will eliminate the need to use a keyboard to move and perform actions in PC games.
When Jonah and Anthony work on OverJoyed together, they stream their development on Twitch. They are currently streaming once a week for two hours.  The first hour is dedicated to the development of OverJoyed, and the last hour is split into two parts: an accessible game review and a conversation between Jonah and Anthony about accessibility. 
We are so excited about this innovative virtual joystick design and the fact that it came out of the Playability Initiative community connecting with one another. We love that Anthony and Jonah are sharing their progress publicly so they can inspire even more accessible design.
We asked Anthony and Jonah some questions about OverJoyed, and we're excited to share their responses to our Q&A with you.
Amy: Anthony, what inspired your idea for Overjoyed?
Anthony: 
November of last year, I got the new Super Mario 3D All-Stars Collection, and I was super excited to play it because I have such nostalgia for those games. When I opened up Super Mario Galaxy, I was prompted to immediately use motion controls to pick a save file. It didn't annoy me at the time. I asked for assistance, thinking it would just be that once. I was able to play through the first level on my own, but once I finished the level, it required me to save my file again using motion controls, and that infuriated me because I could play the whole rest of the game, but I had to ask for help just to save. I tweeted about it and was interviewed about my experience on a popular YouTube channel called GameXplain. That really started me on the journey of accessibility. I found the Playability Initiative, and one day I had the idea of creating a virtual joystick on the computer so that I would be able to play a lot more of my games on the computer because I can't use a keyboard. So, I reached out on the Playability Initiative, and I got responses almost immediately.
Amy: Anthony, what response did you get when you shared your idea on The Playability Initiative Facebook group?
Anthony: 
There were a lot of people who couldn't do it themselves, but they loved the idea. There were some people who wanted more information or wanted to talk about it more. Jonah was the one who was ready to jump into it. I think everyone wanted to help, but they didn't have the time to devote to it.
Amy: Jonah, what did you think when you first saw Anthony's post, and what inspired you to reach out to him?
Jonah: 
When I first saw Anthony's post, I saw this fantastic idea that I feel anyone would be kicking themselves for not thinking of. It is a relatively universal solution for a major problem in the community, which is a pretty rare thing. I reached out to Anthony one on  one to get the ball rolling as fast as possible.
Amy: Jonah, how did you decide this was a project you wanted to commit yourself to working on?
Jonah: 
This is a pretty tough question. To be honest, if I see a project I want to do, I figure it out. I had a pretty tight schedule before the project, but after talking to Anthony, I could see that we both shared similar values, and if that meant freeing up even one day to get the project done, then I would make sure I free up that day.
Amy: How is development going?
Anthony: 
It's going really well. We have a minimum viable product. It works; we just have a lot more features to add to it.
Jonah: 
Development is slow but fun. I'm used to tighter development schedules and crunch time, so having a project where I only take 3 – 4 hours a week is a nice change of pace for me. Almost all the development is seen on our streams. The only development off stream is research and some small fixes to prep for the next stream.
Amy: What have been the biggest challenges you've faced so far?
Anthony: 
Right now, the joystick is based on the absolute position of your mouse on the screen. We're trying to make it so it's not based on the position of the screen, it's based on the position it moves relative to where it was. It's a lot more complex because you have to do calculations to figure out where it was and where it is. 
Jonah:
Right now, for the prototype, there haven't been many challenges since we've been taking our time and having fun. However, moving forward, I know our biggest challenge is going to be adapting the software to work with games that lock the mouse like most major titles.
Amy:  What's it like to stream your development? Have you had many viewers?
Anthony: 
It was kind of weird for us at first. I'm a big follower of developers on Twitch, but I think it was tough for us to get into the groove. I think the hardest part was coding and entertaining. But I think now, we've found a good mix where we code, and then we do an accessibility review, or I'll do a reaction to a video, or Jonah will show some of the game he's working on where accessibility is a component of playing the game. To beat the game, you have to turn on the accessibility features. We have five to seven viewers per stream, but it's a great start.
Jonah: 
Before this project, I had never streamed before, so the first few streams were definitely a learning curve. I found it crazy that in our first stream, we had someone from the Netherlands who decided to join and stayed interested in the work we were doing. Programming while streaming is an adjustment. Since I'm taking things slow to talk to the viewers, I can clearly formulate my thoughts, but also, I make dumb mistakes since I get distracted by taking things slow. 
In terms of viewers, we average at around seven per stream. This is already more than I could ask for, but coming into the next few weeks, we're planning on incorporating much more viewer engagement activities to put our current work-in-progress in the hands of the viewers.
Amy: Is there anything else you want to share with us about working on Overjoyed together?
Anthony:
We call it OverJoyed because it's a joystick overlay: over – joyed. But it's also the feeling you get when you receive an adaptive technology that works and just being able to play the games you dearly love again, because when you're struggling to play, it's deeply frustrating.
Jonah: 
Overall, working on OverJoyed has been an awesome experience. I'm glad I got to meet Anthony so we could work on this together. I hope that people keep coming out and being engaged with our content, even after the product is done.
Anthony and Jonah just reached Affiliate status on their Twitch channel.  Affiliate status allows them to receive Twitch subs and create unique channel emotes for subscribers to use in chat.  You can follow their channel at https://www.twitch.tv/breakingbeaker.
If you want to catch the announcements of the stream, join us in the Playability Initiative Facebook group. If you'd be interested in The Playability Initiative hosting your accessibility-focused stream on Twitch, email [email protected]