PennDOT Honors Employees for Innovation and Dedication : exploreVenango.com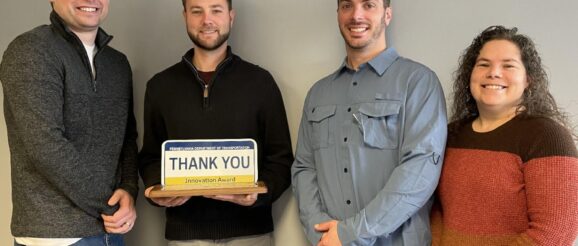 OIL CITY, Pa. – The Pennsylvania Department of Transportation (PennDOT) recognized PennDOT employees recently with Innovation Awards for their efforts to improve work practices and create efficiencies.
Four team members from PennDOT's District 1, which represents Crawford, Erie, Forest, Mercer, Venango, Warren counties were among the honorees.
"PennDOT employees have demonstrated a tireless dedication to the department's mission and goals," said PennDOT Secretary Mike Carroll. "I'm proud to see so many examples of that dedication and recognize those employees for their creativity in solving problems and improving processes."
The annual Innovation Awards Ceremony recognizes some of the best and most innovative ideas cultivated and implemented by PennDOT employees across the Department.
Employees who assessed and improved processes, systems and tools they were using to meet the need of Pennsylvania drivers are considered for the award.
Each employee receives a custom award that represents PennDOT's appreciation for their dedication and commitment to efficient and effective operations at all levels of the organization.
Carroll and other department executives honored winners Josh Austin, Saxon Daugherty, Jill Harry, and Vince Mazzocchi.
They were recognized for creating visitor sign-in system to modernize the process for tracking visitors to the District 1 office and transform a traditionally pen-and-paper process into an automated system. Benefits of the system are the time savings throughout the process and added privacy for visitors.
"When we are able to tackle problems in a way that improves the efficiency of our process, that is a win for our employees and our customers," said Brian McNulty, District 1 Executive.
Subscribe to PennDOT news and traffic alerts in Crawford, Erie, Forest, Mercer, Venango, and Warren counties at www.penndot.pa.gov/District1.