Permane: F1 can't quash innovation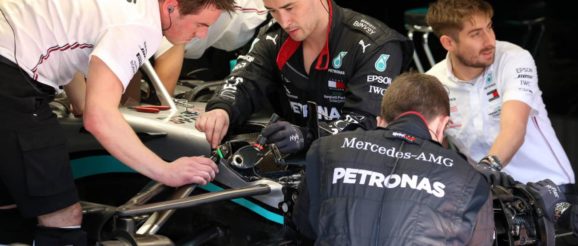 Renault sporting director Alan Permane is adamant Formula 1 must not create rules which deny teams the chance to innovate because it would take away from the DNA of the sport.
The primary elements of F1 have been put under the spotlight in recent weeks following Ross Brawn's claim the sport's controlling bodies will have the power to close rule loopholes during a season from 2021.
That has triggered concerns from teams that it will restrict the freedom and design advantages available to find a performance edge, with Mercedes effectively presenting a case in point with the debut of its DAS system which allows drivers to push and pull the steering wheel to change the toe angle of the front wheels.
While F1 has deemed it within the rules for 2020, it is set to be outlawed from next year under the regulations overhaul.
Despite naturally being frustrated at seeing reigning world champions Mercedes design an all-new device which could provide performance gains, Permane has defended the device as part of the core foundations of the sport.
"F1 is about innovation, it's about people differentiating and finding that edge over their competitors," Permane said. "So while we are jealous or frustrated or whatever, Mercedes have clearly found something they think is a benefit and I think that's one of the wonderful things about F1.
"I don't know in 2021 if projects like that would every get off the ground if you go to F1 and say 'I've got this and it's going to be worth two-tenths of a lap', they are going to shut it down in two races and you may not see that kind of thing.
"I think there's a line and we have to be careful that we don't quash that sort of free-thinking and that sort of spirit. That's part of the DNA of F1."
FIA race director Michael Masi, speaking alongside Permane during pre-season testing at Circuit de Barcelona-Catalunya, says technological developments like the Mercedes DAS system require a balance against stopping costs from spiralling which he believes will be achieved by the team cost cap being introduced from 2021.
"We're talking about this innovation because I think it's probably the first time in a long time that something is actually quite clear in someone's face," Masi said. "Others have both innovated for this year's cars that would have gone through a process but because they aren't visible there's no point of discussion.
"From an innovation side, you've seen what F1 has done in so many areas, it's a balance overall. These guys all have a financial regulations cap coming in for next year so there's a balance as well. That's going to be the added balance which they need to add to the equation for 2021."
F1 teams will need to operate within a $175 million budget per season from 2021, with the cost cap carrying certain exclusions including driver salaries and marketing activities.