Powering innovation, savings culture with UBA Kiddies The Nation Newspaper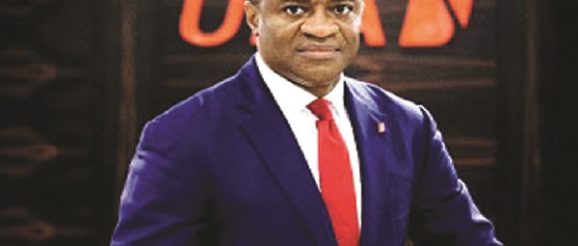 Many banks have taken to promos to woo customers. One of them is United Bank for Africa (UBA), which Kiddies & Teens draw, has held in Lagos. During the event, 20 lucky kids were rewarded with N200,000 each, bringing the total prizes to N4 million.The promo ensures that more kids and teens embrace savings culture, understand the gains of financial independence and supports the Central Bank of Nigeria (CBN)'s goal of bringing banking closer to the people. 

COLLINS NWEZE

reports.
This is an interesting time in banking. Call it rewarding loyal customers, or a new form of wooing customers. Banks have found a new ground to bring more customers into their deposit net.
The reward schemes, coming in the form of promos, are turning lucky and loyal customers to cash prize winners.
The winners are getting cash prizes, foreign trips, houses, and gift items via promos that are fast defining the next level of competition. It expertise is creating a new drive for customers to save more to promote sustainable growth for their family and economy.
United Bank for Africa (UBA) has, to teach the power of savings and reveal the beauty of the financial world to kids and teens, launched a Keens and Teens Draw. At the draw held in Lagos, 20 lucky kids were rewarded with N4 million.
The goal of the promo is to put them on a strong footing for independence and, ultimately, actualising their dreams. The promo is also meant to go a long way in supporting parents at this turbulent economic period.
Financial pundits said such reward scheme could also promote the Central Bank of Nigeria's (CBN) financial inclusion drive   and make banking more interesting for kids and teens. The CBN Governor, Godwin Emefiele, believes that bringing banking closer to the people is a good way to empower the populace.
Known as a leading Pan-African financial institution, the bank offers banking services to more than 25 million customers, across 1,000 business offices and customer touch points in 20 African countries.
With presence in New York, London and Paris, UBA is connecting people and businesses across Africa through retail, commercial and corporate banking, innovative cross-border payments and remittances, trade finance and ancillary banking services.
The draw is an innovative first of its kind initiative conceptualised by UBA with special intention to inculcate a Savings culture that set kids and teens up for a secure future as well as put them on a strong footing for financial independence.
"So to ensure transparency, a draw was held at the UBA house in Lagos where all those who fit the criteria of the terms were put to a fair and square draw. The winners had qualified to win in this year's first draw because their parents/guardians had maintained standing instructions of N10,000 to their child/ward's UBA Kiddies or Teens Accounts for a six-month period," the bank said.
The virtual draw, witnessed by representatives of the National Lottery Regulatory Commission (NLRC) and the Consumer Protection Council (CPC), saw winners emerge from across the country.
Winners count benefits
To kick it off, the global bank rewarded a total of 20 kids with N200,000 each as scholarship grants in its just-concluded Kiddies and Teens Draw in Lagos.
The winners had qualified to win in this year's first draw because their parents/guardians had maintained standing instructions of N10,000 to their child/ward's UBA Kiddies or Teens Accounts for a six-month period.
The draw is an innovative first of its kind initiative conceptualised by UBA with special intention to inculcate a Savings culture that set kids and teens up for a secure future as well as put them on a strong footing for independence and ultimately actualising their dreams.
The 20 kids and teenagers who won N200,000 educational grants included Anderson Andikan Nathan, Salihu Yakubu Mahamud, Simeon Thankgod Ofomona, Nwaeze Annabel Chiziterem, Eva Favour Emmanuga Makuachukwu, Ifechukwudi Divine Ugbeh, Jeremiah Unekwuojo Isyaku, Iyare Francesca Owa and Okoye Gerald Munachi.
Others are Charles-Agwanyokha Salvation Ilamosi, Ngbede Godswill Ishor, Molokwu Ezidinma Kosisochukwu, Nancy Esohe Aigboduwa, Alika Anwuli Erika, Funebi  Tapre, Ebubechukwu Goodluck Ephraim, Uchegbu Benedicta Chidera, Ireoluwa David Aderinola, Njoku Chinecherem Judith and Mariam Odunayo Oyewole.
One of the winners, Okoye Gerald, whose father was contacted over the phone following his winning was very excited and expressed his heartfelt gratitude to the management of UBA for the opportunity,' he said: '"Thank you UBA, thank you".
"This is very thoughtful coming from the bank. It goes a long way in showing that UBA is indeed passionate and dedicated to the growth of its customers and their children. A bank that grooms the young is indeed a wise bank, he said".
Financial inclusion drives
UBA's Head, Personal Banking, Ogechi Altraide, who congratulated the winners after the draw said that apart from the monthly and quarterly rewards that the bank gives to its loyal customers in the UBA Bumper and savings promo, the bank had gone a step further to encourage parents to instill the savings culture on their kids and teenagers.
She said: "I will like to let you know that this is another first from UBA, and of course, we are very excited at this because it again goes to show that we take very seriously the mandate of ensuring financial inclusion and this time, we are catching them young and ensuring that as they grow they increasingly become financially discipline and can fuel their dreams to a happy end, which is exactly what we are passionate about as a bank."
Continuing, she said: "We know that the kids today are the future of tomorrow, and we are trying to groom them to imbibe the habit of savings, so that they can achieve their dreams as well as secure their future while putting away something for the future."
Also, Head of Marketing, Diana Ubah, pointed out that "our bank, UBA, has continued to show and prove that, we are passionate about the overall growth and success of every customer and that is why we go ahead of others to innovate and come out with initiatives that are unique and can transform the lives of our customers for good.
" In a tap-and-go society where money is rarely physically exchanged and quicker to spend, it is important to educate young people about the value of money.
"By including your kids so that they see how you spend money, it will help develop a basic understanding of transactions in the real world, as they grow up in an increasingly digital economy," Ubah noted.
Understanding the UBA Kiddies 
Aside being likely recipients of the draw, the UBA Kiddies is an account designed for children between 0-12 while UBA Teens Accounts is between 13-17.
Other benefits of the account include a 13th month cash reward and special invitation to the bank's children focused events.
Beneficiaries of this account stand to earn 13 months reward of 10 per cent of the monthly savings plan for over 12 consecutive months having maintained a standing instruction of a minimum of N5,000.
They also have a chance to partake in a scholarship scheme through a raffle draw having maintained a standing instruction of saving a minimum of N10,000 for six months. The account has a yearly interest of 1.15 per cent payable monthly.
To qualify, parents must have maintained a standing instruction of N10,000 for six months in their UBA Kiddies or Teens Accounts.
Altraide advised parents who had yet to open accounts for their kids to do so as soon as possible, to be eligible to participate in the next UBA Kiddies and Teens draw which will be held soon.
Bringing innovation to banking
United Bank for Africa recently   launched a modern and future-forward Experience Centre in Abuja, Nigeria.
UBA is at the forefront of banking innovations and recently celebrated the fourth year anniversary of its awarding winning Chat Banker, LEO. Since its inception in 2018, Leo has extended its services to various platforms from Facebook and WhatsApp where it was first launched, and now to services on Apple Business Chat' for IOS on iPhone and iPad. LEO will also serve as the holographic receptionist at the UBA Experience Centre.
While other financial institutions are still trying to find their feet on Artificial Intelligence, UBA can say that our Leo has become a massive success as it continues to consolidate on its successes and accolades winning several awards in a short while of its existence.
In just four years, Leo's landmark achievements have been indeed overwhelming, covering 20 African countries as well as garnering over 10 prestigious awards globally, a feat that is exceptional by every standard, I must say we are proud of Leo's intimidating achievements which is largely unbeatable.
With this in mind, the bank has ensured that, Leo continues to enjoy periodic and systematic upgrade with special emphasis on enhanced advancements and specialised unique features where necessary.
"UBA's vision has always been and will remain to be a dominating force in Africa's digital banking space. Our resolve is to provide unparalleled experience across all channels. We are a technology-driven institution with vast knowledge in the business that we do and Leo, being a tested, dependable and intelligent personality, did well to replicate on WhatsApp the success it recorded on the Facebook Messenger platform where it started its journey and later on the IOS (iPhone Operating System) platform. It is a solution that is from the customer's standpoint, easy to use by anyone regardless of demography. Leo is always ready and waiting to help with any form of banking service," the bank said.
Aside rewarding customers, UBA Connect was developed to enable its customers to conduct traditional banking transactions at any UBA branch in the 20 African countries where the bank operates.
In upholding the banks drive towards financial inclusion for the underserved, the service available to both customers and non-customers equally, encouraging intra-African trade.This would make the Nigerian-based bank a preferred choice for non-customers traveling to African countries where the bank is the domicile for easy access to funds.
According to the Group Managing Director, UBA Plc, Oliver Alawuba, "Africa stands to benefit substantially from intra-Africa trade, which is facilitated by the easy flow of capital within the continent."
He said because the bank is committed to creating superior value for its stakeholders, it is focused on ensuring that it continues "to contribute significantly to the development of Africa by improving accessibility and trade with UBA Connect, among other innovative services".
This product is expected to trigger growth for the bank, as the unbanked in sub-Saharan Africa – developing countries like Nigeria, Kenya, Zimbabwe and Tanzania – are a significant number of about 1.7 billion "unbanked" individuals around the world.
The bank services over 19 million customers across Africa. But with this new product, that number  may double if the public is educated on how to use this product.
The CEO further explained that the new offering allows easy transfers to UBA accounts across African countries as well as cash deposits into UBA accounts at any of the bank's locations in Africa, adding that the cash will be dispensed to customers in local currencies at competitive exchange rates.