President Biden presents National Medal for Technology & Innovation to Indian-American scientist Ashok Gadgil – The Hindu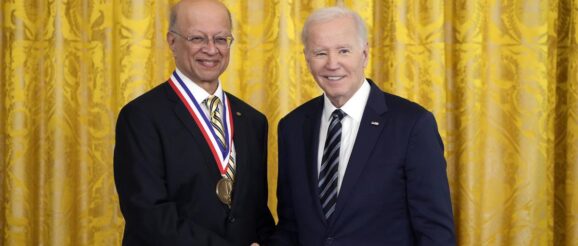 U.S. President Joe Biden presented the prestigious White House National Medal for Technology and Innovation to Indian-American scientist Ashok Gadgil, with several others, for providing life-sustaining resources to communities around the world.
The award, bestowed on leading U.S. innovators, recognises those who have made lasting contributions to America's competitiveness and quality of life and helped strengthen the nation's technological workforce.
In Tuesday's announcement, Mr. Biden named Mr. Gadgil as one of 12 recipients of the medal.
Mr. Gadgil is a Distinguished Professor Emeritus of Civil and Environmental Engineering at UC Berkeley, who has developed low­-cost solutions to some of the developing world's most intractable problems, including safe drinking water technologies, energy-efficient stoves, and ways to make efficient electric lighting affordable.
He focuses on robust inventions that can be deployed as widely as possible, and together, his projects have helped more than 100 million people. Gadgil is also an expert in building energy efficiency and computational fluid dynamics of indoor air and pollutant flows.
The White House said Mr. Gadgil was presented the medal "for providing life-sustaining resources to communities around the world. His innovative, inexpensive technologies help meet profound needs, from drinking water to fuel-efficient cookstoves. His work is inspired by a belief in the dignity of all people and in our power to solve the great challenges of our time."
Mr. Gadgil's award is the 17th national medal overall and the second National Medal of Technology and Innovation that Berkeley Lab researchers have earned.
"The world is not a fair place. I try to bend my knowledge of science, engineering, and my creativity to make it a little less unfair for the people who are holding the short end of the stick. If I can make that difference, go even a little bit in that direction, I think that's fantastic," Mr. Gadgil told Barkley Lab in an interview.
He added that he is working on removing arsenic from groundwater effectively, affordably, and without wasting any water.
"That idea came out of an LDRD (Laboratory Directed Research & Development) programme, which I applied for and got funded back in 2005 at the Lab," the Indian American scientist said.
"Since then, the work has progressed steadily to where there are now two community-scale plants routinely operating in India, each plant serving 5,000 people, selling them safe drinking water for about 1 cent a litre. With those sales, they are able to pay for the operation, maintenance, and salaries and even make a small profit," he said.
Mr. Gadgil earned degrees in physics from the University of Bombay (now Mumbai), the Indian Institute of Technology Kanpur, and his Ph.D. from UC Berkeley.
He then joined Lawrence Berkeley National Laboratory (Berkeley Lab) in 1980 and retired earlier this year as a faculty senior scientist; he is now an affiliate retiree of the Berkeley Lab.
He formerly served as the division director of the Environmental Energy Technologies Division – now the Energy Technologies Area (ETA). He is also a distinguished professor emeritus of civil and environmental engineering at UC Berkeley.
The National Medal of Technology and Innovation was created by statute in 1980 and is administered for the White House by the US Department of Commerce's Patent and Trademark Office.