Proposed Lincoln Square would add mixed-use development to Innovation District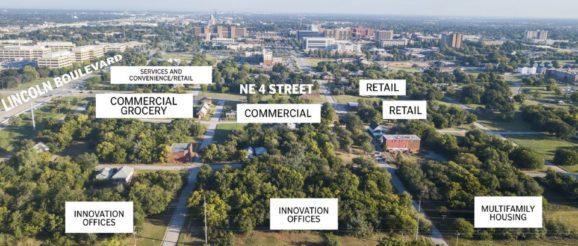 Proposed Lincoln Square would add mixed-use development to Innovation District
A team consisting of developers Bert Belanger, Pat Garrett, and brothers R.D. and Scott Smith are taking the first step toward developing 15 acres of mostly raw land nestled on the south end of the emerging Innovation District east of downtown.
The property acquisition, which dates back almost 20 years, is being proposed for a rezoning that would allow a dense mixed-use development named "Lincoln Square."
"It is the biggest undeveloped chunk of land within the entire district," Belanger said. "We agree with the city it needs to be dense, it needs to be mixed use and it needs to be a combination of apartments, offices, retail, and service retail. The beauty is it's a 15-acre grid that is already platted with 300-foot blocks. It's a perfect setting if you were to establish a perfect new urbanist campus."
The Lincoln Square parcels number about 500 with the group controlling about 70 percent of the area between Lincoln Boulevard, the Union Pacific railway tracks, NE 4 and Washington Park.
"We got some through tax sales and others in private transactions," Belanger said. "We were buying properties at 50 cents a square foot, less than a dollar a square foot. We got a lot of land, including some decent size properties."
Much of the acquisition stopped in 2004 when, Belanger said, "we got outbid."
It was then that the Presbyterian Health Foundation paid $2 million for 15 parcels in the area.
"That was about $10 a foot," Belanger said. "And prices went through the roof. Nobody would talk to us, and it made no sense for us to pay $10 a foot."