Renzo Piano's Visionary Design to Elevate Center for Arts and Innovation in Boca Raton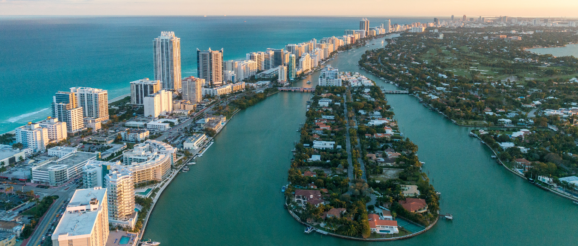 Renowned architect Renzo Piano, a recipient of the prestigious Pritzker Prize, has been chosen to lead the ambitious design of the Center for Arts and Innovation's groundbreaking new creative campus. This transformative project, situated in the heart of downtown Boca Raton, Florida, is poised to propel the city into the global spotlight as a hub for creative excellence.
Downtown Boca Raton. © iStock
Center for Arts and Innovation's Visionary Design
The Center for Arts and Innovation's mission is to turn Boca Raton into an internationally recognized destination for culture, arts, innovation, and technology. Piano's architectural firm, the Renzo Piano Building Workshop (RPBW), is set to kick off the project this October, with a groundbreaking scheduled for 2025. This campus aims to distinguish itself as a cultural and artistic destination, catering to diverse community needs while spurring economic development in the region.
The Center for Arts and Innovation is pivotal, as a 50-mile gap in creative infrastructure along Florida's Gold Coast exists. In 2018, the Center was established at the northern end of Mizner Park, thanks to substantial contributions from local community members. This foundation laid the groundwork for the initiative, revitalizing the city's cultural economy and urban fabric.
Mizner Park. Image Courtesy of Expedia.com
The selection of Renzo Piano and RPBW resulted from a rigorous process, with the committee considering proposals from 10 finalists, including well-known international firms like Ennead, Foster + Partners, and OMA. The collaboration with RPBW, known for its limited project intake, underscores the Center's commitment to making Boca Raton a global cultural and technological hub. The Center envisions a space where culture and art flourish, fostering creativity and collaboration. Antoine Chaaya, the partner overseeing the project at RPBW, emphasized the importance of aligning architecture and programming to create an inspirational space.
RPBW's track record includes the recently opened Istanbul Modern building, a project that transformed the city's cultural landscape, and the innovative Waterfront di Levante in Genoa. Furthermore, in partnership with the Stavros Niarchos Foundation Health Initiative, RPBW contributes to developing three new hospitals in Greece, enhancing healthcare accessibility in underserved regions.
Istanbul Modern Museum. © Cemal Emden
Waterfront di Levante. Courtesy of RPBW / OBR
With Renzo Piano at the helm, the Center for Arts and Innovation is poised to redefine Boca Raton's cultural identity and reignite its history of innovation, becoming a source of immense pride for residents and a beacon of creativity on the global stage.
The post Renzo Piano's Visionary Design to Elevate Center for Arts and Innovation in Boca Raton appeared first on Arch2O.com.