Research Nurse attracts major funding to boost innovation in patient care – We Are South Devon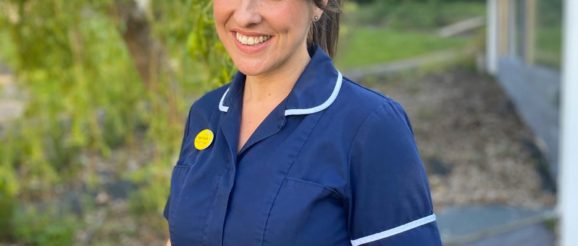 A research nurse working for Torbay and South Devon NHS Structure Trust has been granted local financing to support her work.
Angie Foulds has succeeded in her application for the National Institute for Health Research Study (NIHR) funding of ₤ 20,000 to fund one study day throughout her working week for 2 years.
The financing has been made through the NIHR Network South West Medical Research Associate Plan and enables her to complete her MSc argumentation in Advanced Nursing Practice, gain experience as a research study principal detective on NIHR research studies and develop an as yet untitled PhD proposition.
Angie, who is wed to a teacher and has 2 daughters, started her profession in 1998 as a maternity health care assistant at Torbay hospital in a team who motivated her to apply for a nursing degree at University of Plymouth and where she graduated as a registered nurse in 2016.
Her very first registered nurse post was on the coronary care system and cardiac catheterisation (heart diagnosis treatments) suite at Torbay health center: "I definitely adored my time working within the acute cardiology group. I desired to learn more about this fascinating speciality so began an MSc through the University of the West of England (UWE). I picked a versatile MSc which allowed me to select modules connected to my patient group.
"I truly took pleasure in the research element of studying and understood this was a location I would like to explore even more. I started working as an oncology research study nurse at the start of 2019. This post gave me a great structure in research study and enabled me to progress into a senior research study nurse role."
She now works with The Trust's Horizon Centre (a development, education and research center at Torbay Hospital) team, leading on observational and interventional research studies in a range of specialties such as anaesthetics, Intensive Care System, gastroenterology (research study of digestive system conditions) and public health. Her MSc in Advanced Practice has equipped her with knowledge and abilities within cardiology, intense care, oncology and research, which has assisted her development into a senior research study nurse role and onto establishing a research proposition for a PhD.
Angie added: "I enjoy research study and I like my task as a research study nurse. I can't wait to begin my new chapter as a nurse scientist and develop my own research concerns."
She will be supported by 2 coaches: Kathryn Bamforth currently carrying out a PhD whilst working in our research study and development (R&D) group and Susie Pearce the Trust's Associate Teacher of Nursing (Research) from the Clinical School based in the Horizon Centre.
Angie stated: "Healthcare research is a remarkable and amazing speciality to operate in. Research study is basic in improving care. Excellent quality research allows us to comprehend, detect and deal with health conditions effectively. Research study nurses are in a distinct position where we communicate with several departments and develop wonderful relationships across the Trust and with our clients."
Clients associated with medical trials with licensed medicines as part of research studies enable lots of others to gain access to treatments which would not generally be readily available, for example, ground-breaking cancer treatments.
Angie was associated with the Fast-forward study which took a look at a reduction in the dosage, frequency and period of radiotherapy for a particular group of early breast cancer clients. This study, released in the Lancet, showed lowered radiotherapy was not inferior to standard care and is most likely to affect regional and nationwide policy. She said: "Future clients will benefit from a lower dosage of radiotherapy and its side effects and fewer medical facility attendances. This demonstrates the covert significant effect research can have on our clients, our Trust and the NHS as a whole."
Chris Dixon, Trust Lead Research study Nurse, said: "I praise Angie on her award which enables us to money her research. As part of this award plan, I hope to more establish the links in between our medical and academic work by supporting a secondment for a scientific nurse in research study."
She included that a combination of Angie's post and a doctoral studentship granted to Kathryn Bamforth by the Torbay Medical Research Fund helps make it possible for the Trust to establish home-grown researchers. The objective is for the researchers to work between scientific work and R&D to answer medically important concerns with studies. These NIHR adopted studies must bring new business into the Trust's R&D department, making it more effective and able to protect more awards for personnel.
If you have an interest in discovering more about what research trials are currently taking location here and throughout the nation, please go to the Be Part of Research study site which has been updated with brand-new content and details relating to COVID-19 research. This includes a valuable frequently asked questions about Covid-19 section.
The NIHR is the country's largest funder of health and care research study funded by the DHSC in partnership with the NHS, universities, regional federal government, other research study funders, clients and the public. The NIHR Medical Research Study Network South West Peninsula increases chances for medical research, part of the NHS– e-mail [email protected]!.?.! Also, see the site https://local.nihr.ac.uk You can join us on our social media pages, follow us on Facebook or Twitter and keep up to date with whats going on in South Devon. Got a newspaper article, blog site or press release that you wish to
share or wish to advertise with us? Contact us