ReSuture, Inc. Awarded $996,413 NSF Phase II Small Business Innovation Research Grant to Support Surgical Performance and Medical Device Development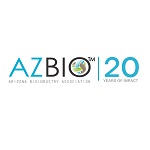 A 

$996,413

 Phase II SBIR grant from the NSF advances ReSuture's efforts to quantify operative performance through simulated surgical platforms, capacitive sensing, and machine learning
ReSuture's proposed technology – a combination of lifelike physical simulations, novel sensors, and robust data analysis – is addressing a universal market need that has been unsolved for decades
ReSuture's early working solutions have been adopted by device manufacturers W.L. Gore, Teleflex Medical, 

Becton Dickinson

, Endologix, and surgical residency programs at Tulane Medical Center, 

McMaster University

, and the Mayo Clinic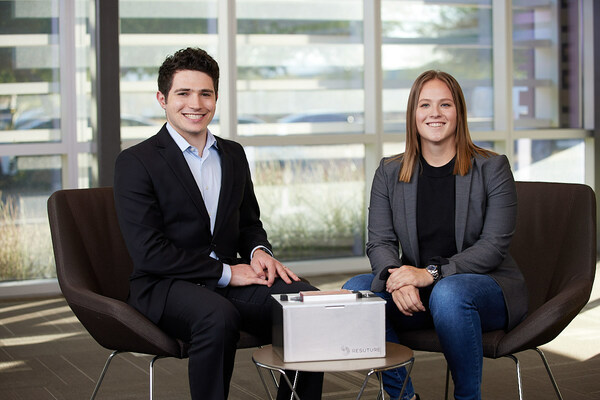 Hannah Eherenfeldt and Benjamin Knapp, ReSuture cofounders
PHOENIX,  /PRNewswire/ — ReSuture, Inc, (ReSuture) a dynamic early-stage business developing synthetic training models to expedite adoption of life-saving therapies and medical devices, today announced it has received a $996,413 Small Business Innovation Research (SBIR) grant from the National Science Foundation (NSF). The grant will support commercialization of ReSuture's products and technology to evaluate vascular surgical operative performance in both open and endovascular fields. The grant, entitled "SBIR Phase II: Quantification of Operative performance through Simulated Surgical Platforms, Capacitive Sensing, and Machine Learning to Improve Surgeon Performance and Medical Device Development," will be conducted in conjunction with Arizona State University (ASU). Collaborating with Dr. Baoxin Li and his lab at the ASU department of Computer Science & Engineering, ReSuture will develop and employ machine learning algorithms to effectively classify surgical skill using data collected from ReSuture's sensing technology.
"Surgeons and medical device manufacturers are looking for solutions to learn and train outside of the operating room," says Hannah Eherenfeldt, co-founder and CEO of ReSuture. "ReSuture is proposing a means by which to improve perioperative care and surgical accessibility, reduce the economic impact of complications and operative training, and streamline medical device sales and development. Phase I funding and NSF support in the I-Corps program and beyond has been instrumental in our commercialization to date. ReSuture's early working solutions have been adopted by device manufacturers W.L. Gore, Teleflex Medical, Becton Dickinson, Endologix, and surgical residency programs at Tulane Medical Center, McMaster University, and the Mayo Clinic. This NSF Phase II funding represents a tremendous opportunity for further development and commercial scaling of our products that can improve surgical training and revolutionize development pipelines in the medical device industry. This highly competitive award represents the NSF's endorsement of ReSuture's vision and future direction."
"ReSuture's proposed technology – a combination of lifelike physical simulations, novel sensors, and robust data analysis – is addressing a universal market need that has been unsolved for decades," explains Benjamin Knapp, COO and co-founder of ReSuture. "The objectives supported by this funding are threefold: sensor integration and commercial scaling of an Open Vascular Training System; development of sensors & machine learned data analysis for surgical performance quantification; and a feasibility study to demonstrate an endovascular training system that can quantifiably evaluate surgical performance."
About the National Science Foundation – Small Business Innovation Research Program:
The National Science Foundation's Small Business Innovation Research (SBIR) program, also known as America's Seed Fund, provides small businesses with equity-free funding to conduct research and development (R&D) work that will lead to the commercialization of innovative new products and services. SBIR Phase I proposals are expected to outline R&D projects with the aim of establishing technical feasibility or proof of concept of unproven, risky technologies.
The NSF SBIR program seeks innovative proposals that show promise of commercial and societal impact and is highly selective – with less than 15% of applicants receiving the grant. Using a merit review process, experts in the field evaluate each proposal prior to approval. The SBIR program is Congressionally mandated and intended to build a strong national economy by supporting scientific excellence and technological innovation through the investment of federal research funds in the private sector.
In 2021, ReSuture received a $256,000 Phase I SBIR grant from the NSF to support fundamental research and development. The grant enabled ReSuture to expand the capabilities of their Open Vascular Training System to allow for the quantitative assessment of surgical skill. This continuing funding in the form of a $996,413 Phase II SBIR grant from the NSF advances ReSuture's efforts to become the gold standard for education and evaluation of surgical skill. 
About ReSuture:
ReSuture is committed to improving patient care by modernizing surgical training. ReSuture's innovative technology delivers the most accurate procedural experience outside the operating room – allowing surgeons to perfect necessary skills currently learned on-the-job. ReSuture builds patient and disease-specific procedural trainers with capacitive sensing technology for surgical education, quantitative evaluation of surgical performance, medical device development, and machine-learned data analysis. With a talented team of engineers and dedicated surgeons, ReSuture is committed to improving the quality of patient care. ReSuture excels in creating high-fidelity representations of typical and atypical tissue structures. ReSuture has received support from the National Science Foundation (NSF) and Mayo Clinic, among others, and is in the early stages of commercializing their technology.
Contact Information:

ReSuture Contact:
Hannah Eherenfeldt, CEO & Co-Founder
[email protected]
Media Contact:
Jacob Knapp
(802) 258-0421
[email protected]
SOURCE Resuture – March 6, 2023
https://www.prnewswire.com/news-releases/resuture-inc-awarded-996-413-nsf-phase-ii-small-business-innovation-research-grant-to-support-surgical-performance-and-medical-device-development-301763754.html?utm_source=rss&utm_medium=rss
The post ReSuture, Inc. Awarded $996,413 NSF Phase II Small Business Innovation Research Grant to Support Surgical Performance and Medical Device Development first appeared on AZBio.