Returpen: Bringing Circularity into Healthcare – Board of Innovation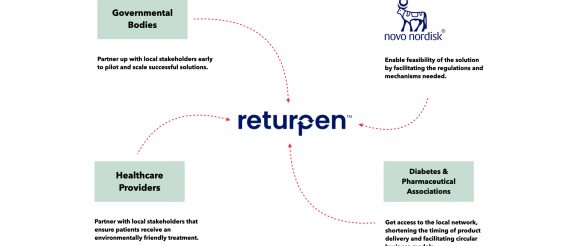 Every year, Novo Nordisk produces and distributes 500 million insulin pens to diabetics across the world. After use, most of them end up as waste. Returpen aims to put an end to this, and to bring circularity to the healthcare ecosystem.
From December 2020 to June 1st 2021, Returpen was piloted in three municipalities in Denmark, offering a sustainable way for diabetics to discard their used insulin pens. The Novo Nordisk insulin pens are produced with high-quality glass and plastic that can be recycled and get new life. 
What's more, the possibility of recycling other types of medical waste is currently being investigated.
Returpen is the result of a collaboration across the healthcare ecosystem; Novo Nordisk (pharmaceutical company) teamed up with governmental bodies, healthcare providers, and diabetes and pharmaceutical associations to create positive impact on the environment.
The Returpen project is an example of an integrative partnership. Here, partners align their missions, strategies, values, and activities to achieve the priority goal of creating social impact.
In this collaboration, the partners have gone beyond sharing generic resources and developed a memorandum of understanding where they agree to join forces to enable the circularity of diabetes pens.
Facilitated by governmental institutions, Novo Nordisk reaches diabetes patients through other parties like diabetes associations and medical centres, that are spreading the word about the new service. At the same time, wholesalers and distributors are assisting pharmacies in the delivery of new products and the collection of used insulin pens for recycling. 
The involvement of the patients in the process is key for the success of Returpen.