San Jose city, business leaders announce new 'Innovation Zone'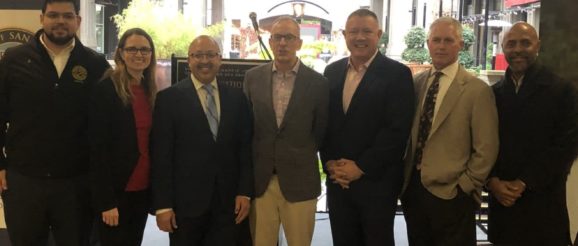 San Jose city officials and business leaders on Thursday unveiled a new "innovation zone" on the city's west side, where companies can test new technology and the onetime Century 21 theater building may become a new "Innovation Hub."
The new innovation zone, announced by San Jose Vice Mayor Chappie Jones and Councilmember Dev Davis will spread through District 1 and in part of District 6. Several companies are listed as early collaborators in the effort, including Santana Row owner Federal Realty Investment Trust, Amazon Web Services and Verizon.
But one of the first announced pilots to launch in the coming weeks will be new "anti-sidewalk" technology by scooter company Bird, according to Christopher Brown, head of government partnerships for the Venice, California-based mobility company.
"This is a first for us — and I believe one of the first in the industry — so in the zone here, we'll be testing out some exciting new advances, technologies, sensors … to help riders understand and get off the sidewalks a little quicker," Brown said in an interview Thursday. "There's a number of different approaches we are exploring, so we are really excited to be trying them out here."
Technology conglomerate Siemens has also been named a partner, and said Thursday the company plans to work within the innovation zone to help advance San Jose's Smart City initiatives.
"The engineering spirit of Siemens USA coupled with the entrepreneurial spirit of Silicon Valley will be poised to grow San Jose's smart city effort through the Innovation Zone," Brian Pollock, Siemens smart infrastructure branch manager, said in a statement.
Jones told residents and media Thursday he was in preliminary talks with other technology companies to launch pilots in the area. But for now, his message was primarily that the city is open for business when it comes to new ideas.
San Jose leaders are also in talks to create a central "hub" or physical location at the historic, domed Century 21 building on Winchester Blvd., which sits next to where Federal Realty is building the first phase of its Santana West development, across the street from the popular Santana Row mixed-use shopping center.
The developer has been trying for years to decide what should happen with the old theater building, which has a unique shape and few windows, but can't be altered significantly because of its historical designation. Attempts to save and reopen the dome-shaped theaters proved unsuccessful in recent years as tech companies eyed the area for development.
"I've actually toured several other innovation hubs with Vice Mayor Jones… and it's the kind of thing that could actually slot into a structure like the dome because a lot of the makers, experimenters, creators, they don't mind that environment," said Seth Bland, senior vice president of regional development for Federal Realty. "We are intrigued by the notion; It is as good a use or as cheerful a use, as anyone has suggested because good things would come from it."
The announcement comes two months after neighboring city Santa Clara opted not to participate in the innovation zone launch.
Initially, Jones had attempted to expand the zone over the San Jose and Santa Clara border, but Santa Clara leaders said they'd want more information before jumping in. City leaders wanted to know more about about the time investment the initiative would take and the types of initiatives that would launch though the program.
Santa Clara leaders didn't take off the table the option to join in later, once the vision becomes clearer, but today the zone sits firmly within San Jose's borders. However, the two cities, along with Cupertino and Santa Clara County, are working together with the VTA to study options to bring new transit options along Stevens Creek Boulevard, which runs through the innovation zone.
Dave Johnsen, a resident at the Winchester Ranch Mobile Home Park, which is slated for closure and sits within the innovation zone, said he wants to see transportation technology and systems deployed that will alleviate traffic congestion in the area through the new initiative.
But his major hope for the innovation zone is that city officials and companies will hear residents.
"As long as people listen to the residents we can probably get by," he said. "When they stop listening to the residents then we are going to have some problems."
What it means to be part of the innovation zone may become clearer in the near future as new technologies are deployed.
"We are inviting technology companies to pilot their most innovative concepts in this area," Jones said. "We will engage our residents to identify best use cases that are not only cool — and cool is good — but will enhance the quality of their lives."
Contact Janice Bitters at [email protected] or follow @JaniceBitters on Twitter.
The post San Jose city, business leaders announce new 'Innovation Zone' appeared first on San José Spotlight.