Shell launches Net Zero Challenge offering students and early-stage startups an opportunity for collaboration and innovation around energy transition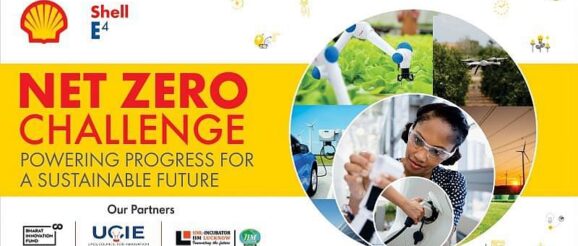 Shell has played a significant role in decarbonising the energy sector in India. The company is committed to achieving net zero emissions by 2050. As a leading net-zero emissions energy business, Shell is keen to help other businesses in their decarbonisation journey. Shell also invests in startups that develop new technologies and business models which have the potential to accelerate the energy transition.
As part of its efforts to contribute towards the growth of the energy startup ecosystem, Shell E4 has launched the Net Zero Challenge. The Net Zero Challenge is a tailor-made program that identifies and supports Idea Stage and Early Growth Stage startups and is designed to help these startups to develop and scale their businesses for future readiness. Open to emerging talents at educational institutions, research organizations and incubators, Net Zero Challenge is designed to support the best entrepreneurs by providing a global platform to showcase their initiatives and develop market-fit products. The focus areas are clean-tech, sustainability, waste management, plastic circularity, AI/ML solutions for net-zero emissions, EV charging solutions, battery swapping, cost reduction carbon capture technologies, carbon utilisation: novel CO₂ conversion chemistries etc.
Announcing the challenge, Debasis Goswami,General Manager E4 Start Up Hub, said, "At E4, one of our key missions is to enable early-stage energy entrepreneurs to scale and contribute towards a Net- Zero future. Net-Zero Challenge is our attempt not only to contribute towards a sustainable future but also to unleash the power of innovation & collaboration to grow the next generation of entrepreneurs working with select Institutions across India. It's an exciting opportunity for young entrepreneurs to showcase their ideas and bring them to life while positively impacting our environment."
Student entrepreneurs are expected to submit ideas, and the shortlisted innovations will be able to pitch to a jury panel of Shell leaders, investors, and startup experts. The top startup chosen will then head for a boot camp journey. In the boot camp journey, the participants will be exposed to a 3-month-long tailored-to-fit deep-dive learning experience, from problem statement to Go-to-Market strategy to support and handhold them in their startup initiatives. Additionally, each team will be paired with a dedicated mentor to support them in their boot camp journey for strategising and problem-solving and to help them scale their startups. This will be followed by evaluating the Minimum Viable Product (MVP) funding and a recap of the lessons learnt. Finally, the last stage of the programme will see the participants and Shell E4 work together to help their startup scale up.
Who can apply?
The programme is for emerging talent and student entrepreneurs from educational institutes or Early-stage startups (less than one year in existence) nationwide. New-age entrepreneurs from research organizations and incubators can also register.
To register,
---