Showcase of innovation to return to Hampshire's Ageas Bowl | Hampshire Chronicle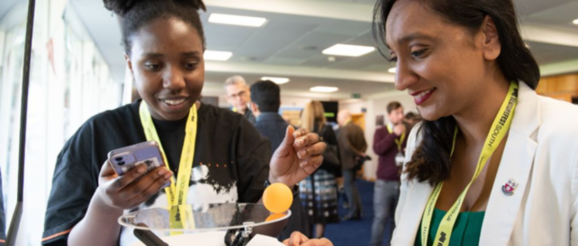 The one-day Venturefest South event will take place at Southampton's Ageas Bowl on November 16. 
It will see 35 of the region's most exciting start-ups, disruptors, and businesses showcasing their talents. 
Some of the names exhibiting include GlobalTrust, a data analytics company that uses the power of satellite technology to help improve sustainable operations, Zelemiq Ltd, the innovators behind a wearable fully non-invasive blood glucose and lactate monitor, and Earswitch, an in-ear invention which finds new ways to control and connect with the world through in-ear biometric switch and sensor technology.
MOST READ: Pizza restaurant gets permission to move into former wine bar
Ed Gould, curator of #VFS23 and creative director of Carswell Gould, said: "Venturefest South continues to astound and inspire, and we can't wait to be back for the #VFS23 Festival of Innovation. This unique event brings together large-scale businesses, education, and startups to create something rather special indeed.
"It is the perfect opportunity for innovators from all stages in their journey to build a profile, meet people, and have opportunities that they may never have thought could be possible. Not only that, but it is a truly diverse and inclusive event, with brilliant minds from all backgrounds, cultures, and sectors coming together to support each other, learn, and inspire."
Last year more than 8,000 visitors, innovators, exhibitors, partners and sponsors were involved with the year-round programme. 
This year, 200 students from further and higher education settings will also be in attendance, hailing from the University of Southampton, University of Portsmouth, University of Winchester, and the South Hampshire College Group.
Sean Larson, co-founder of Labl.it – last year's Innovator of the Year at #VSF22 – also works part-time at the University of Southampton. This year, he's bringing a group of students to Venturefest South.
"The students appreciate the opportunity it provides to meet influential figures in the innovation community, get inspired, and ease themselves into the world of pitching," said Sean. "The festival is an invaluable asset to the region, and may it continue for a long time."
Up-and-coming talent will be on show in the new Entrepreneurs Zone, which serves as a platform for new inventions, innovations, and budding business concepts.
Ed said: "This is a huge opportunity for businesses at whatever stage of their growth journey to meet potential investors and engage with organisations such as the Solent Local Enterprise Partnership (LEP), the British Business Bank, and the local council, discussing internships, new funding initiatives, and various other opportunities.
"Venturefest South is unique in the fact that it proudly represents the many, not the few, and plays a vital role in shaping the region's current and future innovative landscape."
Admission to the event is £25. Go to venturefest.co.uk