Siemens drives AM innovation with partner offerings from Castor, EOS, and AMbitious – 3D Printing Industry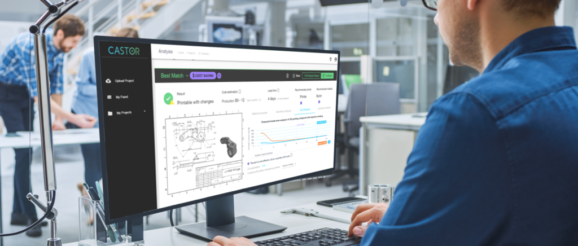 Industrial manufacturing firm Siemens is broadening its additive manufacturing (AM) ecosystem by introducing partner solutions on the Siemens Xcelerator Marketplace.
This step seeks to ease the advancement of AM industrialization and enhance customer benefits through partner offerings from Castor, EOS, and AMbitious, addressing diverse facets of industrial 3D printing. Siemens has established a robust ecosystem through collaborations with 110+ machine manufacturers and integrated software providers, with an expansion plan at Formnext 2023 to integrate complementary partner solutions. The Siemens Xcelerator represents a digital business platform, enabling AM with digital transformation, and ensuring seamless interoperability and integration for customers.
Visitors can find partner offerings at Siemens (12.1 | D119), Castor (12.1 | B133), EOS (11.1 | D41), and AMbitious (12.0 | E99) booths.
Enhancing additive manufacturing capabilities
The initial AM Marketplace participants offer solutions aligned with Siemens' goal to advance manufacturing. These solutions cover component identification, carbon footprint assessment, and comprehensive training for AM producers. Siemens plans to continuously expand this open Marketplace to complement its existing solutions, catering to diverse industries.
Castor's software conducts a technical and economic assessment of parts within existing discrete manufacturing product designs, pinpointing those compliant with additive manufacturing. It assesses materials and technology suitability while calculating the AM vs. traditional manufacturing financial break-even point. Additionally, the software seamlessly integrates with popular PLM systems like Siemens Teamcenter.
EOS provides the EOS Carbon Calculator, enabling AM users to gauge the production process and material choices' influence on a product's carbon footprint. This software conducts a transparent CO2e analysis, offering insights into methods for reducing emissions during AM. The Calculator's data-driven approach simplifies the definition and adjustment of CO2e targets.
Additionally, AMbitious leverages the extensive experience of AM experts at Toolcraft AG. It offers a range of support solutions, including technology consulting, VR training for metal-based powder bed additive manufacturing, and a maintenance app. Available as a Mendix-based app or web-based tool, this solution delivers real-time data, enhancing plant performance and minimizing waste and expenses.
Expanding AM ecosystem and solutions
Laser metal deposition technology manufacturer Meltio introduced the Meltio Engine Software Partners ecosystem, aiming to offer customers a range of reliable software solutions for the Meltio Engine Robot Integration and Meltio Engine CNC Integration. This collaboration with leading software providers in the additive manufacturing field assembles a comprehensive suite of software tools. Participating companies include the likes of SKM DCAM by SKM Informatik, AdaOne by Adaxis, AiSync by AiBuild, Esprit by Hexagon, Fusion 360 by Autodesk, and more. Geared towards delivering comprehensive software solutions for hybrid and robotic platforms, this initiative enhances the capabilities of Meltio's technology.
3D printing service provider Materialise integrated seven technology partners into its CO-AM platform, covering design, pre-printing automation, printing, post-processing, and traceability for 3D printed parts. Having integrated into CO-AM, Materialise Magics introduced a novel workflow automation feature. The partners include Twikit, Trinckle, SLM Solutions, Additive Marking, AMT, DyeMansion, and PostProcess, enhancing various aspects of 3D printing.
Voting has now started for the 3D Printing Industry Awards 2023. Cast your vote now!
What does the future of 3D printing for the next ten years hold?
What engineering challenges will need to be tackled in the additive manufacturing sector in the coming decade?
To stay up to date with the latest 3D printing news, don't forget to subscribe to the 3D Printing Industry newsletter or follow us on Twitter, or like our page on Facebook.
While you're here, why not subscribe to our Youtube channel? Featuring discussion, debriefs, video shorts, and webinar replays.
Are you looking for a job in the additive manufacturing industry? Visit 3D Printing Jobs for a selection of roles in the industry.
Featured image shows Castor, EOS, and AMbitious are the first three partners to join the Siemens Xcelerator Marketplace with offerings for industrial 3D printing. Photo via Siemens.