Skillnet Innovation Exchange announces Southeast expansion through partnership with GreenTechHQ, Wexford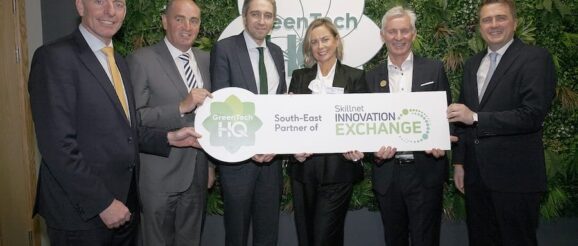 Skillnet Ireland has announced an exciting new partnership between Skillnet Innovation Exchange and GreenTechHQ hub in Enniscorthy, Co Wexford. The partnership was announced at the formal opening of the sustainability innovation hub. Skillnet Innovation Exchange is Ireland's innovation marketplace, connecting large companies facing digital transformation challenges with technology companies that can fast-track their solutions.
The collaboration with Skillnet Innovation Exchange aims to reinforce GreenTechHQ's mission to establish the Southeast as a centre of innovation and sustainable business excellence. The partnership will allow globally ambitious SMEs within the Southeast region to pitch to, and engage with, large companies seeking innovative solutions.
Across 2023 so far, Skillnet Innovation Exchange has successfully partnered with regional hubs throughout the country, such as The Ludgate Hub in Cork, Platform 94 in Galway, The Mill, Drogheda and the RDI Hub in Kerry. The nationwide expansion of the programme offers more SMEs access to a wide range of benefits, including a sales pipeline, upskilling and market insights as well as collaboration opportunities with large corporations.
Founded in February 2023, the GreenTechHQ is poised to become an international hub for sustainable businesses in the Southeast. The hub, which caters to companies with a focus on environmentally positive technology, provides essential support to start-ups and scaling businesses through accelerator programmes, investor connections, and advisory services covering finance, marketing, and legal support.
Attending the launch, Simon Harris TD, Minister for Further & Higher Education, Research, Innovation and Science, said: "Skillnet Ireland, through initiatives like Skillnet Innovation Exchange, does vital work in advancing the national skills agenda, which in turn futureproofs the capabilities and competitiveness of Irish businesses. As we work towards a low-carbon future, the demand for sustainability skills is growing faster than ever before. I strongly believe that collaborative initiatives like the partnership between Skillnet Innovation Exchange and GreenTechHQ, will play a pivotal role in ensuring that green tech start-ups have the best chance to succeed in Ireland and will make a difference on a global scale."
Paul Healy, Skillnet Ireland Chief Executive, said: "Skillnet Ireland is delighted to announce the latest expansion of Skillnet Innovation Exchange in the Southeast region. This partnership with GreenTechHQ will create vital opportunities for early-stage sustainability SMEs hoping to expand their business horizons and engage with larger corporations. Sustainability is a top priority for all businesses and through this collaboration, large domestic and multinational companies will benefit greatly from access to start-ups that are dedicated to helping businesses thrive in a low-carbon economy."
Sinead O'Riordan, Head of Channel Partnerships, Skillnet Innovation Exchange, said: "Throughout this year, Skillnet Innovation Exchange's regional expansion throughout Ireland has afforded many SMEs the unique opportunity to collaborate with large corporates, bridging the innovation divide and strengthening the Irish business ecosystem. With today's announcement we are thrilled to expand this offering to GreenTechHQ. Sustainable innovation is a growing area of focus for many, and we are eager to channel dedicated efforts towards initiatives that foster a more sustainable future."
Ed Murphy, CEO, GreentechHQ, said: "Today marks the beginning of an exciting journey towards the continued growth of sustainable innovation in the Southeast. GreenTechHQ is here to ignite the spark of sustainability, nurture innovation, and create a future where businesses thrive while safeguarding our planet. Together with Skillnet Innovation Exchange and Skillnet Ireland we are set to transform the Southeast into a hub of sustainable excellence and business success."
Earlier this year Skillnet Innovation Exchange announced that it had reached the halfway mark of its goal of enlisting 1,000 companies by 2025, with over 500 scaling technology companies having joined the marketplace for innovation during its first 18 months, demonstrating a significant appetite for the initiative. In this time, Skillnet Innovation Exchange has responded to 25 innovation challenges from companies such as Glanbia, Bord na Móna, Ryanair and ESB, and newly joined members include InterSport Elverys, Uisce Eireann, BWG Foods and Ireland West Airport.
Skillnet Innovation Exchange is designed to address the barriers that exist for scaling businesses when selling to large companies and multinationals. The programme will support over 1,000 companies between 2022-2025. Scale-ups and corporates in the region are being encouraged by Skillnet Innovation Exchange to sign up at www.theinnovationexchange.ie.
See more stories here.