Spotlighting Innovation: In-House Recruitment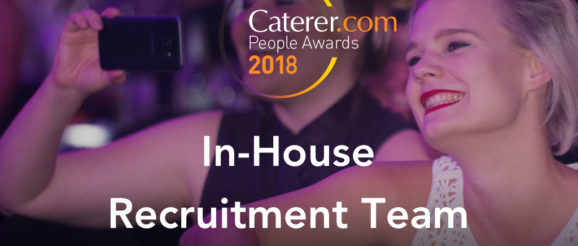 A solid in-house recruitment team can make all the difference.
For recruiters, inconsistent practices can lead to poor standards and inefficient use of time and resources. Inadequate systems and structural frameworks can cause unnecessary expenditure. Centralisation and alignment of working practices and HR systems is crucial in maintaining an attractive working environment and boosting retention. A solid in-house recruitment team can make all the difference, not just for candidates and long-term employees, but for your company as a whole.
Great innovation, teamwork, and focus on results.
Our Awards celebrate the best hospitality employers in the UK, but to be the best takes a lot of grit and determination. Demonstrating these qualities in abundance, this year's shortlist is a powerhouse of UK hospitality. This award recognises In-House Recruitment individuals or teams that have achieved excellence in recruitment, retention and/or development. The judging was based on evidence of great innovation, teamwork, and focus on results, on solution-led approaches and delivery against the objectives of the business.
Chad Smith – Head Of Recruitment, Boparan Restaurant Group
In 2013, driven by a passion for food and a love of restaurants, Chad embarked on his first in-house role as a Talent Resourcing Advisor with Giraffe Restaurants and hasn't looked back since. Following the acquisition of Giraffe by Boparan Restaurant Group, he became responsible for overseeing the recruitment function for the group, implementing recruitment standards and practices for each of the brands, with a focus on driving employer brand and candidate experience.
Chris Todd – Recruitment Manager, The Ned
At the beginning of 2017 Chris was bought on board as recruitment manager for the exciting opening of The Ned London. He was tasked to recruit chefs for The Ned's 10 restaurants, events and pastry kitchens, which operate with over 160 chefs. After a successful 12 months opening The Ned, Chris is now the recruitment manager for the whole front of house and back of house F&B function at the property, which has more than 600 F&B staff.
Esther O'Halloran – Managing Director, HR in Hospitality
A confident, outgoing senior HR professional & Managing Director who is personally credible, with experience gained from working in a variety of entrepreneurial, public and private sector businesses as well as corporate blue-chip organisations and have held a variety of roles. Initial experiences in General Management and Operational roles within retail fashion and hospitality sectors (including H&M, Whitbread, Costa, Pret a Manger, EAT and PAUL) provide invaluable commercial business experience of both industries from the front line. Also currently Chair of HR in Hospitality, active volunteer and mentor and NED for a small number of organisations.
Joanne Meredith – Former Director of Human Resources, The Ritz London
Joanne's career within the hospitality industry began in 1993 with Compass Services as Chef Manager. She was soon promoted to work in Cataforce, the Compass internal staff agency as a Recruitment Officer.
Joanne joined The Ritz London in 2003 and since that time has held the roles of Human Resources Manager, Training & Development Manager, Head of Human Resources and her current position as Director of Human Resources; whereby she leads the Human Resources, Recruitment and Training team of 6 people, to ensure a strategic and proactive HR support service for this world-famous hotel. Joanne has received many awards whilst at The Ritz, the most recent was through the Institute of Hospitality for High Commended Talent Development Team of the Year.
In 2018, she took part in The Springboard UK Trek and Community project in Vietnam, where she raised over £8,000 for the charity.
Lindsay Southward – Group People & Development Director, Malmaison & Hotel Du Vin
As Group People & Development Director of Malmaison Hotel du Vin, Lindsay manages all aspects of learning and development and employee relations across the business, overseeing a workforce of 3,000 employees in 33 locations across the UK.
Lindsay has over 17 years' experience working as a HR professional in the hospitality industry, having worked in senior leadership roles for Crowne Plaza, De Vere Hotels & Village Urban Resorts.
The shortlist for the In-House Recruitment category is:
Cote Restaurants Ltd
De Vere
Hilton UK & Ireland
Marriott International
Oddfellows Hotels
Splendid Hospitality Group
St Pancras Renaissance Hotel, London
TGI Fridays UK
18-months ago, Cote started to review Recruitment strategies after a change in leadership. Poor year-end recruitment results and obvious gaps in processes soon instigated a major turnaround project. Their recruitment journey lacked inspiration and their image was considered elitist and outdated. As a result, they weren't always recruiting or retaining the right candidates. To help increase direct applicants, reducing dependency on agencies, Cote looked at an Employee Value Proposition, focusing on why people worked for Côte and how best to spread that message, by considering wording, time, market and imagery used. Connected to this they launched a new careers website, re-writing job adverts, which helped attract the right people, by refining the terminology used and creating a People Promise – "Expect More". Results have shown that over the past 10 months, Cote has reduced average vacancies by 40% from around 50 live management vacancies down to only 30 at any one time. This has been made even more impressive given that they also reduced their agency spend by 35% year on year.
De Vere strongly believe that future chef talent is important. They've designed and rolled out a structured partnership framework to work with culinary colleges. They're developing links with colleges through their own Head Chefs, General Managers and HR Managers, and they've now partnered with colleges and have engaged with students and college reps. Also as part of this initiative they offer a £1000 Chef Welcome Bonuses as a 'hello' to the business. The process of transferring between jobs is now less financially stressful, and ultimately, makes jobs more attractive. In addition they offer a new Relocation Bonus for any chefs relocating more than 50 miles.
Hilton understands that recruitment isn't an exact science and it can be challenging to forecast the number of vacancies per region and per recruiter. They created an extended monthly dashboard to make their operations more effective. Besides the number of opened and filled vacancies and time to offer, Hilton included positions filled within a 30 day span as well as ratio of internal/external hires and cost per hire. On the back of these figures, they accelerated their recruitment process for entry level roles, by regularly organising recruitment events where they assessed candidates based on personality instead of experience. Hilton's Talent Acquisition team filled a record 6766 positions last year with 16 Recruiters.
Historically, as a strong brand, Marriott had enjoyed a reasonably good candidate flow. However with heavily increased competition within the hospitality industry and many alternative methods to apply for roles, this candidate flow has reduced. Their initial plan to tackle this was to appoint a dedicated Recruitment Officer, a new, focussed role with the brief of brand promotion and investigating the current practices and systems to gain understanding of the key issues and to ensure best leverage. The number of Marriott's open vacancies has reduced by 40.2% with the number of applicants actually received on property per position has increased by 44% and the number of positions filled has increased by 40%.
Situated in Cheshire, Oddfellows Hotels were struggling to attract a calibre of candidate that could deliver the high standards the boutique hotel desired. The relatively small number of bedrooms and the nature of the property was not enticing the right candidates to fit with the businesses' aspirations and ethos. A strategy to increase engagement with workforce included a more person-focused approach. The HR team were face to face with employees regularly, seeking an open and honest dialogue. They also worked alongside the team on busy days or events to understand the pressures of the operations role which led to a better insight when recruiting. Staff retention across the board has grown from 55% to over 70%. Number of staff leaving a position within the first month of role has decreased by 400% Number of applicants has grown by 215%, with a notable upturn in skill-matched candidates. Staff morale has increased and not only from the perception of the senior team, but also notably through the increased staff retention levels and a decrease in absenteeism by over 325%.
Splendid Hospitality Group
The Splendid Family look for a specific type of person, not just someone who has done the job before in another hotel, but someone that 'gets it, gets them and wants it'. The strategy was to develop online campaigns and e-shots to effectively target potential candidates. Splendid knew exactly what they wanted from candidates in regard to capability and used this information to target potential candidates on LinkedIn, Facebook, Twitter and by sending targeted e-shot campaigns. They created a guarantee to interview any current or previous forces member to extend their reach to those with a 'can do' attitude looking for a career change. Splendid are Disability Confident Committed and increased their emphasis in this area. They also changed the structure of interviews and asked candidates to meet the 'hiring managers manager' first and we talk only about who they are as a person, identifying fit to the business or 'Get it, Want it.' Splendid has seen Interns and Graduates attending 11 Careers Fairs across the industry so far in 2018, with a further seven fairs lined up, outside of the industry.
St Pancras Renaissance Hotel, London
In May 2017, St. Pancras hired an experienced recruiter who immediately started building the framework for strong talent acquisition and on boarding programmes for casual hires. A thorough study of the recruitment channels in use and available led to a shift and expansion of job board and app usage to engage candidates A total review of recruitment spend was carried out due to challenging profit goals, however stronger, more knowledgeable decisions have been made on the best place to source such candidates. Adjusting their staffing model and recruitment approach in key departments has paid dividends for the hotel. Since implementations last year, the cost implications have been undeniable. Agency spend year-on-year (2018 v 2017) has reduced by 92.6%; casual wage costs have only increased by 42.1% during the same period. This has created a cumulative reduction on wage costs of 22.4%.
Fridays expanded the team member programme last year when it launched its Learners Qualification Programme (LQP), available to those who are aspiring to move into management. The 12-month development plan is equivalent to two A-levels and is offered in partnership with HIT Training. The programme consists of on the job experience, projects based on manager competencies, reading assignments, and regular testing. As of June 2018, Fridays have nearly hit their yearly target of 100 managers. The results of their programmes have seen a shift in recruited management numbers. In 2018 they saw a shift to 60% home grown managers and 40% imported, meaning the increased emphasis on growing an internal pipeline proved a success, keeping recruitment costs and retention rates low.
Find out just who will walk away with the In-House Recruitment Award at the 2018 Caterer.com People Awards on October 1st.