Start-up innovation drives UK's emerging quantum economy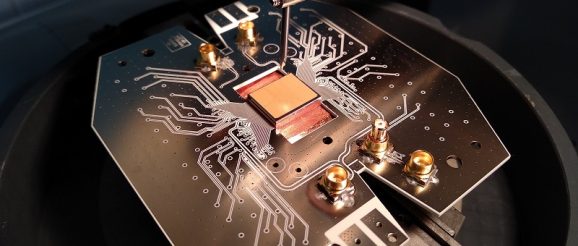 The strategic focus on quantum science and engineering in the UK has over the last few years generated a vibrant community of start-up companies that are aiming to build the quantum computers of the future. "We're seeing that quantum ecosystem grow very rapidly," says Michael Cuthbert, director of the  National Quantum Computing Centre (NQCC), a new facility that is now being built on the Harwell campus in Oxfordshire. "The start-up companies that have emerged, predominantly, from the UK's academic sector, are driving excellent technical work. They are starting to raise significant investment on the back of robust and credible business models."
Many of those early-stage companies were presenting their latest innovations at the National Quantum Technology Showcase, which was held in London at the beginning of November. Since the last in-person event of its kind in 2019, there has been a significant change in the landscape for quantum start-ups. "The ecosystem is flourishing, the technology has moved on, and the market is definitely starting to mature," comments Ilana Wisby, CEO of Oxford Quantum Circuits (OQC).
We are seeing more people interested in using quantum technologies to help their business.

Ilana Wisby, Oxford Quantum Circuits
OQC is building its own quantum processors based on superconducting quantum circuits, and has recently made its Sophia platform available to end users through a quantum-computing as-a-service (QCaaS) model. The company has also signed an agreement with the NQCC that will provide UK users with priority access to its cloud-based quantum-computing resources. "We are seeing more people who are interested in using quantum technologies to help their business, and we are putting the resources they need at their fingertips," comments Wisby.
Compared to a year ago, Wisby says that more money is flowing into quantum start-ups – partly through collaborative research projects funded by government-backed programmes, but also from increased interest among investment firms. "The investor community is much more aware of quantum technologies, and over the last year they have become more comfortable about putting their money into the quantum sector," she says.
One notable development is the announced merger between UK software specialist Cambridge Quantum with Honeywell Quantum Solutions, a US-based developer of quantum processors, to form the world's largest integrated quantum-computing company. Honeywell made a cash injection of $270–300m into the combined company, called Quantinuum.
Ilyas Khan, chief executive officer of the new company and founder of Cambridge Quantum, believes that bringing hardware and software expertise together will accelerate progress towards a scalable quantum computer. "By uniting the best-in-class quantum software with the highest performing hardware, we are uniquely positioned to bring real quantum computing products and solutions to large, high-growth markets," he comments.
Other start-up firms report increased interest from venture capitalists, which together with government R&D grants is allowing even very young companies to expand rapidly. At Universal Quantum, for example, which emerged from stealth mode just last year, staff numbers have climbed quickly from a few academics to more than 30 people – and the company plans to reach 100 staff members within the next 18 months.
The challenge for these companies is finding and recruiting enough scientists and engineers to support such rapid growth. "There are very few degree courses in quantum computing," points out Samantha Edmondson, who is responsible for talent acquisition and development at Universal Quantum. "Our roles need a combination of skills that are not often taught together at university level."
For that reason, explains Edmondson, Universal Quantum places a strong focus on training. "We recruit people who understand quantum physics but have little experience of computer engineering, and we recruit mathematicians and computer scientists who are unfamiliar with quantum technologies. We provide extensive in-house training and support to fill in the gaps." That includes regular drop-in sessions with one of the company's quantum experts, particularly for staff like Edmondson who may not have a scientific background. "You can ask a question, no matter how basic, and have it explained in a way that's easy to understand."
We want to help our new recruits gain the skills they need for their future careers.

Samantha Edmonson, Universal Quantum
As well as developing new technical skills, Edmondson says that it's equally important to prepare hew hires for leadership positions. "I have worked for other tech start-ups where middle management becomes the sticking point," she says. "We want to help our new recruits gain the skills they need for their future careers." That people-first approach is also likely to foster a motivated and loyal workforce, which should reduce the need for ongoing recruitment.
Another key challenge for start-up companies is to manage high levels of initial investment against the time it will take to realize a fully fault-tolerant quantum computer. "This is very deep tech," comments Wisby. "As a hardware company we need to spend a lot of money on equipment and infrastructure, and it will take a long time to generate any significant revenues." The QCaaS service launched by the company offers a way to gain some return on the significant progress that OQC has made so far, while also making early quantum-computing resources available to end users.
Other companies are juggling long-term ambitions with the need to deliver tangible outcomes over the next few years. Universal Quantum, for example, was founded with the bold mission of building a million-qubit quantum computer, and its focus from the outset is to deliver a scalable solution based on trapped-ion technology. The company's founders, Sebastian Weidt and Winfried Hensinger, have pioneered a technique that exploits electric-field connections to transfer information around the modules inside a quantum computer, which they say is faster and simpler to engineer than alternative laser-based solutions.
In the near term, the company will be heading up a £7.5m research project to build a scalable quantum computer that will also address the problem of error correction. "Error correction is crucial to achieving anything really useful with quantum computers," comments Weidt. "This project will help us to go from today's proof-of-principle machines to scalable quantum computers that can solve some of the world's most pressing computational challenges."
Meanwhile, ORCA Computing hopes to offer some near-term quantum advantage by building hybrid systems that combine classical and quantum processors. "In the long term our goal is to build a scalable universal quantum computer that operates at room temperature using optical fibre and industry-standard components," says Kris Kaczmarek, the company's head of product. ORCA's photonics-based system exploits quantum memories to store single photons and release them when they are needed, eliminating the need to use large numbers of components working in parallel to enable error correction. "We have been very fortunate to receive public funding, but we know we need to deliver real products that offer value to our customers."
One way to demonstrate that value is to show how current quantum computers can be used in industry applications. An important objective for the consortium led by Universal Quantum, which among others includes Rolls-Royce and quantum software specialist Riverlane, will be to use quantum computing to solve computational fluid dynamics (CFD) problems in the aerospace sector. The specific use case for the project is combustion modelling, which is crucial for developing more sustainable aviation fuels and jet engines, although similar algorithms could be applied across many other CFD calculations.
Another collaborative project, this time led by hardware specialist SEEQC, is focusing on drug development. The £6.8m QuPharma project, which includes as a partner the German pharmaceutical giant Merck KgaA, aims to exploit SeeQC's quantum computing platform alongside a classical supercomputer to radically reduce the time needed to run molecular simulations in drug discovery. "By doing all the optimizations for this specific application, we can develop a scalable and practical quantum platform within a shorter timeframe," comments Joseph Rahamim, a quantum engineer at SEEQC.
SEEQC's hardware platform offers a novel solution to the engineering challenge of scaling up quantum computers. Early demonstrations of the technology are notable for the huge bundles of cables that are needed to control and read-out the few tens of qubits installed inside the cryostat. Such complex control systems will not scale to thousands or millions of qubits, and SEEQC believes that the answer lies in integrating the control electronics inside the refrigerator.
"We bond a classical superconducting circuit to our quantum chip," explains Rahamim. "The superconducting circuit performs logic operations more quickly and with a lower heat load than a conventional silicon-based processor, and having it installed inside the cryostat reduces the time needed to relay information to and from the superconducting qubits."
Quantum computing is about deriving real value across a range of different applications.

Michael Cuthbert, National Quantum Computing Centre
One important partner in both these projects is Riverlane, which specializes in quantum software – all the way from testing the performance of qubits through to building an open-source operating system for quantum computers. A key focus for the company is to work with end users in the chemical, pharmaceutical and materials industries to develop quantum algorithms for specific applications. "We are seeing more interest from enterprise users in developing use cases for quantum computers," says Alexandra Moylett, one of the company's quantum scientists. "In many cases we can provide the connection between end users in industry and the quantum hardware specialists."
Developing a strong user community in the UK will be one of the most important objectives for the NQCC. "Until now we've probably been focused more on the technology development, but ultimately quantum computing is about deriving real value across a range of different applications," says NQCC director Michael Cuthbert. "The NQCC will be working with different industry sectors to provide the applications support they need to explore the use cases for quantum computing."
The post Start-up innovation drives UK's emerging quantum economy appeared first on Physics World.