State of Supportive Housing Innovation in NJ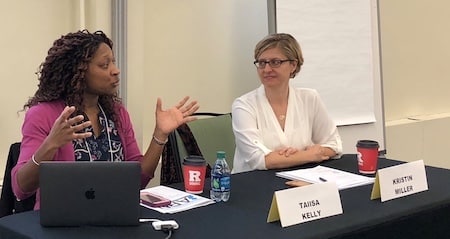 Innovation in NJ – Including Racial Equity in the Supportive Housing Conversation, Opportunities for New Housing and Urging the Development of State Housing Plan
Taiisa and Kristin provided concrete examples of their:
affordable and supportive housing work,
presented a call to action, and
fostered a question and answer session with the audience about this important issue.
To create new affordable and supportive housing that is truly meeting the needs of vulnerable people, we need capital, operating and services funding.
The session provided a broad overview of current and new initiatives for affordable and supportive housing development as well as discussed innovation opportunities for advocacy and further change and improvements.
Taiisa told the audience, "It is possible to change federal regulations" that relate to affordable and supportive housing. There are a variety of current opportunities to fund the creation of affordable and supportive housing including those in New Jersey Governor Phil Murphy's economic development strategic plan.
Kristin gave the audience an example of "low hanging fruit." She told them that they can join the effort to improve the Low Income Housing Tax Credit (LIHTC) and at the same time also work at the local level to change local barriers to housing that housing policies have put into place.
The session explored ways to include racial equity in the conversation about housing development setting an intentional path towards integration. We can address racial diversity through educating approving agencies. We can raise the issue that racial diversity in housing is important and should be taken into account when affordable housing is developed.
Recently, the New Jersey Housing and Mortgage Finance Agency (NJHMFA) restructured the scoring process of LIHTC projects so that projects could only receive approval if they included units for low income and special needs population. This is an example of a more local policy layered on top of a federal program. The scoring process could also be restructured giving preference in the scoring process to projects that address racial diversity and promote integration.
Local advocates can hold developers accountable for their developments including who is being hired to construct their developments.
Are projects being marketed to all communities so that everyone has access to the new housing?
People of color are disproportionately affected by homelessness and by intervention by the child welfare system and should be assured equal access to housing.
People who need affordable housing in our communities are the victims of structural racism. The really vulnerable people are involved in a revolving door:
of drug treatment,
poor/no credit,
hospital,
street,
shelter,
jail,
detox,
psych center,
ER and
they are going to always get passed over for housing by landlords.
Government, community organizations and others can come together, retrieve and examine data, understand barriers to housing and develop thoughtful plan and strategy to get people into housing and stop the revolving door.
Governor Murphy's economic development strategic plan encourages investment in communities specifically provides opportunities and wants to Invest in communities specifically through the NJ Aspire and federal Opportunity Zone programs. This program can generate money to promote investment in communities – including every aspect of communities beyond single developments including transportation and employment.
The state of New Jersey has new and innovative housing opportunities including $12 million for 3-4 hospitals across the state to create affordable housing Hospital Initiative (partnering with HMFA and Hospitals) and Municipal Fund Match
Kristin spoke positively about housing and the potential for new housing in New Jersey, "We see at this moment, opportunity with new executive leadership. We need a multi-year funding commitment from this administration and we must have long term vision." A solution to this a comprehensive housing plan for the state of New Jersey.